In praise of Enola Holmes, and the women in mystery who save themselves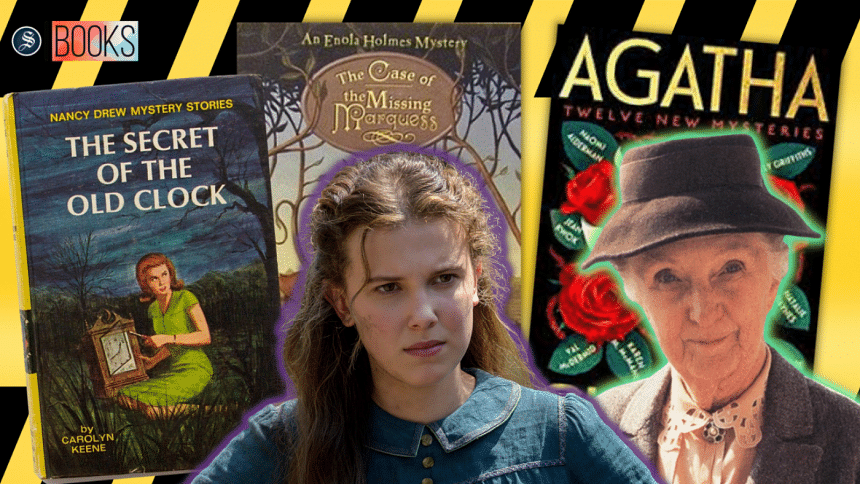 Nancy Springer's The Enola Holmes Mysteries (2006-2021) borrows characters and settings from the established canon of Sherlock Holmes, but Enola, the teenage sister of the already famous Sherlock, is Springer's creation and specific to this pastiche series. The sequel to the 2020 film Enola Holmes, based on the novels, will premiere on Netflix on November 4, 2022. 
Enola is a strong, independent female character, but this does not stop her from looking gorgeous, wearing pretty dresses, and flirting with handsome, rich boys. She is smart, able to solve mysteries fast, and capable of defending herself, while helping others in the process. 
The ways in which she succeeds in her efforts have nothing to do with her gender. She is not a damsel in distress, but while she does save the young Lord Tewkesbury and feel responsible for him, it does not seem contrived or as though the text is only making a political statement. Lord Tewkesbury does not need to be dumbed down or rendered useless in order for her to shine. 
She wears a bright red, ruffled dress, and puts her hair up in a neat bun, but openly defies dress codes of Victorian England. Although Enola refers to the corset as a "symbol of repression," she takes ownership of the cage-like contraption by choosing to wear it as a kind of armour. 
Using the corset, she is able to slyly hide the money that her mother left her and prevent a fatal stabbing from Tewksbury's crazed assassin. 
Enola grew up with her mother but when her mother left her, she went on with her life and solved cases on her own. She did meet someone during her journey, but decided to take her own path. "My life is my own. And the future is up to us," Enola says at the end of the first film, establishing that young girls can be their own people, not just society's dolls. Teasers for the sequel show that she is facing danger, fighting to right wrongs, and maybe falling in love.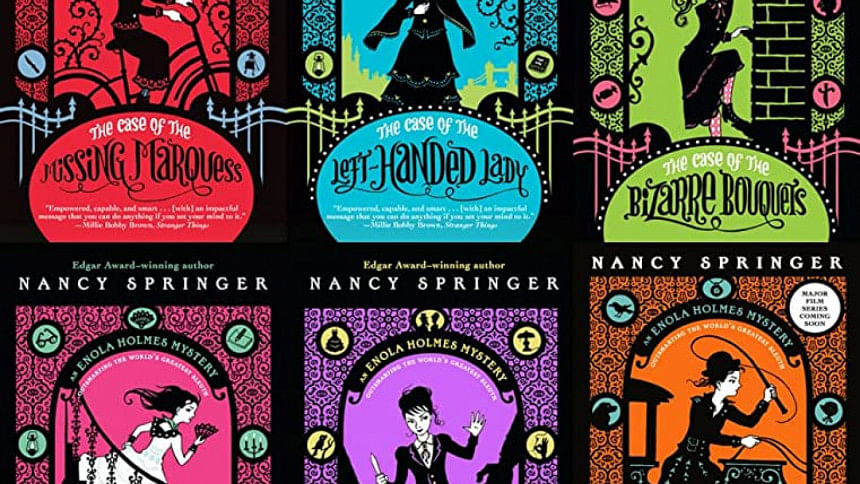 Women remained sidelined from police work for much of the 20th century in both fiction and the real world, but fictional female protagonists gained ground as professional private investigators and consultants, and talented amateurs, continued to thrive. 
Long before Enola, there were Nancy Drew and Jane Marple. Nancy is up there amongst the most prolific female characters of all time, featuring in over 200 books written by a variety of ghost-writers starting from 1930, as well as appearing in films, television series, and video game manifestations. 
Conceived as a female counterpart for The Hardy Boys mystery series by publisher Edward Stratemeyer, distinctive writing style or originality has always been secondary to the character, and it is the vision of Nancy herself that has given the franchise its enduring quality over decades. But it is difficult not to see the classism inherent in the books. Every appearance of the American teenage genius takes place in a removed, romantic world beyond education or a need to make a living. 
Nancy often helps only two types of poor people—those who used to be rich, but have fallen on hard times and need her to find their lost inheritance so they can regain their former social status or the "rough" poor—the criminals in the stories.
That being said, many Nancy fans revere her hard work and refusal to submit to an authority she does not respect. There are elements of her characterisation, particularly in the earlier titles, that powerfully contradict expectations from women in the social sphere she comes from. Nancy always knows how to save herself and others from seemingly hopeless situations. For instance, she uses specific techniques to free herself from ropes, sends SOS signals with a tube of lipstick, and uses spike heels to break out windows. Her blue convertible car is a symbol of radical feminine freedom. 
Despite her traditionally feminine attributes such as a variety of clothes for all social occasions, an awareness of good housekeeping, and good looks, Nancy has noteworthy, seemingly "masculine" traits: she operates best independently, has the freedom and money to do as she pleases and outside of a telephone call or two home, seems to live for solving mysteries rather than participating in family life. In Nancy's relationship with her handsome but sometimes clueless boyfriend Ned Nickerson, her life takes centre stage. Ned steals a kiss when he can, but any more is out of the question; Nancy, after all, has to get back on the case. For boys and girls alike, Nancy is a trailblazing role model for rejecting gender roles.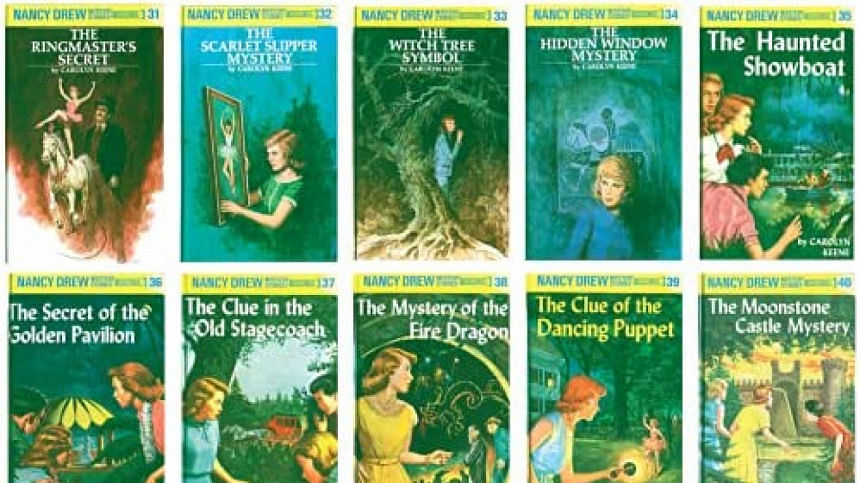 Agatha Christie herself would have made a perfect detective, she was a woman who saw the dark potential for evil in every setting. Miss Marple (as she is always called in the narration), introduced in The Tuesday Night Club (1927), is perhaps the author's truest expression of this. An older woman and a spinster, the character is exactly the kind of woman who is so often overlooked and dismissed by broader society. 
She spends her time knitting, gardening, gossiping, and solving crimes. Based on her knowledge of relationships, the domestic sphere, village life, and all the people involved in them, Miss Marple's wisdom is unapologetically feminine. 
Yet, she manages to solve crimes where policemen and other men in general find themselves at a loss. Christie covertly turns gender relations of the time on its head. 
Instead of seeing a spinster as a lonely and frustrated woman, we see Miss Marple as a gentle and joyful lady, who appreciates intuition and understanding of human nature over procedural knowledge. 
She uses the stereotype of a spinster to her advantage to solve crimes. Instead of interrogating people involved in an incident, Miss Marple uses the accepted idea that a woman her age would be nosy to gather information, although she is not an officer of law or a consultant. She is also mansplained to by doctors, vicars, and most importantly, men in authority with the licence to solve crimes—policemen, retired army men, and even retired Scotland Yard detectives. Christie smartly lets the character sidestep and nudge such men into the right direction. 
In the traditionally male-dominated world of mystery fiction, conflicts, ranging from petty insults to gaslighting, are widely fueled by society's expectations from women. Although there are inspiring characters like Enola Holmes, Nancy Drew, Miss Marple and many others, there is a perception that women are not emotionally suited to the rigours of detective work. 
When creating female investigators, writers should be aware of the threats that will come—not just from criminals, but more insidiously from coworkers and clients. When women shoot to kill or if they toe up to morally questionable acts, readers sometimes also get queasy—women are supposed to be the nurturers, the caregivers, the emotional glue at home and even at work. But the more room writers allow for their female protagonists to break the rules or fulfil them if that is their wish, the more varied and richer the texture of the human condition will be in their stories. 
The unsolved mystery of the consistent lack of equality for women in the workplace in the real world is carried over to mystery fiction too. There are many intelligent female protagonists who have beaten the system that never gave them their due. Yet, they hardly enjoy any popularity. Isn't that why Sherlock Holmes towers over them in the literary consciousness? 
Shababa Iqbal is a Journalism graduate from Independent University, Bangladesh, who likes Jane Austen's novels and Disney movies. Email: [email protected].