Pakistani artist illustrates Begum Rokeya's 'Sultana's Dream'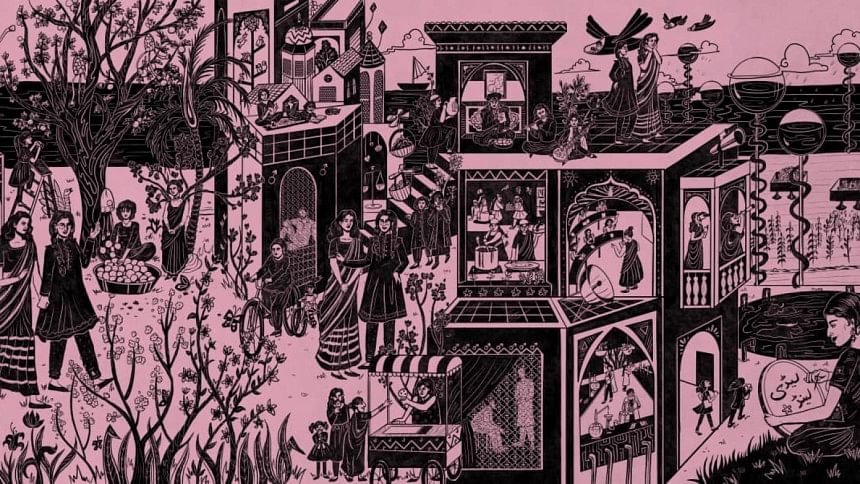 "I'd been wanting to draw my version of this for a long time", Pakistani artist Shehzil Malik posted on her social media on January 24, 2021. A designer and illustrator whose work focuses on human rights, feminism, and South Asian identity, Malik has just created an artwork based on Rokeya Sakhawat Hossain's novella Sultana's Dream (1905), which imagines a feminist utopia where women dominate the world of science, labour, and their homes. 
Living in early 20th century Bengal (present-day Bangladesh), Begum Rokeya was among the first women writers to write for and speak out in the Bengali Muslim journals carving a space for public discourse on Bengali Muslim nationalism and intellectual life. 
Sultana's Dream was among the very first examples of a woman from this region writing in English. In Lady Land, Rokeya's fictional utopia, subverted gender roles put men in mardana—the state of seclusion which the author herself lived in and advocated against—and women rule the labs and kitchens, while enjoying a perfect balance of work and personal life. 
"When I first read her story, I couldn't believe what I was reading—it felt so fresh, so subversive, bold!" Malik says of the novella on her Instagram and Facebook. 
Her visual representation of the story borrows inspiration from Persian and Indian miniatures. The characters themselves resemble a mixture of Malik herself and her sister, the artist shares on social media. 
Shehzil Malik is a Fulbright scholar with an MFA in Visual Communication Design from the Rochester Institute of Technology. With clients including Sony Music, Penguin Random House, Oxfam, Google, and The New York Times, her work has appeared in Forbes, CNN, BCC, and DW. She runs a studio that produces digital art, publications, textile, and public art for social impact projects.