Hanif Kureishi's Twitter diary and why he couldn't make it to Bangladesh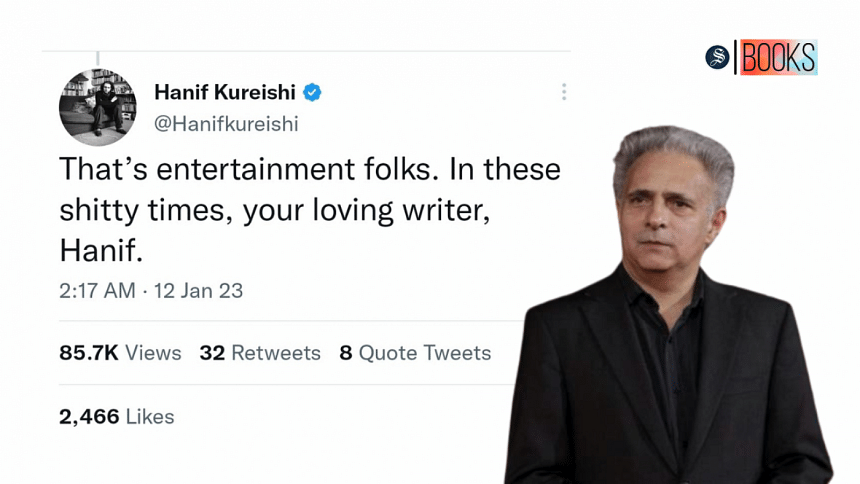 Hanif Kureishi, the British-South Asian writer and filmmaker, was supposed to participate in the Dhaka Lit Fest 2023 in January. 
He had to cancel his trip at the last minute after getting in an accident, DLF organizers told The Daily Star. 
On January 6, the author of The Buddha of Suburbia tweeted that he had a catastrophic fall on Boxing Day after returning to his Rome apartment from a stroll through the Villa Borghese. The fall left him paralysed in the arms and legs. 
Since then, Kureishi has taken to tweeting updates on his health, his experience with paralysis in his limbs, and a stroll down literary memory lane—all with a touch of sharp humour, signing off each time with the line, "In these shitty times, your loving writer, Hanif." 
"The doctor told me I could have died at any moment. I'll take it easy with the fish in the future", he tweeted yesterday after nearly choking on a fish meal. 
Other tweets include the story of how Kureishi first met author Salman Rushdie, an event that he compares to when Eric Clapton saw Jimi Hendrix or The Beatles met Bob Dylan. 
In 1982, Italy Calvino introduced Kureishi to Salman Rushdie in the Arts Centre, Riverside Studios in Hammersmith. Rushdie gave a copy of Midnight's Children to Kureishi, who read the book twice over that same night. An invitation to Rushdie's house with Angela Carter followed. 
"He was whirl of information, wit and wide talk. He had extensive knowledge, everything from Star Wars to the great myths", Kureishi tweeted about Rushdie. "Seeing this phenomenon, I realised I had to start again as a person and a writer. I had to become a comic writer, a serious writer, a writer who could integrate the madness and most interesting elements on the same page." 
Other tweets are cutting and thought-provoking. One in particular has been trending among followers on Instagram:
"If you are not collaborating with a particular individual, you are of course collaborating with the history of that medium, and you're also collaborating with the time, politics, and culture within which you exist. There are no individuals."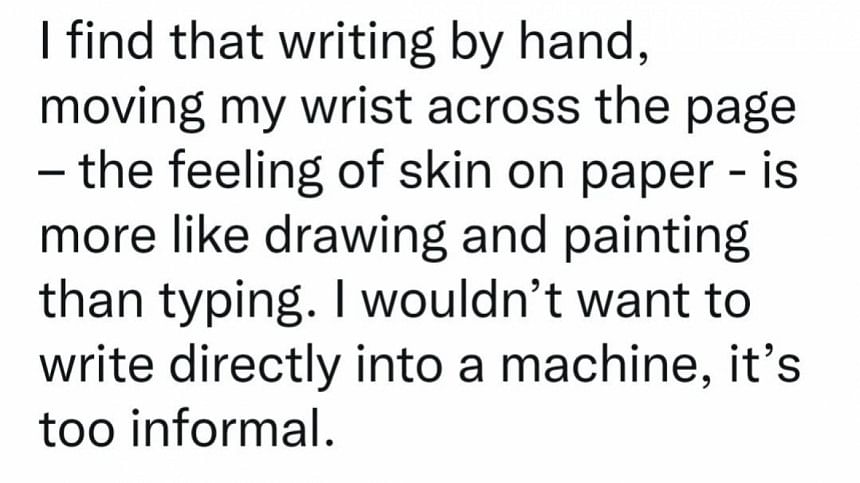 Though they may seem like random introspections, the dispatches reveal Kureishi's unnerving experience of being rendered unable to move and write by hand, which, it seems, has made him rethink the significance of the act. 
Instagram page @southasianbookclub have been resharing these tweets, which has led scores of other readers to follow suit. 
As of the last update, the author's son, Carlos, tweeted from Kureishi's account to inform followers that "Dad is well and resting today, enjoying Spurs vs Arsenal. Back tomorrow. Big drink on him." 
Born in Kent, South London in 1954, studied philosophy at the University of Lancaster and King's College London. His film My Beautiful Laundrette, the story of a gay British Pakistani youth in 1980s London, won an Oscar nomination in 1985. 
His novel, The Buddha of Suburbia (1990) depicts British-South Asian Karim Amir as he navigates class, ethnicity, sexuality and culture in late 20th-century London. In 1993, David Bowie composed the soundtrack to the novel's TV adaptation. 
His work has been translated to 36 languages.