Eight-year-old Rituraj writes Rokomari bestselling book
This year's Rokomari Bestseller Award under the children's fiction category was recently won by Goodwill Factory (Pencil Foundation, 2022), a collection of 10 short stories written by 8-year-old author Rituraj Bhowmick. 
Rituraj started assimilating his everyday experiences on paper, but the project accelerated during the pandemic. While attending online classes became a regular practice, Rituraj's parents began to look for alternative ways for their child to spend time at home doing something meaningful. 
From school, he learned to give structure to his manuscript, and from his parents, he received constructive advice on how to publish his writing. The encouragement motivated him to continue writing about the experiences which have shaped him over the years.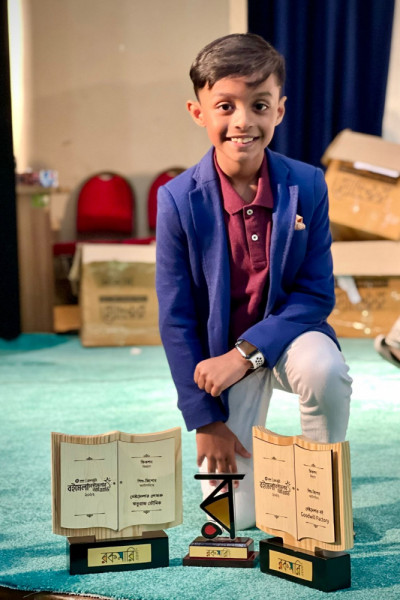 The 10 stories focus on moral lessons he has learned through life, each chapter featuring a key character from his life. The language, as is expected from a young author, is age-appropriate and easy to understand, the publishers have shared. 
This wouldn't be the first of Rituraj's creative pursuits. At age 5, Rituraj gained popularity on the internet by rendering a few songs along with his father; together they formed a band called Baap Ka Beta. 
Rituraj dedicates Goodwill Factory to his mother, who has guided him through the creative process. Proceeds from the book's sales will be donated to charity foundations that work with underprivileged children. 
The book is available for purchase on Rokomari.com.