Discussion on power inequalities
As the guests arrived, the room brightened up and a conversation began that would eventually go on to deeply invest in exploring the nature of power and of defiantly opposing the status quo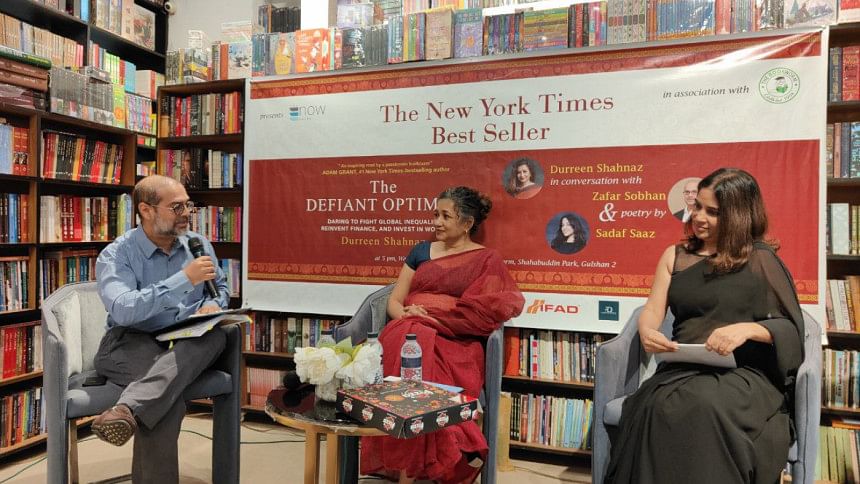 The grass was wet from the heavy showers throughout the day on August 16 at Justice Shahabuddin Ahmed Park. The usual standing stalls for the familiar bookcases were moved to make space for chairs. A banner of crimson and tangerine read: "The Defiant Optimist", with  the message in its subheading: "Daring to fight global inequality, reinvent finance, and invest in women". 
Among the first guests to arrive at the venue was the writer of the book The Defiant Optimist (Broadleaf Books, 2023), Durreen Shahnaz. Zafar Sobhan, Editor at Dhaka Tribune, also attended as the host of the evening conversation. Sadaf Saaz Siddiqi, a molecular biologist, poet, activist, and founder of the Dhaka Lit Fest was there with a paper scroll in hand. 
As the guests arrived, the room brightened up and a conversation began that would eventually go on to deeply invest in exploring the nature of power and of defiantly opposing the status quo. To kick things off, Sadaf Saaz Siddiqi recited a poem of her own composition, an excerpt of which may be seen as the preamble for The Defiant Optimist. 
In the packed room filled with enthusiasts, fans, and distinguished figures, everyone learned of Durreen Shahnaz's story. Growing up in the 1970s, the struggles she faced as a woman in many ways informed her defiant nature. And the book explores that very concept through the stories of her life.
"My mother used to tell me that she was hoping I'd be a boy, and my grandfather lamented my gender as well. They told me these stories as a joke, but was it really? I would like to say that much of these stories come from a place of kindness and laughter, but in reality they come from a place of a lot of anger", she remarked. The room seemed to agree.
And this brought us to the rest of the story and the book at large. Indeed, much of this book talks about power, but in Shahnaz's own words, it is also a finance book. The discussion of the evening thus led us into discussions of finance and economics both at a micro and a macro level. As a widely successful entrepreneur, Shahnaz had plenty of insight into the abstract world of loans and funding. It was enlightening, especially because much of her own work as an entrepreneur focused around women and gender minority communities. Sadaf Saaz joined in as well, and gave us an insight into her own ventures as a businesswoman as well as one of the founders of Dhaka Lit Fest.
The crowd present in the event was as diverse as the panel itself. Literature enthusiasts, changemakers from the UN, Rocket Scientists from NASA, and fellows from Wall Street all came along and gave rise to a discussion that evolved with every new question. Various facets of the nature of impact through finance were brought up, and everyone found themselves invested. A particular favourite of the crowd centred around the discussion of impacting and communicating with the people of indigenous communities and those who may be facing a language barrier. 
Amina Rahman, owner of Bookworm, shared her excitement regarding the event and the rather substantial crowd that gathered, saying, "To be honest with you, gathering the audience is what we're always worried about with every event. When I see about half those seats fill up, that's when I can breathe a sigh of relief. Of course, finding sponsors for our events is another worry since us book sellers don't get a lot of attention, but events like these really help us connect with interested parties."
Tahseen Nower Prachi is a writer whose head is a koi pond of micro tales too scattered to come down to her keyboard. For more of her little pieces follow The Minute Chronicles on Facebook.
Raian Abedin entertains the idea that no words are ever read the same way they are written.