Akhteruzzaman Elias: There is always an other to be purged
'Uttar Khoari' edited by Shibu Kumer Shill, Agamee Prakashani, 2020 'Uttar Khoari' edited by Shibu Kumer Shill, Agamee Prakashani, 2020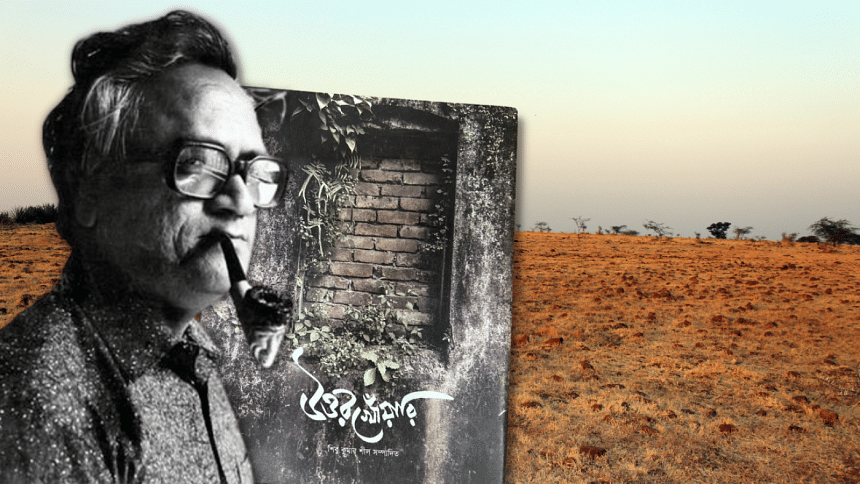 Akhteruzzaman Elias's (1943-1997) creative life was cut short with a premature death from cancer, but his works are enshrined among the classics of Bangla literature. His short story "Khoari" (1975), which in English translates to 'hangover', is a perfect specimen of his meticulous authorship of post-colonial conditions. Shibu Kumer Shill, who had first made a documentary titled Eliaser Khoari in 2014, eventually chose to edit a full-length book around this important landmark in Elias' literary journey. Shill edited the present volume as a rich collection that includes many memories and evaluations of Elias by his friends and relatives, some renowned literary figures of the Bangla language, as well as some occasional thoughts by Elias himself. This anthology also contains the text of "Khoari" itself, and talks about the background of the famous story.
"Khoari" revolves on a house of a local Hindu family in old Dhaka, which was looted and grabbed by the Biharis in the war of 1971. The illegal occupants vanished with the defeat of the Pakistan army. A new tension arose when the liberation force who led the war set their sights upon the same house, seeking to commandeer it from the family in the name of overseeing the entire area in the 'right way'. At one point, Farukh, a close associate of their principal leader Manik, mentions that Manik bhai always says that purging is needed, purging! This was the punchline of "Khoari—that there are always 'others' who must be purged. Samarjit, the central character of this story, has hangovers not only from liquor but from seeing his own friends and fellows pressuring his father to quit this house again. 
The subcontinent has witnessed two partitions where majoritarianism played a significant role. Hindu, Muslim, Sikh, Bengali, Bihari, and indigenous peoples have been purged in different situations in the name of religious or ethno-cultural nationalism. Shibu Kumer Shill makes the apt observation that in plotting "Khoari", Elias dealt with two minorities—Hindus and Biharis—in the post-independence Bangladesh. Elias himself stated in 1987 that his times were shaped by the 1971 Liberation War that brought about a second independence, symbolised by a new flag, but it couldn't bring substantive liberation.  
Elias was a keen observer of society, state and people as he mapped out his characters in terms of their particular tastes, classes, and social positions.  In building his narratives, he always tried to be faithful to history, even if that pushed readers beyond their comfort zones. Thus his stories or novels do not follow any common underpinning that can be easily accessible.
Khoari first appeared in book form from Rajshahi in 1982, the short story published alongside  three other stories in the collection. The publisher, Ichke Duyande, candidly states that Elias would look at both gold and trash with care; thus, his perspective has been considerably vast. His wife, Suraiya Elias, has said that he planned to write a novel on the war of independence in 1971, but the plan could not be realised due to his sudden death. Ahmed Sofa, meanwhile, has mentioned that Elias once expressed the desire to write a novel on the miseries of Biharis. If Elias had the chance, his intended novels would have been undoubtedly an outstanding contribution along with his twin great novels. 
His friend Abdul Mannan Syed explained the transformation of Elias as a writer in terms of a temporal sequence: while the young Elias was partly a romantic experimentalist and a sentimentalist, the late Elias was more committed to a particular ideology. Yet, this division was not watertight. The two phases of his literary itinerary overlapped.  
Elias has been acclaimed for his keen, perspicacious realism. Still, reality has its limitations: the ultimate reality is almost impossible to depict. Syed Shamsul Haq mentions that Elias was highly dissatisfied with his novel Chilekothar Sepai and acknowledged that he couldn't correctly grasp the actual reality of the 1969 uprising in the text. Perhaps genuine writers cannot easily achieve a sense of fulfilment or closure from their works, and this very dissatisfaction drives them towards creating more.
The production, size, and presentation of the present volume are excellent, and many pertinent and rare images enhance its value for readers.
Priyam Pritim Paul is pursuing his PhD at South Asian University, New Delhi.