Academics discuss Afsan Chowdhury's 'Narider Ekattor'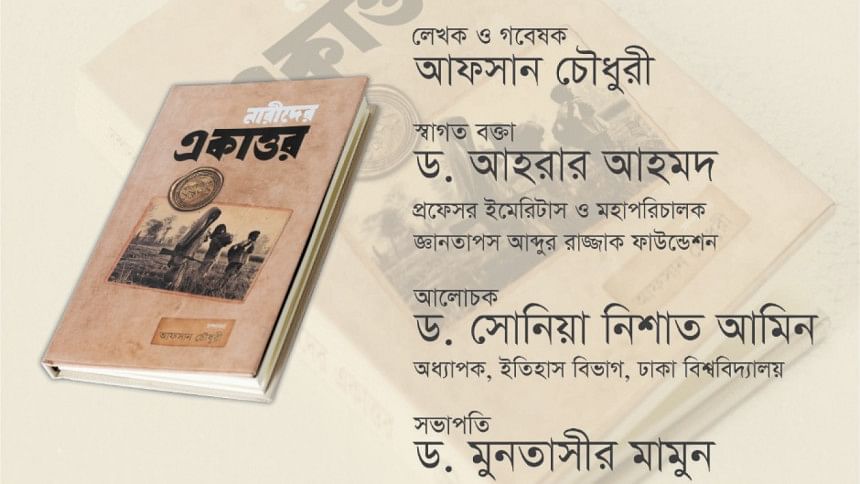 Gyantapas Abdur Razzaq Foundation's newly inaugurated program, Grontho Alapon—Lekhok O Boier Mukhomukhi, aims to discuss contemporary books about cultural and social issues, hoping to improve engagement between authors and readers. The second event of the series was held at 6PM on Saturday, October 22, at Dhanmondi's Bengal Shilpalaya—discussing eminent author and researcher Afsan Chowdhury's book, Narider Ekattor (UPL, 2022).
Professor Muntassir Mamoon, Bangabandhu Professor at the University of Chittagong, presided over the event. He was joined by Professor Sonia Nishat Amin of the University of Dhaka's Department of History. 
The event began with a welcome speech from the foundation's director, Professor Emeritus Ahrar Ahmad. In his speech, he said, "Books are one of the most important ingredients in terms of establishing our identity and goals. The liberation war is definitely one of the most sensational and prolific moments in our history." 
Author Afsan Chowdhury shared, "The book is the result of efforts to collect information over the last 40 years and an attempt to highlight the specific aspects of women's history. For example, having to handle the family during the war, receiving and providing shelter, looking out for one's own security and avoiding sexual assault—in most such instances women have been the victims." 
"The liberation war was terrifying for women and this is why Afsan Chowdhury's book is crucial. It is important to study our culture to understand the history of our liberation war," said Professor Sonia Nishat Amin.
Professor Muntassir Mamoon remarked, "Afsan Chowdhury has attempted to bring up the issues faced by vulnerable groups in his research."