7 books that contain spellbinding fictional books
Bookception, if you will
What could be better than reading a book? Reading a book about books, of course! Bookception, if you will. 
Forget the love triangles and the morally grey characters, I'm here for the books. Books that understand the encompassing joy of losing yourself in a fictional world and books that reveal how powerful words can truly be.  
These books explore the idea that books can be much more than just inanimate objects. They can take on a transformative role in a story, transporting characters to magical places, inspiring us, and shaping the world itself. By making books an integral part of a story, the authors imbue them with a sense of magic that has captivated readers for decades. For World Book Day, here are seven books that invent and explore fascinating, fictional books. 
The Starless Sea
Erin Morgenstern
Doubleday, 2019 
When Zachary Ezra Rawlins, a graduate student, discovers an authorless book that unexplainably contains a Tale of his own childhood, he becomes entranced with a magical journey that leads him to a hidden underground library filled with stories from all of time and space. He finds in this curious place more than just a buried home for books and their guardians—it is a place of lost cities and seas, lovers who pass notes under doors and across time, and stories whispered by the dead. As Zachary tries to find purpose in both his life and the mysterious book, he discovers the power of stories, the multitude of worlds they contain and those who fought and gave their lives to protect them.  
The Starless Sea is described as "a love letter to storytelling, an ode to those who carry stories like a secret talisman in their pockets and rub words for comfort until they are worn smooth as creek stones", and rightfully so. It is whimsical, confusing, and full of twists and turns, leaving readers with more questions than answers, Turning the last page feels like waking up from a vivid dream. This is one of those books I wish I could erase from my memory to read again for the first time and lose myself in its magical world all over again. 
Fahrenheit 451
Ray Bradbury
First published in 1953
While some might find the act of burning books sacrilegious, others can't imagine a list of books about books without this cult classic on book censorship. Fahrenheit 451, the critically acclaimed novel by Ray Bradbury, explores a dystopian American society where books have been outlawed and "firemen" are tasked with burning any found. The story follows Guy Montag, a fireman who becomes disillusioned with his role of censoring and destroying knowledge, eventually quitting his job and committing himself to the preservation of literary and cultural writings. Despite its role as a classic from a bygone era, its themes of censorship, elitism, and knowledge used as a tool to control the masses are still eerily relevant today. ⠀ 
Sorcery of Thorns
Margaret Rogerson
Margaret K. McElderry Books, 2019
Magical books that talk and turn into monsters, powerful sorcerers, mysterious demonic servants and great libraries—need I say more? Sorcery of Thorns follows Elisabeth Scrivener, an orphan raised in the Great Library of Summershall, training to become a warden to protect the world from the dangerous books that rattle the shelves of the library. But when the Great libraries start getting attacked, killing the wardens who guard them, Elisabeth turns to Nathaniel Thorn, a sorcerer whose family is dogged with rumours of necromancy. Together, they are yanked into the machinations of blood, greed, and power.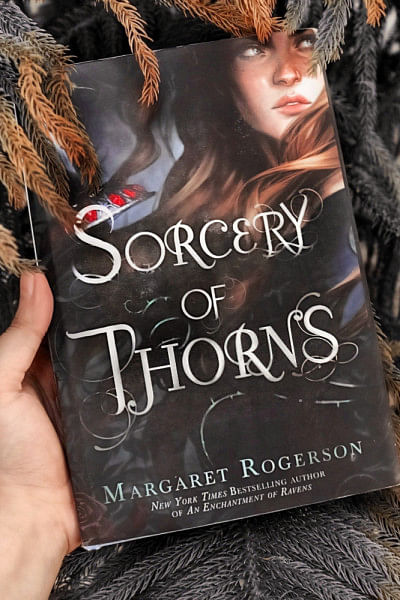 Rogerson brilliantly personifies the grimoires, bringing them to life as living, feeling creatures capable of good or bad, kindness or scorn, and most of all, corruption. The books aren't just a plot device in this novel, they are primary characters that influence and impact both the characters and the readers.  
The Binding
Bridget Collins
William Morrow, 2019
What if you could remove an embarrassing or painful memory from your mind and "bind" it in a book? Once the stories have been told and are bound between the pages of a book, the slate is wiped clean, and the memories lose the power to hurt or haunt you. 
In Bridget Collin's fictional world, vaguely reminiscent of 19th-century England, Emmett Farmer learns the danger of bookbinding and the consequences of voluntarily losing one's memories. Everything changes when he comes across a book one day which holds his own memories, with no recollection of how they got there. While the premise and atmospheric writing makes for an engaging novel that readers either love or hate, the concept of binding memories into books is quite unique.  
Inkheart
C Cornelia Funke, translated by Anthea Bell
Chiken House, 2003
Meggie, and her father, Mo, are like two peas in a pod. Mo works as a bookbinder/restorer, and Meggie is a full-time reader—she reads every single moment she's not in school. One cruel night, Meggie's father reads aloud from a book called Inkheart, and an evil ruler escapes the boundaries of fiction and lands in their living room. Suddenly, Meggie is smack in the middle of the kind of adventure she has only read about in books. She's read countless stories of heroines, but to actually become one? That would take pure bravery and nerves of steel. Is she up for the challenge, or will she fail? 
Who hasn't dreamt of being able to enter the worlds described in books or of their favourite characters coming to life? There's something truly magical about finding pieces of yourself in the characters you read, and Meggie's love for reading and her connection with the books she reads is one most readers can relate with.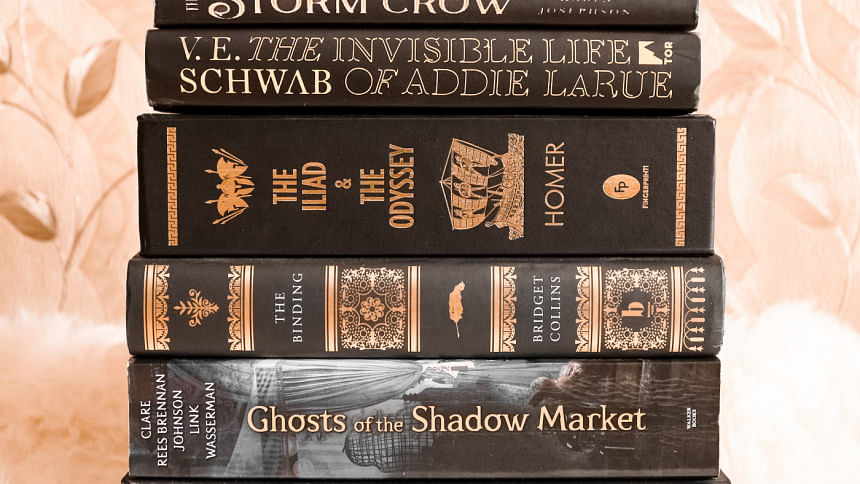 Babel: An Arcane History
RF Kuang
Harper Voyager, 2022
The Oxford University's prestigious Royal Institute of Translation, otherwise known as Babel, is the world's centre of translation and silver-working, the art of manifesting the meaning lost in translation through enchanted silver bars, making the British Empire unparalleled in power. Babel's research in foreign languages serves the Empire's quest to colonise everything it encounters. Oxford, the city of dreaming spires, feels like a fairy tale for Robin, an orphan brought to London from his hometown to become part of the prestigious translators at Babel. But for Robin, a Chinese boy raised in Britain, serving Babel means inevitably betraying his motherland. Now he must choose, will he join the revolution or comply with the oppressors? 
Babel's piquant homage to languages, translations, identity, and ethnicities is truly a sight to behold. Kuang's powerful use of language crafts Babel's fantastic epic world filled with student revolutions, colonial resistance, language's value, and the crucial role books play in preserving and transmitting it. 
The Shadow of the Wind
Carlos Ruiz Zafon, translated by Lucia Graves
Penguin Books, 2001 
When Daniel is taken by his father to the Cemetery of Forgotten Books and told to salvage a book which he must take stewardship over, he chooses a novel titled "The Shadow of the Wind" written by a deceased author, which stirs his desire for literature and forever entangles him with the fate of the book and its author. The strange author died in poverty, but now someone is seeking out all remaining copies of his novel to burn. Daniel becomes entangled on a mission to solve the mystery of who's trying to destroy the books, and as the story twists and unravels, he doesn't know whose account to trust or how it will affect his life. 
Described as an "epic story of murder, madness, and doomed love", The Shadow of the Wind takes readers on an enchanting trip through Barcelona in 1945. At its core, this is a story within a story, a book for all the book lovers who understand the bonds we create with the books we read and the ones who get transported to magical worlds through them. 
Sara Kabir is a dreamer, a literature graduate, and a writer. She is often found juggling academics and her countless hobbies. Follow her @scarletfangirl on Instagram for more.