Solo exhibition 'My Country' is an ode to Bangladesh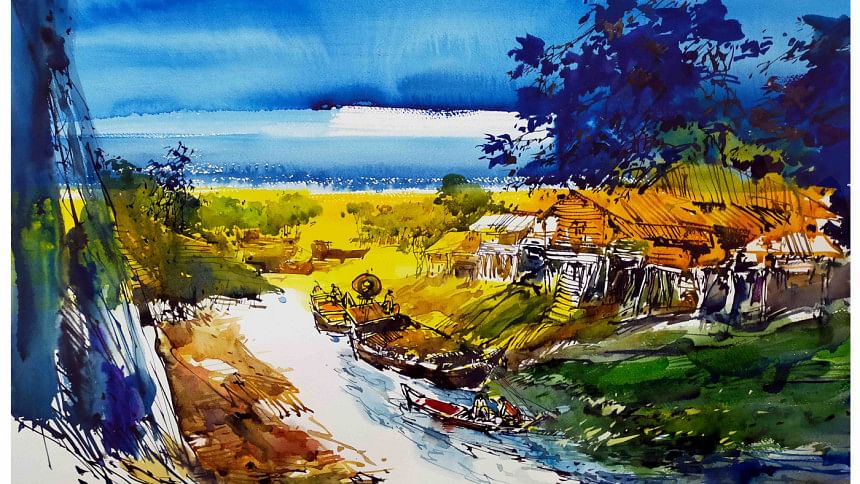 Prominent artist Shohag Parvez's eighth solo exhibition, "My Country" is currently underway at Galleri Kaya in Uttara.
The artist, who was born in Kushtia, has been a painter for 25 years. He started his art expedition under the supervision of noted artist Mir Zahid, when he was in the sixth grade. Shohag used to tag along with his mentor, exploring village after village. He eventually realised his deep rooted love for rural Bangladesh and nature. "If you want to experience and rejoice in the true beauty of Bangladesh, you must visit our rural areas. To this day, rural areas are where I keep travelling to with my sketchbook," he says.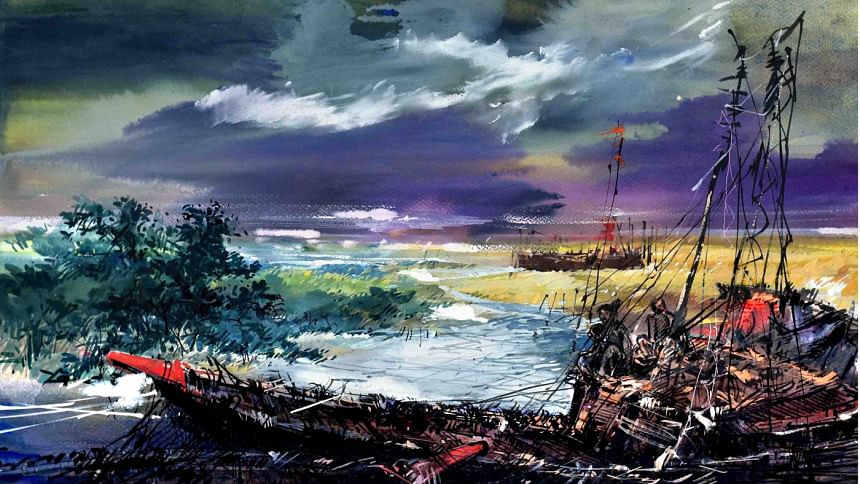 42 of his compositions are displayed in "My Country", encompassing works in watercolours, charcoal, acrylic, pen, and pencil. "All of my charcoal paintings have been sold out, and I am grateful to all my well-wishers and audiences who appreciated my work," says Shohag. He completed his Bachelor's and Master's from Faculty of Fine Art, University of Dhaka. His first exhibition in Galleri Kaya was held back in 2012, when he was a first-year Master's student.
His works revolve around Bangladesh and her rural beauty, and he assured he would never deviate from this subject. "I will forever be indebted to Bangladesh. I have always represented her beauty through my work and I shall continue doing so persistently," he explains. "
"Our people, boats, rivers, indigenous culture, everything stands out from the rest of the world. Artists can identify these differences and beautify them through their work." He is renowned for his watercolour compositions. "I once received a call from esteemed writer Humayun Ahmed, who called me to his Dokhhin Hawa residence and told me that he had heard of me and wanted me to help him with learning watercolour art. I was taken aback, and ever since then, my love for watercolour has grown," he shares.
Shohag took part in more than 45 art camps and 75 group exhibitions, not only in Bangladesh but also India, Pakistan, Nepal, Bhutan, Philippines, Japan, Dubai, China, Australia, and America.  He has composed around 3,000 book covers and illustrations. He has his own decade long Fine Arts academy, named Jolerdhara, which is an art school to almost 200 students from all across Bangladesh. The academy is currently holding classes online due to the Covid-19 pandemic.
"We teach art to anyone aged over 15 and have a lot of women participating in our classes. Our academy offers four art trips, four art camps, one exhibition and one workshop to the learners," says Shohag.
His latest project has to do with teaching art to underprivileged children. "We will provide them with free clothing as well as arts and crafts materials, and teach them the basics of art. In my opinion, with the right basics, practice, imagination and honesty anybody can be an artist even without an educational background in fine arts. We intend to stand by these underprivileged children."
 "My Country" will be open to spectators till September 24 from 11 am to 6: 30 pm, provided that they follow all Covid-19 safety guidelines.
The author is a freelance journalist and a final year Marketing & International Business student at North South University. Email: [email protected]