Solo exhibition 'Matir Manush' provides vivid look into simple lives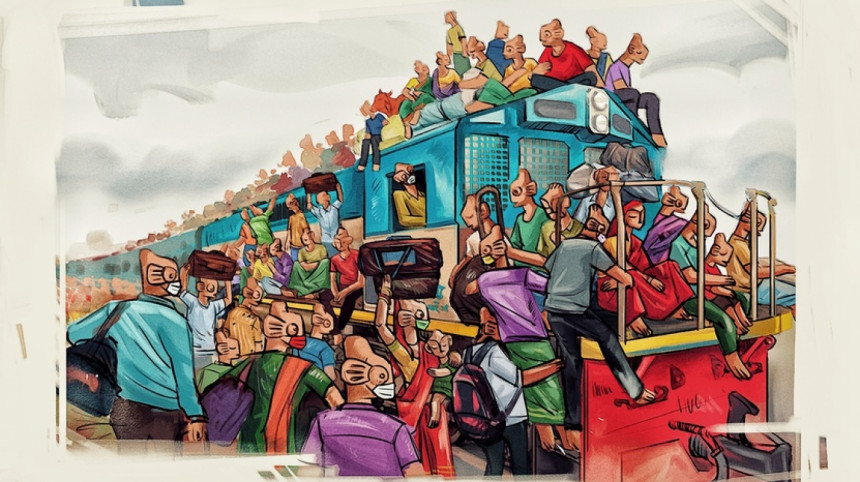 EMK Center's virtual solo exhibition, "Matir Manush" features works of young artist Md Rasel Rana. The 41 artworks on display present the tradition, culture, celebrations, and everyday lives of Bengalis in a whimsical way.
Clay utensils, puppets, and showpieces are some of the oldest domestic artworks of our culture. One of the sub-categories of such clay dolls is a terracotta sculpture, commonly known as 'Tepa Putul'. Rasel's digital illustration artwork series is created using characters from this concept.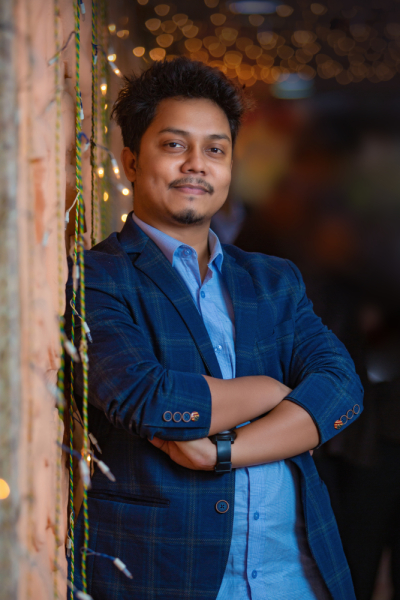 "Matir Manush is a widely used proverb indicating people of simple and genuine minds. Through my artworks, I have attempted to visually present the good and bad in people, and their state of minds," he shared.
Rasel completed his Bachelor's and Master's in Graphic Design from the University of Dhaka, and is currently working as a lecturer in the Department of Fine Arts, Jagannath University. "My fascination with 'Tepa Putul' began from a very young age as they are an important and popular part of our tradition. I have tried to transform this clay doll form into a variety of images, design forms, motions, character designs and illustrations," he explained.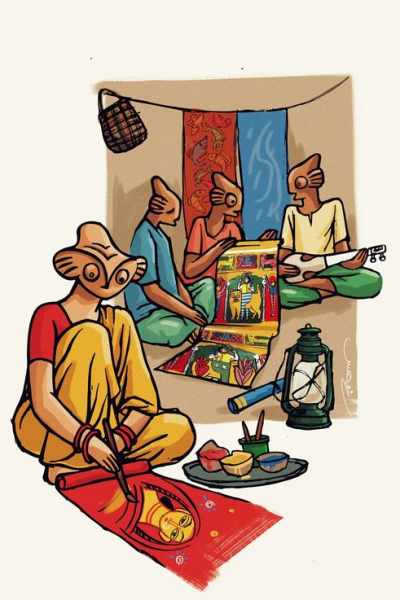 Rasel has used native bright colours and forms for painting the actual scenario of 'Matir Manush' through various situations. The first illustration, 'Boishakh 1427', was created in 2020 and initially, he limited his artworks to themes related to the pandemic and lockdown. These also contain an illustration portraying the plight of impoverished communities. 
The series, "Tradition", shows the traditional rickshaw art of Bangladesh, indigenous dance forms, and stitching of our beautiful nakshi kantha. Rasel regards Shilpacharya Zainul Abedin as his inspiration, and paid tribute to the eminent artist through some of his illustrations. Certain illustrations also include Bangabandhu Sheikh Mujibur Rahman and Sheikh Russell.
In one such illustration, a sick man is seen lying down and no one has come forward to help. A photojournalist, denoted using a clay doll, has stepped forward while others are watching and clicking pictures. This was a part of a collage titled 'Situation' and features illustrations on other social issues.
A number of illustrations have visualised the journey of people during Eid holidays, while others depicted the misery of flood-prone regions.  Rasel's illustrations also depict various special days, including Father's Day, Mother's Day, Victory Day, Environment Day, Dhaka University Day, and Labour Day.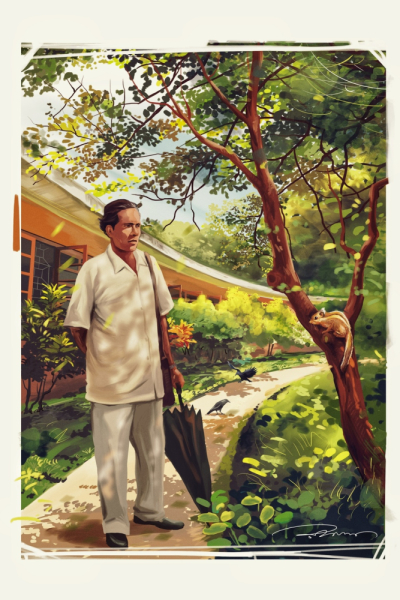 Through this exhibition, EMK Center wishes to promote digital illustration to the public while commemorating Bangladesh's 50th anniversary of independence and EMK Center's ninth anniversary. The exhibition is available on EMK Center's website till October 15.
The author is a medical student and a freelance journalist who likes reading, scribbling, and blogging. Email: mislammonamee@gmail.com.