Covid-19 vaccines reached 36 districts: health directorate DG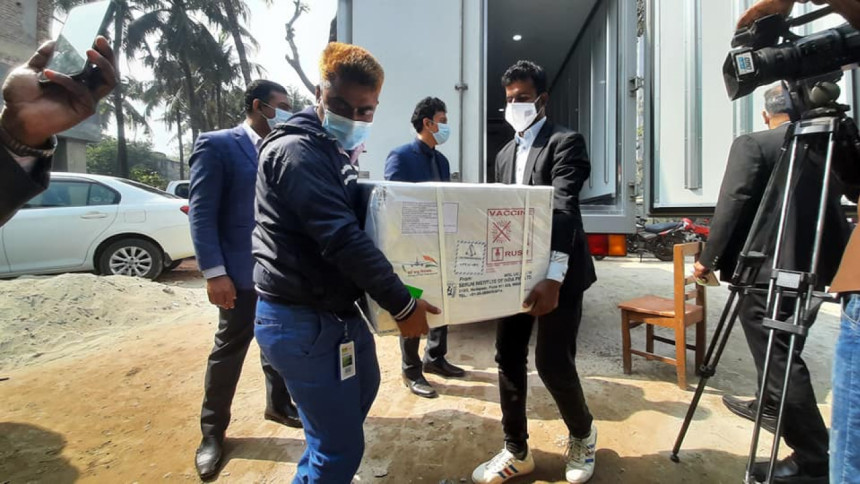 As the countrywide inoculation will start from February 7, the Covid-19 vaccines have already reached 36 districts while the rest will be delivered by tomorrow.
Prof Dr ABM Khurshid Alam, director general of the DGHS, confirmed this to media after attending a programme at National Institute of Preventive and Social Medicine (NIPSOM).
So far, 15,000 people have registered for vaccination across the country, the DG said.
In Khulna, consignment of 1.68 lakh doses have reached today.
Khulna Civil Surgeon Dr Niaz Mohammad formally received the vaccines, which have been stored at School Health Clinic.  
Training for health workers, who will conduct vaccination, have already started and will continue till February 3.
In Cumilla, 24 cartons with 1,200 vials of Covid-19 vaccine have reached the civil surgeon's office from Dhaka in the morning, said Civil Surgeon Dr Niatuzzaman.
In Bandarban, total 1,200 vials of vaccine reached Bandarban in the morning, said Dr Aung Swi Prue Marma, civil surgeon of Bandarban.
"We have stored the vaccines at the EPI centre of Bandarban Sadar Hospital," he said.
Covid-19 vaccines were handed over to Sylhet and Sunamganj districts today.
Nineteen cartons containing over 2.28 lakh does reached Sylhet while seven cartons with 84,000 doses of vaccines reached Sunamganj, Dr Premananda Mandol and Dr Shams Uddin, civil surgeon of the respective districts, confirmed.
In Rangamati, the vaccines reached the district's EPI centre around 1:00pm today, said Civil Surgeon Dr Bipash Khisa.