Zafar Iqbal won't press for BCL men's punishment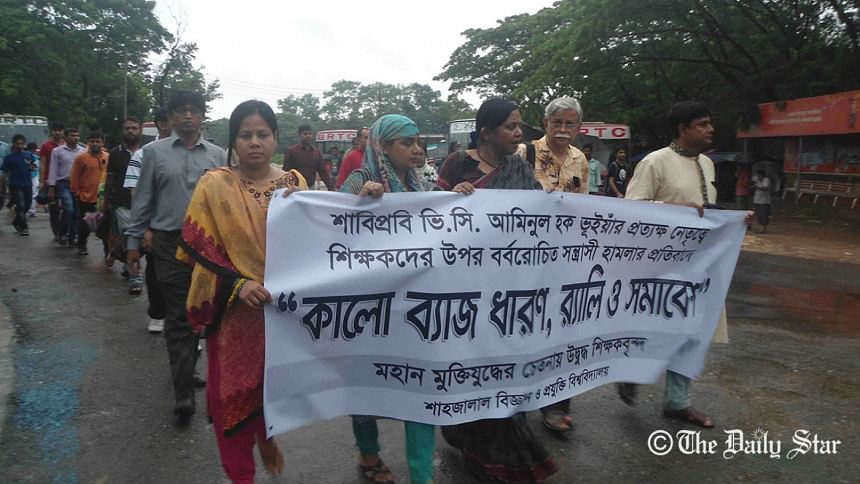 Professor Zafar Iqbal has said he will not press for punishment of the Bangladesh Chhatra League (BCL) activists over yesterday's attack on teachers of Shahjalal University of Science and Technology (SUST).
"Whose punishment shall I demand? They are the students of this university," the eminent educationist told journalists today, a day after the event at the university in the northeastern district.
- Teachers continue demo for VC's resignation
- Students condemn attack
- Probe committee formed
ALSO READ: Zafar Iqbal shell-shocked
An acclaimed writer, Zafar Iqbal alleged that it was the university authorities who were using the BCL. "Otherwise, they (BCL activists) couldn't have done it."
Activists of the ruling Awami League's student front swooped on teachers' demonstration in front of the Vice-Chancellor Aminul Haque Bhuiyan's office yesterday. About 10 teachers, including Zafar Iqbal's wife Yasmeen Haque, were assaulted.
"We never gave such education," said Zafar Iqbal, who was seen sitting dejected in the rain and appeared shell-shocked after the attack yesterday.
"It's hard for me to accept it."
MOVEMENT FOR VC'S RESIGNATION TO CONTINUE
Meanwhile, Shahjalal university teachers followed up yesterday's demo with work abstention today.
All examinations however have been kept out of its purview.
Agitating under the banner of Mahan Muktijuddher Chetonay Udbuddho Shikkhak Parishad, the teachers brought out a procession this morning. They condemned yesterday's attack and said their movement for resignation of the VC will continue.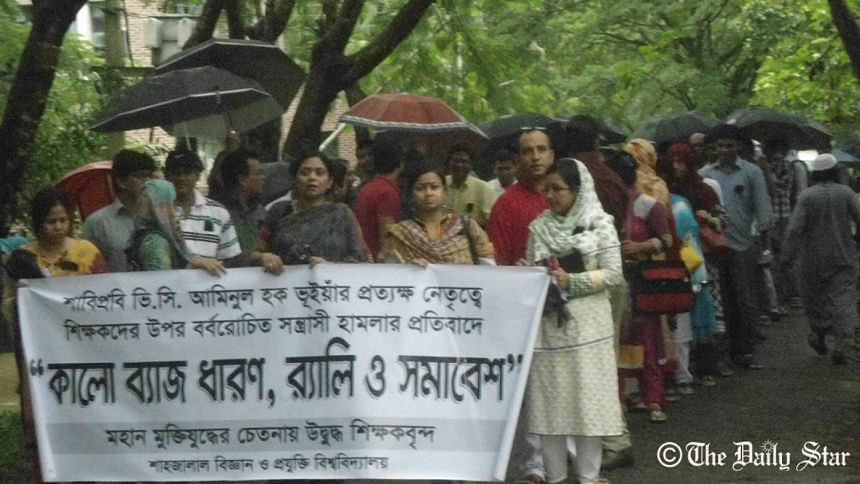 Former university proctor, Emdadul Haque, requested Prime Minister Sheikh Hasina's intervention in removal of Shahjalal university VC within 24 hours.
Also, general students today staged demonstrations under various banners condemning the attack on teachers.
Last night, authorities formed a three-member probe committee to investigate the incident, Vice-Chancellor Aminul Haque Bhuiyan said.