Zafar Iqbal shell-shocked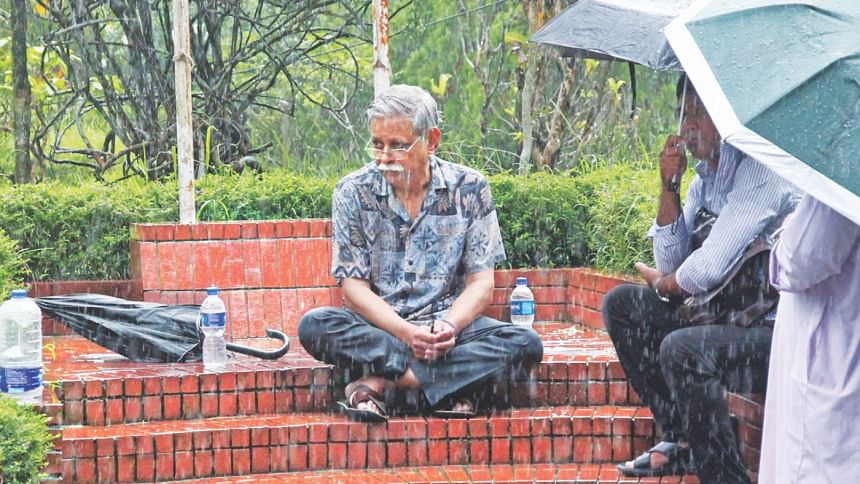 Prof Muhammed Zafar Iqbal perhaps could not believe what had just happened -- some students of his university swooping on their teachers right before his eyes.
Shell-shocked, the eminent educationist who is widely respected for his pro-student stances over different issues found it hard to keep standing.
He squatted on the ground and remained there even when a splash of rain drenched him. He had an umbrella right beside him but didn't even touch it, perhaps because of perplexity triggered by the shock.
"Today [yesterday] I have gained an experience of a lifetime. I never even imagined that I would have to witness such an incident," said the professor of Computer Science and Engineering at Shahjalal University of Science and Technology (SUST).
Only a while back, some alleged Chhatra League activists had physically assaulted a group of his colleagues who were demonstrating against Vice Chancellor Aminul Haque Bhuiyan.
What perhaps came as a bigger blow to Zafar Iqbal, an active pro-Liberation War voice, was that the attackers were shouting "Joy Bangla" when they pounced on the teachers.
"With this 'Joy Bangla' slogan, the Liberation War was fought. I never saw such a humiliation of the slogan in my entire life," said the professor, now in his early 60s.
"The way the students attacked our teachers, if they were my students, I should hang myself [because] you [I] have made these kinds of students.
"I am suffering from an excruciating pain. How my university students could show such behaviour with the teachers!"
He believed it was the VC Aminul who had let the alleged pro-ruling party activists loose on the teachers.
"But if you [the VC] think that the movement can be stopped this way, then you are making a big mistake. That is not going to happen because the teachers are waging the movement not to avail any post or position. They are in the movement to save the university, which they had built, not the vice-chancellor," Zafar Iqbal added.