Vitamin A Capsules: Five-day national campaign begins
Infant dies after taking the capsule; several hundred 'fall sick'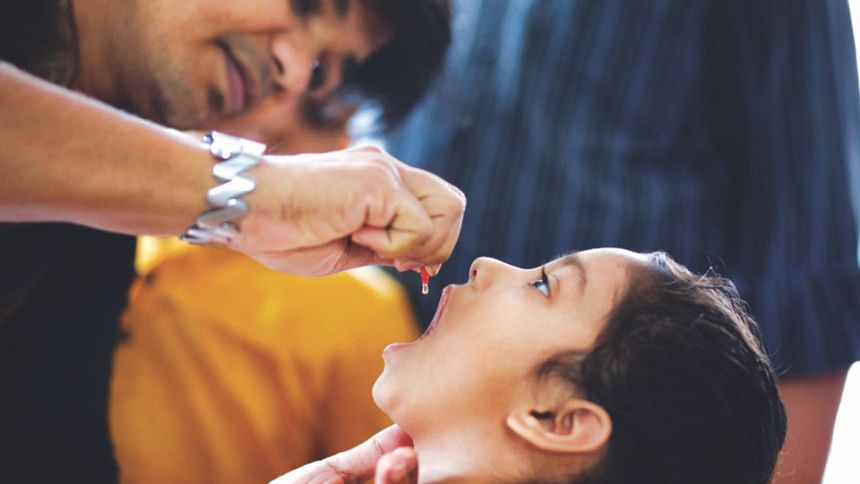 A 16-month-old boy died hours after being given a vitamin A capsule in Jamalpur's Sarishabari yesterday, the first day of a previously postponed national campaign.
Sunit Roy started throwing up and discharging loose faeces about two and half hours after he was fed the capsule. He died about an hour later, said Goutam Roy, civil surgeon of the district.
The Vitamin A Plus Campaign was launched to give vitamin A capsules to some 2.25 crore children aged between six months and five years.
Several hundred children in the upazila reportedly fell sick after taking the capsules.
Asked, Md Younus, director of Institute of Public Health and Nutrition, said a sense of panic spread among parents after hearing about the death of the infant and they rushed to the health complex in Sarishabari. After talking to doctors, they returned home.
Father of the infant, Surojit Roy, a sub-assistant community medical officer of Sarishabari Upazila Health Complex, declined to talk to reporters.
Civil Surgeon Goutam said Sunit was one of the 536 children given the capsules from Kamrabad Family Welfare Centre in Sarishabari.
The baby was fed the capsule around 12:00pm and was taken home. After sleeping for a couple of hours, he started vomiting around 2:30pm and was also having loose motion.
He was then taken to Sarishabari Upazila Health Complex where he died around 3:45pm, said Goutam, who visited the hospital.
He told The Daily Star that other children who were also fed the capsules had no problems.
Meanwhile, the government formed a three-member probe committee led by resident medical officer of Sarishabari Upazila Health Complex to see whether there was a link between the capsules and the boy's death, Younus said.
"We have provided vitamin A capsules to about 2 crore children. If there was anything wrong with it, why would the children of one upazila be affected?" he told The Daily Star last night.
All the capsules bought four or five months ago were tested in a laboratory. There should not be anything wrong with the capsules, he added.
NATIONAL CAMPAIGN
Health Minister Zahid Maleque started the five-day campaign by giving vitamin A capsules and de-worming tablets to kids at Dhaka Shishu Hospital.
On January 17, the Institute of Public Health Nutrition had postponed the campaign slated for January 19 after receiving reports that capsules got stuck in packets.
While launching the campaign yesterday, the minister urged the parents not to pay heed to any rumour and to give their children vitamin A capsules and de-worming tablets to prevent childhood blindness, reduce child mortality and strengthen the immune system.
"We'll be able to build a beautiful Bangladesh for the next generation if we can make the campaign a success," he said.
The government is providing vitamin A capsules to the children for free.
Mobile healthcare centres have been set up at bus stands, railway stations, launch and ferry terminals, airports, bridge toll centres and kheya ghats. These will remain open from 8:00am to 4:00pm during the campaign days to make sure that all the children of the specific age group are given vitamin A.
Around 25 lakh children aged between six and 11 months will be given one blue-coloured vitamin A capsule each, while around 1.95 crore aged between 12 and 59 months would be given red-coloured capsules.
They will be given vitamin A capsules at some 120,000 permanent and 20,000 mobile healthcare centres across the country.
Children aged below six months or more than five years or with any kind of illness should not be administered the capsule, according to officials.
The rate of children's night-blindness in the country has come down below one percent following the distribution of vitamin A capsules regularly.
Giving children vitamin A capsule not only keeps them safe from night-blindness, but also enhances their immune system, keep their eyesight perfect, bring down child mortality rate and ensure their natural growth.