Trucker turns innovative malta farmer
Matiur grows the luscious fruit in Barind area, shows others the way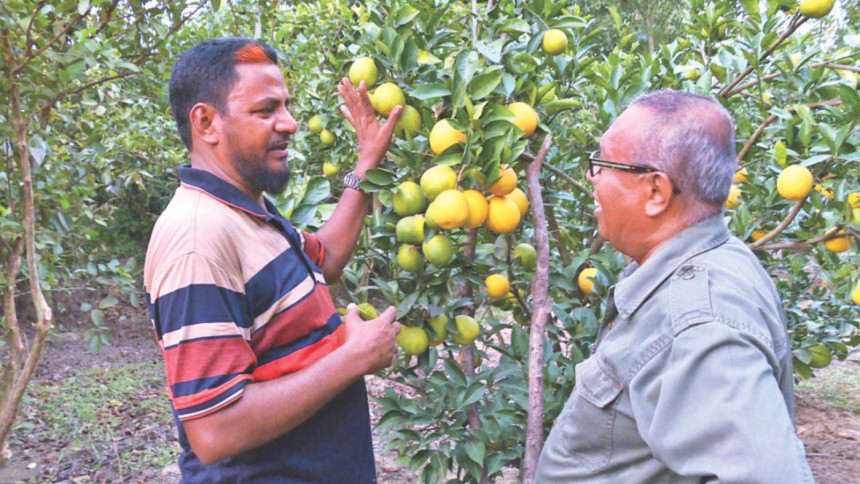 A few years back the Barendra (Barind) region was the example of austere nature. People could barely dream of growing anything there. However, as a result of many development projects and diverse initiatives from farmers, the region has turned around. The colour and face of the entire locality has changed as well. It has become greener and livelier. Fields of green are on the landscape, which was a very rare image to witness a couple of years ago. Round the year, the fields are full of crops. Farmers are bringing in success, one after another. Once, Rajshahi was referred to as 'mango region' of the country, but today, it is producing different fruits, as many as you like.
I went to Chanpainawabganj's Jamtara village to see with my own eyes the success of an entrepreneur. He has brought revolutionary success with his malta orchard. He is Matiur Rahman, an honest and industrious farmer who can certainly be a model for many others.
Dear readers, those of you who continuously follow my TV programme, Hridoye Mati O Manush (Soil and People in Heart), have definitely watched the growth of malta orchards on different episodes, for the past three years. I have covered malta orchards, located around the country. Specially, the variety of malta which amazed me along with the farmers is, Malta-1. It's really luscious and very sweet. What I have seen so far is most of the maltas look green after they ripen. But, Matiur's maltas appear yellow after they ripen.
I asked Matiur about the secret of success behind it.
"I used the right technology at the right time so it happened," replied Matiur.
"Proper management is the key to your success", he added.
One amazing information that I would love to tell you is Matiur was a truck driver of the Roads and Highways Department. He could have easily carried on with his job. But, he fell in love with nature and his spontaneous overflow of powerful feeling was expressed in malta farming. But he's not only dealing with emotion, he's dealing as well with commercial farming. The knowledge of farming and trade comes along when I talk about Matiur. He has been building his orchard for the past four years gradually.
Matiur is a dreamer and a pragmatic farmer at the same time.
"I love science, and for uninterrupted electricity supply I have solar panels," says Matiur.
"I have also grafted malta plants so that others can make their orchards easily," added Matiur.
Modern irrigation facility to ensure water is spread around the orchard for 200 malta plants. The garden is full of yellow maltas. And this has been become possible due to the realistic measures taken by Matiur.
Matiur's wife Nasima Begum also works at her husband's orchard.
"I really love to work here and we together dream of a greater future," says a confident Nasima.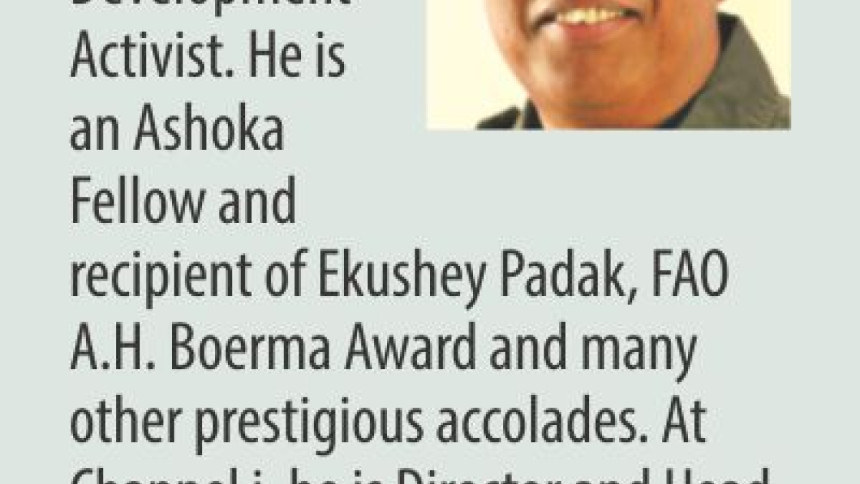 Matiur claims his maltas are the sweetest in the country. He also has solid knowledge on TSS (total soluble solids) which gives him the information on the sweetness.  He also does fruit bagging and it seemed to me that he has been following the right and the most modern steps to turn his orchard into gold. Senior Horticulturist Dr Sharaf Uddin says, Matiur certainly has the love for farming and also for modern technologies and definitely he is doing everything right to get the best fruits out of his orchard.
The hopeful message is around Chanpainawabganj, farmers have followed the footsteps of Matiur to make their own orchards. In total, malta orchards have spread up to 500 bighas of land. Matiur also grows mango in his farm along with some other fruits. His orchard has become the ideal spot for agro-tourism. Many people from different localities come to Matiur's orchard to see farming from very close.    
Dear readers, around the country, with the endeavour from entrepreneurs and visionary farmers, every day Bangladesh is writing success stories. Not only the money has attracted these great minds, but their minds were deeply rooted to soil. That's why are witnessing the boom in farming sector, with diversified crops. In this regard, truck driver Matiur has strongly got hold of the steering for farming. And, this is how the Barendra region is developing. I believe strongly that with efforts from farmers like Chanpainawabganj's Matiur, Pirojpur's Reboti Sikder, Meherpur's Ismail and many more like them Bangladesh will soon be self sufficient in fruit production. And then, there will be no need for dependence on import. I am positively waiting for that historic day, like all of you.