Traffic jam and shopping: Make the best out of Ramadan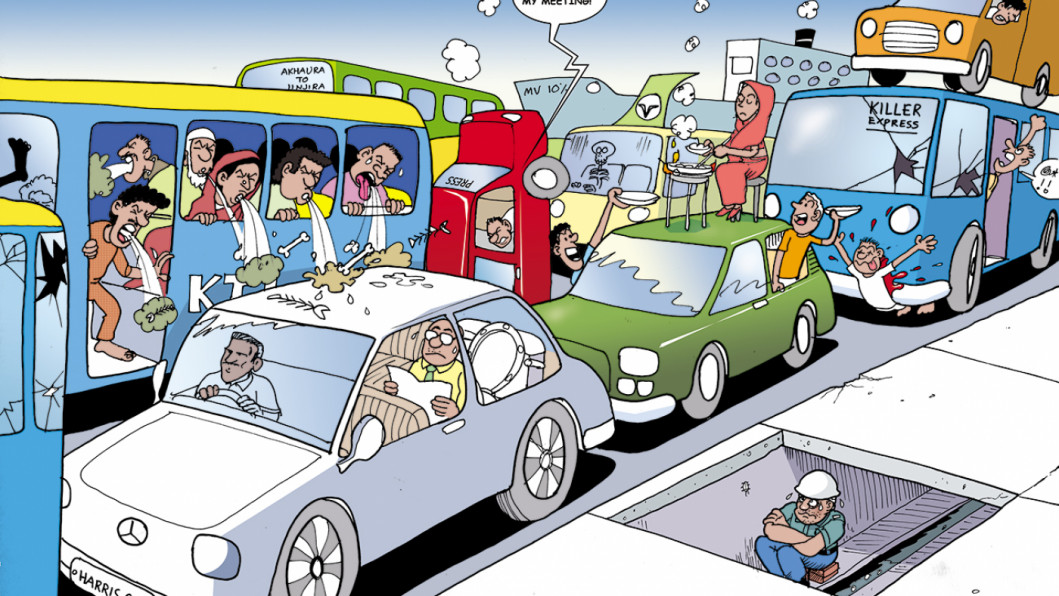 Two major aspects of Ramadan are self control and charity. The Holy Qur'an says: "Turn to your Lord when you are free from your affairs." In Bangladesh, Ramadan also means an increased traffic on the roads. And with everyone rushing to finish shopping before Eid comes knocking at our doors, traffic jams waste away our entire day and all our plans. Here's how The Daily Star Online thinks you can make the best out of the Ramadan traffic jam and shopping:
Traffic Jam
MAP OUT YOUR ROUTES
Select at least two alternative ways besides the straight route to your destination. You can get help by reviewing maps, both online and offline. For example, if you want to go to Dhanmondi from Karwan Bazar, you may take either Manik Mia Avenue or Panthapath.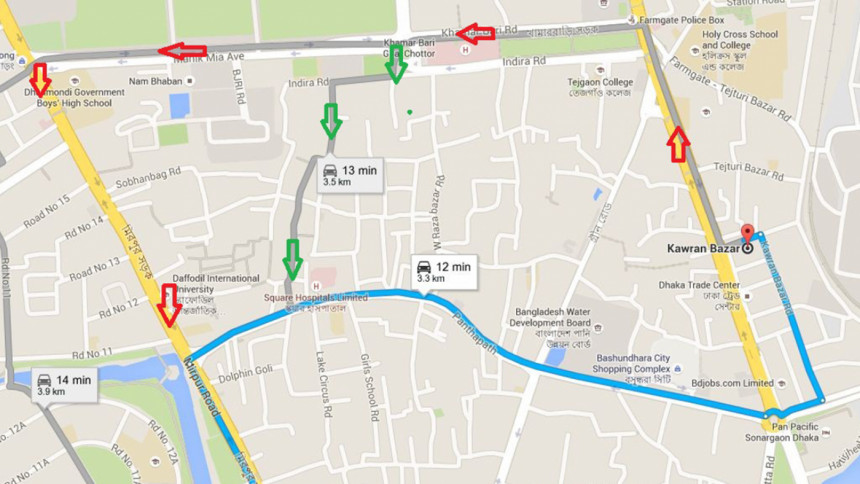 SWITCHING ROUTES
Find out ways so that you can switch from one route to another, at various points of your commute if you face a sudden traffic jam ahead. Call co-workers, or other people who take the similar routes. They may know of a shortcut. Do this on days when you can afford to be late, if the route should turn out to take longer.
BE READY FOR YOUR DESTINATION EARLY
If you observe fast, you will get enough time in the morning to set for your destination early. Just have a bath and get ready. The route might be less crowded in the early hours. If you face the gridlock ahead, you can cope with time.
CHECK TRAFFIC REPORTS BEFORE YOU LEAVE
Traffic updates are available on the radio, news, and Internet. Once you hit the road, continue listening to traffic reports on the radio. Be careful with this while driving.
Also use social media like Twitter and Facebook. Find out what people are sharing about the traffic in your city and have those alerts sent to your phone. For example, updates with 'Traffic Alert-BD' will turn up on Facebook status from people who are sharing traffic info on the Internet. Use a GPS device with live traffic updates during your commute.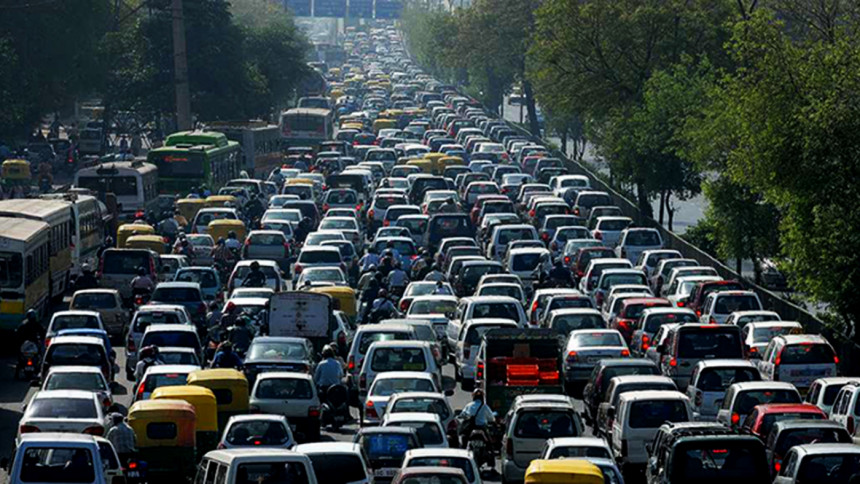 WALK THROUGH FOOTPATH AVOIDING VEHICLES
Do not wait for vehicles or be stranded in gridlock to go you nearby destination. Just walk through the footpath. It will save time and make you healthy.
AVOID RUSH HOURS
If you do not have any prescheduled tasks or something like exam, you can travel to your destination avoiding rush hours of traffic like school hours and office hours. Early morning and noon are off pick hours.
DO NOT MOVE JUST BEFORE IFTAR TIME
Do not hurry to go to your destination just before the Iftar time, in case you might miss it.
MAINTAIN THE TRAFFIC RULE
Always obey the traffic signals unless it might risk your lives or spoil our day for breaching the rule.
PLAY WITH YOUR TIMING
If your commute is one that is always slow moving, consult with your employer about the ability to shift timings of your work.
Eid Shopping
MAKE A LIST BEFORE YOU VENTURE INTO A SHOPPING CENTRE
Make a list of things you need and things you want, and that will help you sort out your priorities. Make up your mind earlier so that you do not buy something you want at the expense of something you need.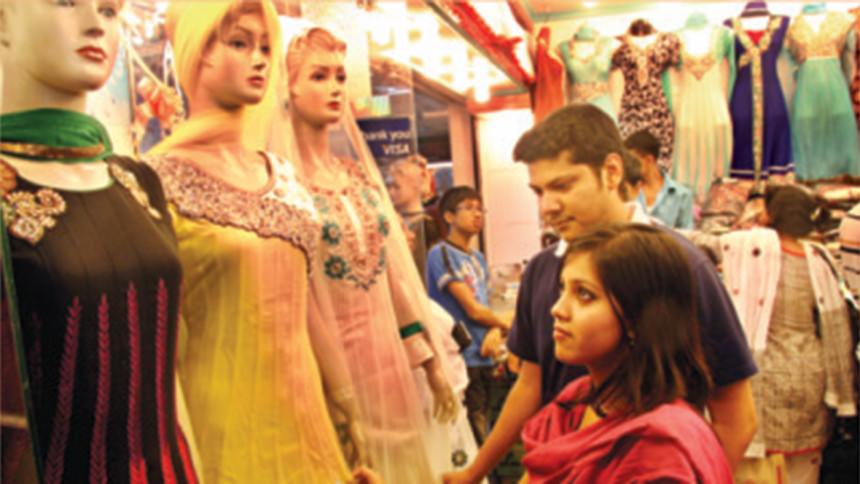 LOOK FOR BETTER OPTIONS
Find the approximate price of the desired items to make sure you are getting a good deal, and also locate the stores where these items are being sold. Find out the nearby shopping centres so that you can save your time.
MAKE YOUR BUDGET
Decide how much money you will spend for your Eid shopping. If possible withdraw enough cash from the bank to support your grueling day of shopping. It may be a good idea to keep a credit or ATM card with you in case of an emergency.
PACK NECESSARY THINGS IN YOUR BAG BEFORE SHOPPING
Pack a bag or purse that includes your list, a map, a water bottle, some snacks, some emergency cash, a credit card and ATM card. It is better to be more prepared than to be left in an unwanted situation. Wear comfortable shoes and sensible and versatile clothing to ensure a pleasant experience. Ladies, this is not the time to wear those cute new 6-inch stiletto heels!
LOOK FOR WINDOWS DURING CITY'S RUSH HOURS
Every day the city dwellers experience huge traffic jam. It might spoil the whole plan of your busy day. You may target nearby shopping malls so that you do not need to experience such gridlock. Always choose footpath not depending on vehicles.
SELECT OFF PEAK HOURS
Usually thousands of shoppers throng shopping centres in Dhaka to complete their last-minute shopping ahead of Eid. So, it is better to complete shopping at the very beginning of the Ramadan. You may complete your shopping in early morning and late night hour to avoid hassles.
HAVE A POSITIVE ATTITUDE
None of the employees in the stores want to deal with anyone in a bad mood. But they will be very busy dealing with the large number of clients. So, put yourself in a good mood to find out your favorite products while requesting help or looking for an item.
KEEP YOUR POCKET SAFE
Make sure you keep valuables (money, phone card, etc.) in a safe, next-to-body layer. This will additionally help prevent theft. Guard your personal belongings, so that you do not fall victim to theft. Mark out areas with low visibility or potentially unsafe conditions. Stay away from these areas to protect yourself and your purchases.
KEEP YOUR CAR SECURED
If you are going to use your car as a storage locker, put your items in a trunk or somewhere not visible. Using your car as a locker is not a good idea unless you want someone to break into your car and steal those "new purchases." Your car is not as secure as you think and it does not matter what brand of car you drive.
AVAIL EID DISCOUNTS
Different brands offer different amount of discounts on the occasion of Eid. Some resourceful households are making huge savings on their weekly shopping bills to buy their favourite foods at big discounts. Supermarket special offers are available through social media and smartphone apps. Find wide range of Eid collection for men and women enjoying the discounts.
SHOP ONLINE
Online shopping (sometimes known as e-tail from "electronic retail" or e-shopping) is a form of electronic commerce which allows consumers to buy goods or services directly from a seller over the internet using a web browser. Alternative names are: e-web-store, e-shop, e-store, Internet shop, web-shop, web-store, online store, online storefront and virtual store. Mobile commerce (or m-commerce) describes purchasing from an online retailer's mobile optimised online site or app. You can complete your Eid shopping through the online shopping centres.
Hope your relatives visit you with gifts!