Tonu murder: Chhatra Union to hold rally Apr 10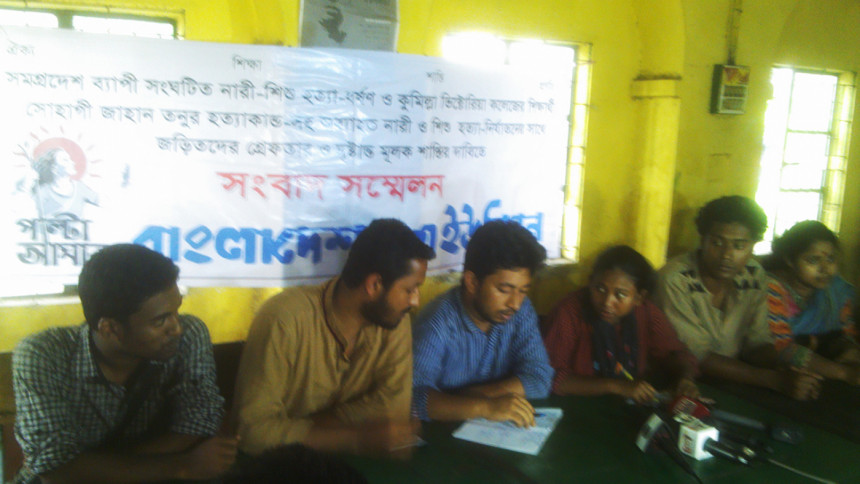 Bangladesh Chhatra Union will hold a rally on Dhaka University campus on April 10 demanding immediate arrest of the killers of Sohagi Jahan Tonu who was found murdered inside Comilla cantonment on March 20.
The rally will be held at Raju sculpture near Teacher-Student Centre at 4:00pm.
Laki Akter, president of the student front of the Communist Party of Bangladesh announced the agitation programme at a press conference at Modhur Canteen on the university campus.
The party's district units will submit a memorandum to 64 districts' deputy commissioners on April 7 to press home the demand, she said.
Meanwhile, the union called for a daylong strike at educational institutions across the country for today demanding justice for Tonu. About 400 schools and colleges expressed solidarity with it.
Earlier in the morning, the front activists staged a demonstration at Tejgaon College in the capital where they demanded resignation of the home minister as the government yet to arrest killers of Tonu.
The protesters condemned law enforcement agencies' "failure" to make any arrest in connection with the gruesome murder of Tonu, a second-year history student of Comilla Victoria Government College and a theatre activist.
Yesterday, students of various educational institutions, including Dhaka University and Chittagong University, observed a daylong strike.
A Supreme Court lawyer yesterday filed a writ petition with the High Court, seeking directives to the government to launch a judicial inquiry and arrest the killer(s) in 24 hours.
The body of Tonu was exhumed on Wednesday for a fresh autopsy as police say they found the first one not matching their inquest report.