There's no-one to protect minorities: Oikya Parishad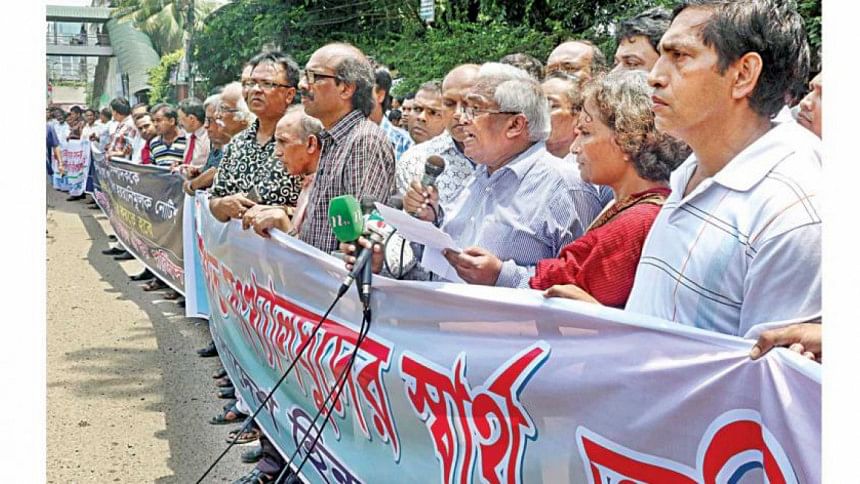 Neither the state nor administration, political parties and civil society stand for protecting the rights of minorities, the Bangladesh Hindu-Bouddha-Christian Oikya Parishad said today.
"We are helpless. We want to draw attention of government, political parties and conscious people of the society for protecting our rights," Rana Dasgupta, parishad's General Secretary, said while addressing a press conference at the Dhaka Reporters' Unity today.
It has become a practice that minority people come under attack during all elections – whether it is local government or national polls, the organization said in a statement.
The organisation also urged all political parties from nominating candidate in the union parishad polls who act against the interest of minorities.
"If you nominate such people, we will be compelled to boycott the polls and look for an alternative," said Dasgupta while reading out the statement.
Earlier on April 22, the Parishad, at a separate press conference, claimed that at least 10 people of the minority religious groups were killed, 366 injured and eight women were raped in the country from January to March this year.
Replying to a question on whether the international militant outfit Islamic State (IS) is involved in the killing and attacks on minorities in Bangladesh, Rana Dasgupta said, "We do not know whether IS exists in Bangladesh or not. But militants who are likeminded to IS are conducting different militant activities in the country."
Minorities come under attack both for political and communal reasons. In most of the cases, local level leaders of both ruling and other political parties join hands to grab lands of minorities. Repression on minorities is recurring due to the culture of impunity, he viewed.
"We could not get peace and relief during BNP-Jamaat tenure. Similarly, we cannot sleep in peace and relief today," he said.
The statement cited different recent incidents of repression on minorities in different districts.
In Tangail, Hindu tailor Nikhil Joarder was hacked to death at Dubail Kalibari Bazar in Gopalpur Upazila on Saturday.
In Pirojpur, Ashis Kumar Baral, a newly elected chairman of Jolabari UP under Nesarabd upazila, came under attack by miscreants on March 21. 
Meanwhile, In Jessore, minority people of Pashapol UP under Chougacha upazila and Prembagh UP Chapatala under Avoynagar upazila are living in fear because two ruling party men, who were involved with repression on minorities, are contesting the polls to the UPs for chairman post.
Around a dozen of leaders of minority communities were present at the function.