Teesta deal to be signed, says Modi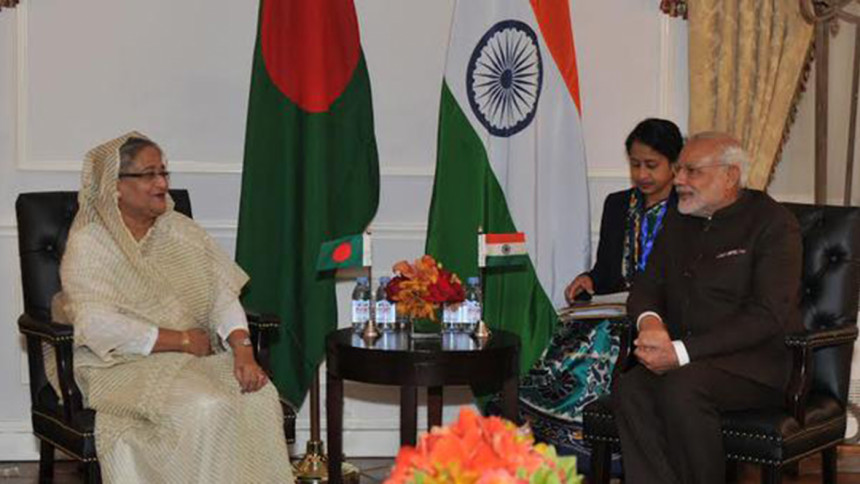 Indian Prime Minister Narendra Modi has expressed the hope that the Teesta River water-sharing agreement would be signed with Bangladesh.
Modi came up with the view at a delegation-level unscheduled meeting with Prime Minister Sheikh Hasina at Hotel Waldrof Astoria here on Thursday.
Both the leaders, now in New York to attend the seventieth session of the UN General Assembly, are staying at the hotel.
PM's Press Secretary Ihsanul Karim briefed reporters after the meeting.
However, the Press Secretary said Narendra Modi did not mention any timeframe for signing of the long-pending deal.
Sheikh Hasina and Modi also observed that frequent interactions among Saarc leaders beyond common practice of summit-level talks, are necessary for strengthening cooperation among the countries.
The PM's Press Secretary said both the leaders discussed arious issues of regional aspects and mutual interests, including present status of the execution of the Land Boundary Agreement (LBA) and Teesta water sharing agreement at the meeting that lasted for about half an hour. 
The Indian Prime Minister was inquisitive about two major projects of Bangladesh -- one is Rooppur Nuclear Power Plant and other Bangabandhu Satellite project. He appreciated the capacity of the Bangladesh team working in the Rooppur Power Plant project with Russia and offered more training for them on technical and commercial aspects. 
He also mentioned about his country's expertise in satellite launching and offered giving necessary support to Bangladesh in this particular area.
The Indian Prime Minister also appreciated the efforts of the bureaucrats of Bangladesh for their coordinated and sincere efforts to execute the LBA and expressed his satisfaction over the process of execution of the deal. The LBA is model of peaceful settlement of disputes with neighbours through negotiations, Modi said.
Prime Minister Sheikh Hasina said there might have problems among neighbours. However, all the disputes could be resolved through negotiation. She said the road connectivity among the four nations in this region would bring immense benefits to people of the region. 
As Narendra Modi hailed Sheikh Hasina's leadership in Bangladesh's success in socio-economic development, Hasina underlined Bangladesh's successful accomplishments in achieving Millennium Development Goals (MDGs) in a number of areas. 
Finance Minister AMA Muhith, Foreign Minister AH Mahmood Ali, PM's International Affairs Adviser Dr Gowher Rizvi's, PM's Adviser on ICT Affairs Sajeeb Wajed Joy, PM's Adviser Dr Moshiur Rahman and Foreign Secretary M Shahidul Haque were present.
On Indian side, Foreign Secretary Jai Sankar, among others, attended the meeting.