Star honours 1,901 high achievers in O, A-level exams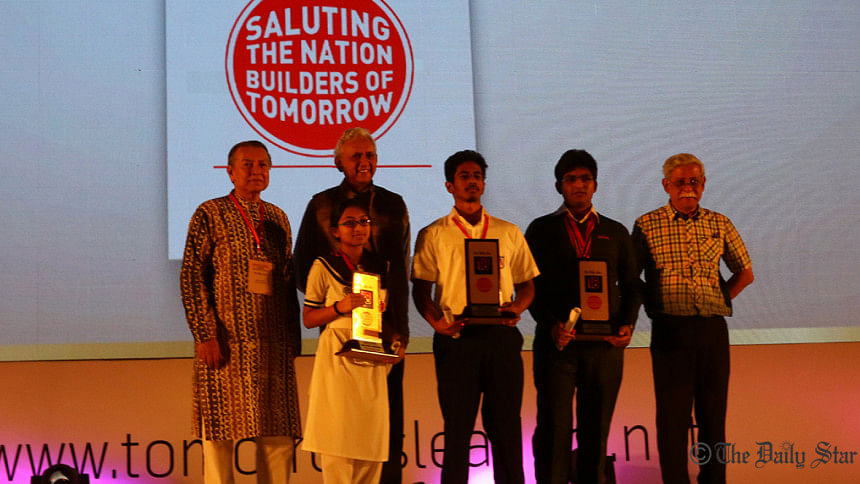 The nation's high achievers in O- and A-level examinations including 56 who ranked among the world's top scorers in their subjects were honoured in an award ceremony by The Daily Star today.
A total of 1,901 outstanding students were awarded with medals and certificates of excellence in the ceremony titled "Saluting the Nation Builders of Tomorrow".
The program was attended by the awardees' parents, families, teachers, friends, and special guests in the capital's Shaheed Suhrawardy National Indoor Stadium.
The 18th annual awards went to 1,488 O-level students who obtained six or more A's and to 413 A-level students who attained a minimum of three A's in the 2015-16 academic session.
The audience broke into applause as names of each attendee were announced in the four-hour long programme. Musical and dance performances by students of several schools made the ceremony lively.
BRAC Bank Ltd, Daffodil International University, The University of Nottingham, Edexcel, Helio Smartphone (Edison Group) sponsored the programme with Channel i as the media partner.
Awardees from 89 English medium schools gathered at the venue. The Daily Star initiated the unique annual event in 1999.
Dr Gowher Rizvi, adviser to the prime minister's international affairs, and famous writer Prof Muhammed Zafar Iqbal presented the certificates to the future nation builders.