Signal 7 at maritime ports as Cyclone Mora nears
-- Signal No. 7 at Ctg and Cox's Bazar maritime ports
-- Signal No. 5 at Mongla and Payra ports
-- Likely to cross Ctg-Cox's Bazar coast by tomorrow
-- Fishing boats, trawlers advised to remain in shelter
-- Loading, unloading suspended at Chittagong port
Maritime ports of Chittagong and Cox's Bazar have been advised to hoist danger signal number seven while Mongla and Payra ports signal number five as cyclonic storm "Mora" heads towards Bangladesh's coasts.
The cyclonic storm moved  slightly north-northeastwards over east-central Bay and adjoining north Bay and was centered about 530kms south-southwest of Chittagong port, 445kms south-southwest of Cox's Bazar port, 580kms south-southeast of Mongla port and 510kms south-southeast  of Payra port at 9:00am today, according to a special bulletin of Bangladesh Meteorological Department.
It is likely to intensify further and move in a northerly direction and may cross Chittagong-Cox's Bazar coast by tomorrow morning (Tuesday).
All fishing boats and trawlers over the north-bay and deep sea have been advised to remain in shelter till further notice, according to the Met office.
Coastal districts of Chittagong, Cox's Bazar, Noakhali, Laxmipur, Feni, Chandpur and their offshore islands and chars will come under danger signal number seven, the bulletin said.
Under the influence of the Cyclonic storm "Mora" the low-lying areas of the coastal districts of Cox's Bazar, Chittagong, Noakhali, Laxmipur, Feni, Chandpur, Borguna, Bhola, Patuakhali, Barisal, Pirozpur, Jhalokathi, Bagherhat, Khulna, Satkhira and their offshore islands and chars are likely to be inundated by storm surge of 4-5 feet height.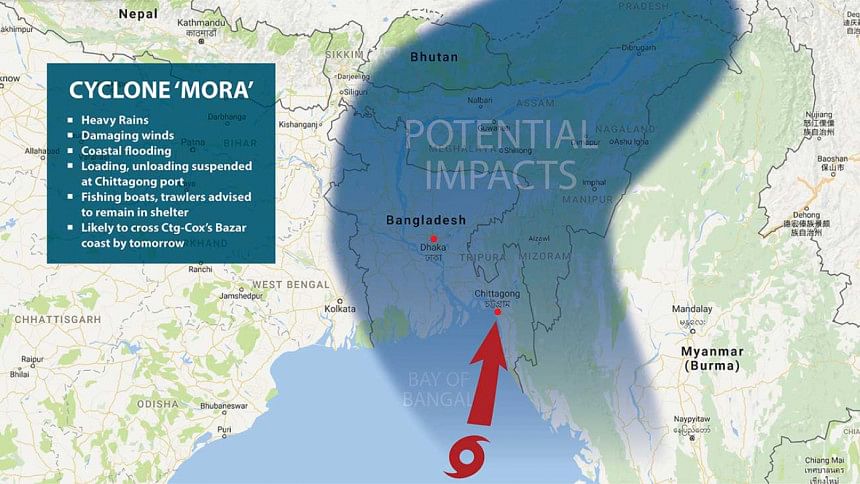 The coastal districts and their offshore islands and chars are likely to experience wind speed up to 62-88 kph in gusts/squalls with heavy to very heavy falls during the passage of the cyclonic storm.
Chittagong Port
Chittagong Port Authority (CPA) has already ordered to stop loading and unloading of goods from the vessels anchored at the port jetties and the outer anchorage, CPA Secretary Omar Farook told The Daily Star.
Ships anchored at the jetties will also be taken to the sea after high tide starts today so that the jetties at the port are not damaged from the impact of the cyclone, Omar Farook said.
Meanwhile, the district administration has called a meeting at the Deputy Commissioner's office today to talk about preparatory measures regarding the Cyclone 'Mora'.