Sexual assault: DU students threaten movement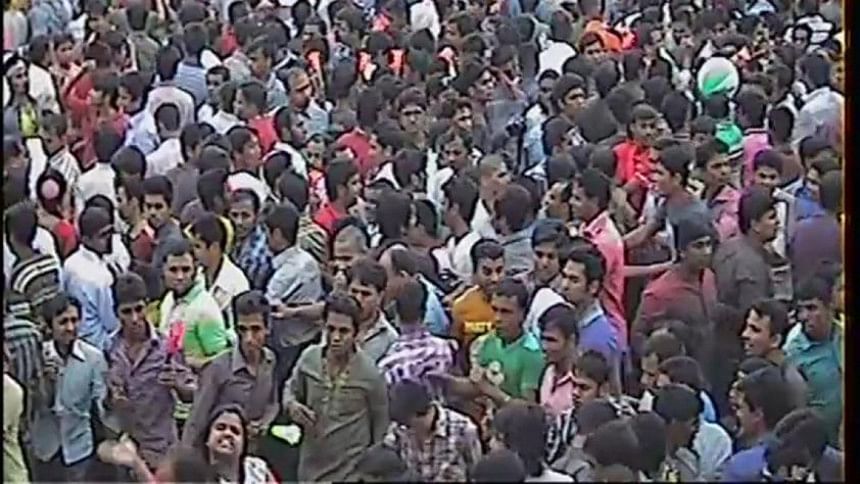 Teachers and students of the Faculty of Fine Arts of Dhaka University today threatened to go for a tough movement from Tuesday if the sexual offenders in Pahela Baishakh's incident on the Dhaka University campus are not brought to book by then.
"We placed our demand before the officer-in-charge of Shahbagh Police Station verbally for initiating immediate legal action against the perpetrators responsible for the sexual assault," Arif Siddique Nitol, a student of the Fine Arts institute told The Daily Star.
"We will go for a tough movement from Tuesday if they (law enforcers) fail to show any progress by tomorrow," Nitol said.     
Earlier, the fine arts students formed a human chain in front of the Fine Arts Institute protesting the assault.
At one stage, they tried to enter the Shahbagh Police Station forcibly to place their demand but their attempt failed as police closed the main entrance of the police station.
Later, a group of students and teachers met Sirajul Islam, OC of the police station, and announced the ultimatum seeking the law enforcers' immediate action in this regard.
Samajtantrik Chhatra Front and Bangladesh Chhatra Federation also brought out separate processions and staged rallies on the DU campus demanding immediate arrest and punishment of the assaulters.
Bangladesh Chhatra Federation also demanded resignation of DU proctor AM Amzad, blaming him for his inaction in taking any step to nab the perpetrators.
The joyous celebration of the Bangalee's biggest festival -- Pahela Baishakh -- was tainted by incidents of sexual assault on women on the Dhaka University campus Tuesday evening, sparking widespread public outrage.
Witnesses said some 30 to 40 rowdy youths assaulted and sexually harassed around 20 women for about one hour at the Suhrawardy Udyan gate near the TSC area around 6:00pm.
The incident, which happened close to writer Avijit's murder scene, ignited fury on social networking sites.
Several organisations condemned the assault and demanded immediate arrest of the attackers.