Saraswati Puja brightens up festivity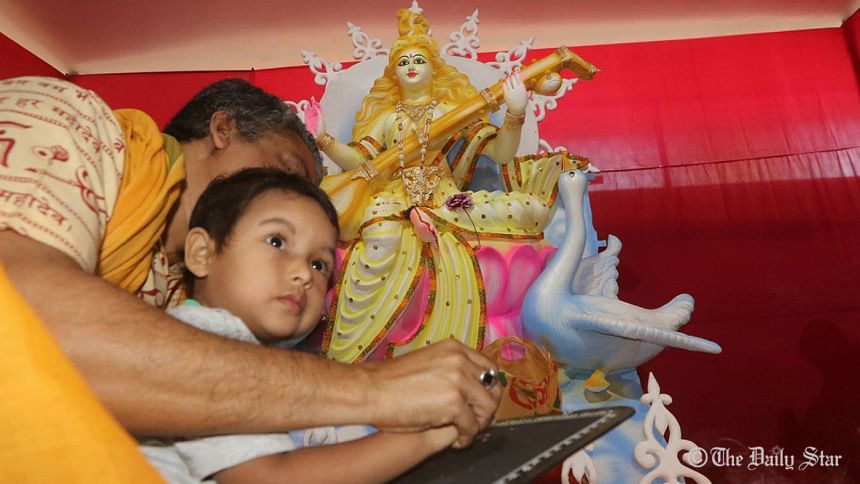 The enthusiasm, festivity and fervour centring Saraswati Puja could be seen across the Amar Ekushey Grantha Mela yesterday, as devotees and a large number of people visiting the nearby Jagannath Hall puja mandaps thronged Suhrawardy Udyan and Bangla Academy.
Dressed mostly in traditional attires, people of all ages visited the fair throughout the day. Though there were long queues, it could not dampen the festive atmosphere.
"Many visited the book fair after offering prayers to goddess Saraswati," said Dhaka University's Jagannath Hall Provost Prof Asim Sarker.
He said people of all religions enjoy the colourful occasion of the puja. The book fair also enriches the celebration manifolds. "Such joyous occasion truly highlights the non-communal spirit of the country and its people," he added.
Since most educational institutions were closed on the occasion of worshipping Saraswati, the goddess of learning, to mark the coming of spring, presence of young people was also high.
Puja Mohanta, a fourth-year student of Jahangirnagar University, was seen visiting bookstalls with her friends at Suhrawardy Udyan. "It's a great day to hang out with friends after seeking blessings of goddess Saraswati in pursuit of knowledge, art, music and culture."
Amid chitchatting with friends, Mizan Habib Galib, a private job holder, said, "All of us brought our families to 'boi mela' today. I have already bought two books for my kids."
His friends started calling him as they were planning to go to Jagannath Hall for "adda".
Many publishers also expressed satisfaction saying the fair drew a large crowd on the 10th day and their sales have been increasing.
Amzad Hossain Kajol, chief executive of publication house "Oitijjhya", said they have been seeing a steady rise in sales.
Another publisher, Main Faruk, of "Chandrabindoo" thanked the Bangla Academy authorities for creating a family-friendly atmosphere.
Bangla Academy Director Aparesh Kumar Banerjee said that they had sold books worth around Tk 25 lakh in the first six days, which was around Tk 18 lakh last year.
Yesterday, a total of 90 books arrived at the fair.