RU prof killing: DU teachers demo to press for justice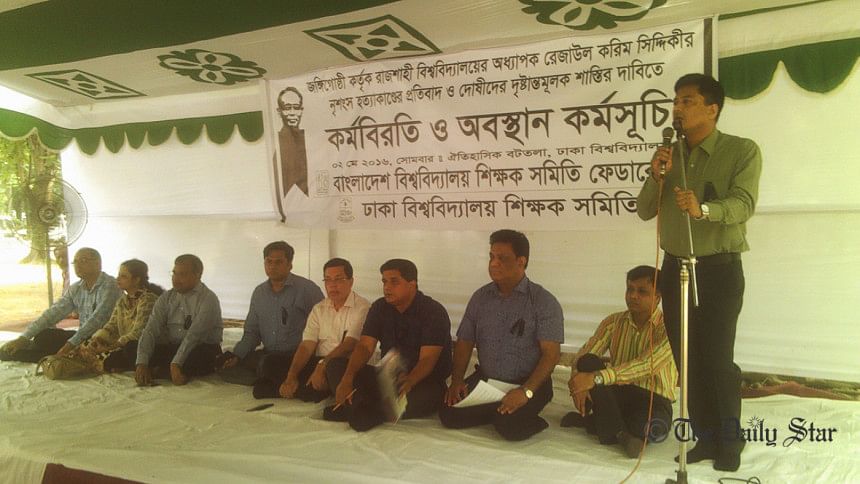 Dhaka University teachers today performed a sit-in demonstration at campus to press for justice into the murder of Rajshahi University professor Rezaul Karim Siddiquee.
Dhaka University Teachers' Association and Federation of Bangladesh University Teachers' Association (FBUTA) jointly held the programme.
"The killing points to failure of the home minister along with the police and administration" FBUTA Secretary General Maksud Kamal said at the programme.
FBUTA President Farid Uddin said: "Fundamentalists are trying to transform Bangladesh into Iraq and Afghanistan through militancy. Police have to take responsibility of their failure."
More than 50 teachers joined the sit-in that was held at Battola. Most classes were halted from 10:00am to 1:00pm in accordance with a previously announced class abstention.
Prof Siddiquee was brutally murdered in Rajshahi city's Shalbagan area on April 23 in an attack that police say bears the hallmark of the previous blogger killings.
RAJSHAHI UNIVERSITY STILL PROTESTING
Students of Rajshahi University brought out a coffin procession at campus. Later they formed a human chain, where the teachers eventually joined in.
The students under banner "Mukul Protibad O Sanghati Mancha" brought out the procession around 10:00am where the slain teacher's daughter Rezwana Sotovi was also present, reports our Rajshahi correspondent.
Later, Sotovi rendered her speech requesting everybody to keep up the agitation saying, "The protest must go on otherwise ensuring justice will be impossible".
Around 12:30pm, the students and teachers formed a human chain in front of the senate building.