Rajon murder: 2 witnesses give depositions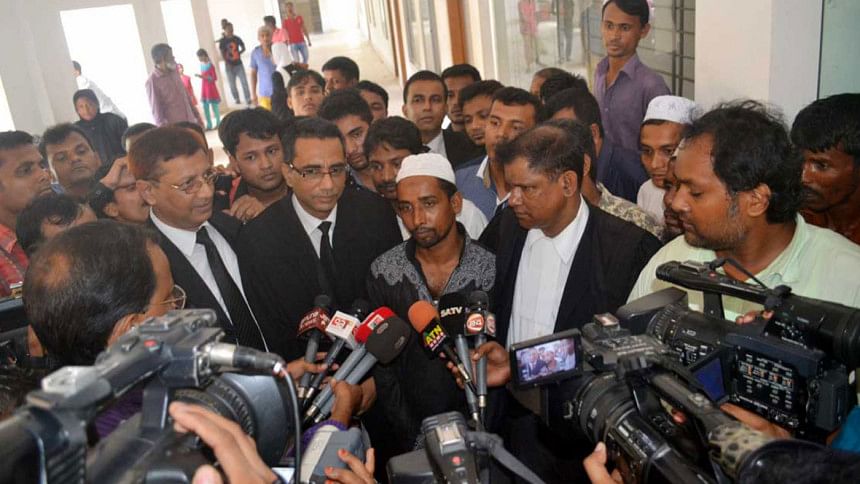 A Sylhet court today began the trial of 13-year-old Rajon murder case, with taking depositions of two prosecution witnesses.
Two complaints -- suspended sub-inspector Aminul Islam of Jalalabad police and Rajon's father Sheikh Azizur Rahman gave dispositions at the court this afternoon, said prosecutor Mafur Ali.
Ten of the 13 key accused were produced in the court during the hearing, he added.
Metropolitan Sessions Judge's Court recorded the depositions, the prosecutor told our Moulvibazar correspondent.
Judge Akbor Hossain Mridha framed the charges on September 22 under Section 302/34, the lawyer said.
The court will record statements of the witnesses against 13 people including the key accused Kamrul Islam who is now in Saudi Arabia for the brutal killing.
The rest accused are Muhit Alam, Ali Haider, Nurul Amin, Dulal Ahmed, Nur Mia, Ayaz Ali, Badal, Firoz Ali, Shamim, Ruhul Amin, Pavel and Asmat Ali.
Besides, charges against Muhit Alam, Moyna, Shamim and Taj have also been framed under section 201 for their involvement to hid out the dead body.
Investigation officer Suranjit Talukdar of Detective Branch of police submitted the charge sheet to the court of Shahedul Karim on August 16, accusing 13 people and showing 38 people as witnesses.
On July 8, Rajon was beaten to death by Kamrul and other brutes in Kumargaon Bus Stand area of Sylhet Sadar upazila.
Forty days after the gruesome murder, police on August 16, pressed charges against 13 people, including prime accused Kamrul.
In the charge sheet submitted to a Sylhet court, police showed three accused, including Kamrul, absconding and 10 others arrested.
Kamrul fled to Saudi Arabia soon after the incident. He was later detained by Saudi police.