Rainstorm takes toll on paddy
Farmers sell flattened Aman plants as fodder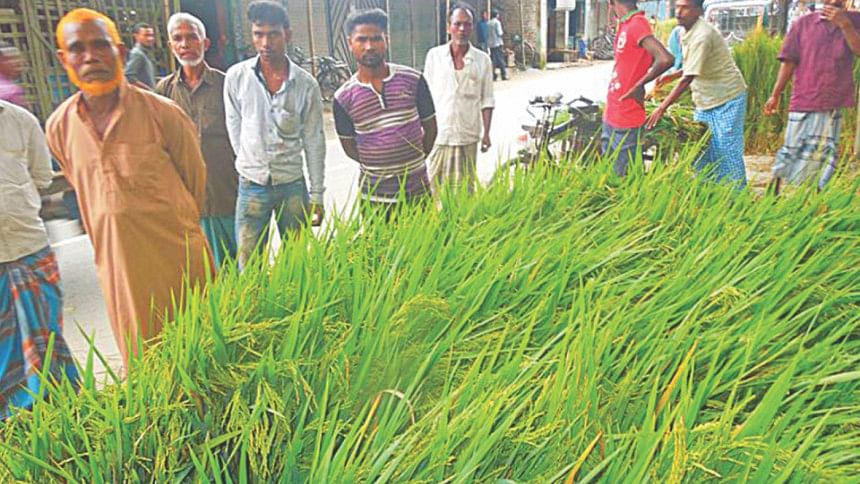 The Aman paddy that was flattened due to heavy rain and strong wind in the district last week is being used as cattle fodder by farmers.
Farmer Johor Ali, 50, of Sardarpara village in Sadar upazila brought bundles of green Aman plants with immature paddy to sell as fodder at Kochukata bazar.
"My paddy plants on one bigha of land were ruined by heavy rain and strong wind on Friday and Saturday last, although I had somehow managed to save them from flood and pest attack during the last couple of months," he added.
The flattened paddy plants are now under stagnant rainwater and there is no hope for their recovery, he said, adding that it would be better to sell them as fodder before they rot.
Like Johor, Afzal Hossain, Sayed Ali, Rashid and others have brought green Aman plants in bundles to the bazar for selling as fodder for the same reason.
This is the third time that the Aman growers have been victimised by natural calamity, including the recent flood and pest attack, said Sadar Upazila Agriculture Officer Md Mazedul Islam.
District Department of Agriculture Extension (DAE) Sub-Assistant Agriculture Officer Anwarul Islam said around 2,500 hectares of Aman paddy fields, out of 1.13 lakh hectares, were flattened in the recent downpour and wind, although farmers said the affected area is many times larger than the agriculture office's claim.
Anwarul said 13,000 hectares of paddy fields were damaged in the flood in August, affecting 87,000 farmers and causing a loss of Tk 164 crore.
He said his office supplied Aman saplings to 600 farmers free of cost. Other farmers brought saplings from nearby districts at high cost for re-transplanting, he said.
Farmer Shyam Charan Roy said, "Re-transplanted Aman plants grew rapidly as we took great care, making us optimistic about making up the loss caused by flood."
"But, just after that, the pest attack of early October again upset us, compelling us to bear additional cost for buying pesticides," he added.
The latest calamity flattened a vast tract of paddy plants from which sheaf had just come out or attained milk stage, leaving no scope of getting rice grains from them, said many farmers of Saidpur and Dimla upazilas.
"My two bighas of Aman paddy have been flattened, leaving me helpless as paddy cultivation is my only source of income," Atiqur Rahman of Angarpara village in Sadar upazila said.
"Most of the flattened paddy will survive as they have developed grains, so farmers will incur very little loss," said DEA Deputy Director GM Idris.