PM urges expats to uphold Bangladesh image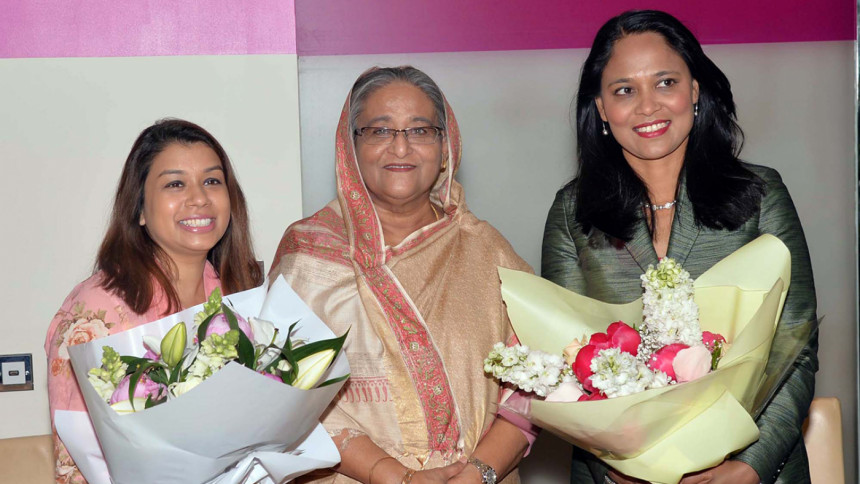 Prime Minister Sheikh Hasina today urged the Bangladeshi expatriates living in the UK not to do anything that could damage the country's image.
"Once Bangladesh was known as land of beggars and natural disasters . . . we have overcome the situation introducing us as a role model in development," she told the UK-based Bangladeshi community leaders at Stroke Park here as they arrived to meet with her on her arrival in London on her way to Sweden.
Sheikh Hasina added: "So you should not do anything detrimental to nation's image."
The premier said Bangladesh's rapid development appeared as magic to many foreign leaders while actually the result of "our sincerity to serve the people".
The prime minister said she has undertaken the task of building a "sonar Bangla" as her utmost responsibility as the daughter of Father of the Nation as well as an Awami League worker.
"It's the responsibility of every Awami League worker at home and abroad to work with dedication for the nation's development, brightening country's image and materialise the dream of Bangabandhu," she said.
Sheikh Hasina reiterated her government's 'zero tolerance' stance against terrorism as part of its relentless efforts to make Bangladesh as the most peaceful country in South Asia.
Sheikh Hasina said the overall poverty rate now declined to 22 percent from 50 percent in 2006 and last year Bangladesh's economic growth was 7.2 percent, which was very extraordinary success of Bangladesh.
"By 2021, Bangladesh would be a middle income country and by 2041 it would be a developed one, she said.
The prime minister expressed her deep grief and sorrow at the loss of lives in series of landslides triggered by heavy torrential rain in Bangladesh and in a devastating fire in London.
"(But) we have to proceed amidst grieves and distresses," she said.
Sheikh Hasina thanked the players and all other members of Bangladesh Cricket team for being  qualified for the semi-final of the Champions Cup Cricket Trophy which is now being held in the UK.
The prime minister thanked the Bangladesh community in UK for their overwhelming support to secure
the victory of three Bangladesh origin Britain daughters in the recently held parliamentary election in the UK.
Earlier, newly elected Labour Party members in House of Commons Tulip Rizwana Siddiq and Rushanara Ali made courtesy calls on prime minister Sheikh Hasina in her hotel. The Prime minister discussed various issues relating to mutual interests with them.