Post-flood spinach brightens farmers
Vegetable prices double than last year's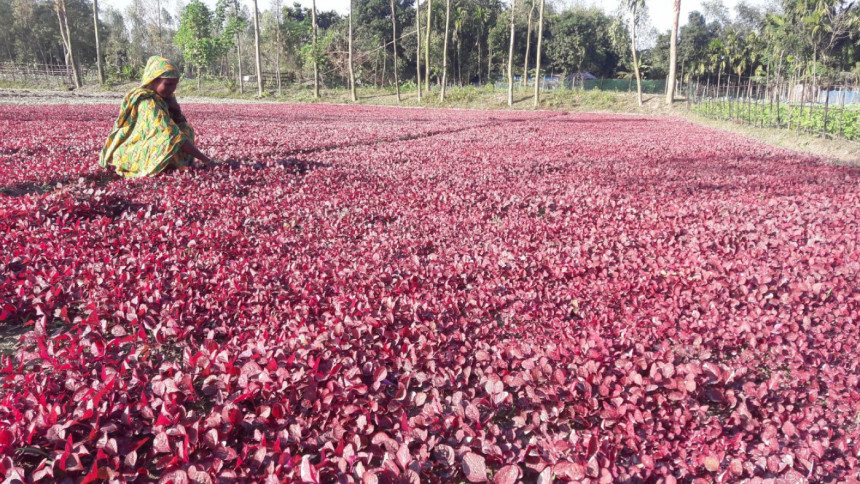 Lalmonirhat farmers are riding high this winter on the back of healthy market rates for spinach. Spinach varieties including lal shak, palang shak, lau shak, mula shak and pata shak, along with coriander and cabbage are fetching prices up to double what they sold for last year. Customers meanwhile are less impressed at having to pay more for their favourite winter vegetables.
"I grew lal shak on forty decimals, spending around Tk 4,000," says Soleman Miah, 48, a farmer from Durgapur village in Aditmari upazila. "In the last week I sold Tk 12,000 of the vegetable and I'm hopeful of a return of up to Tk 45,000 in total. The rate is about double last year's; such a good profit is quite a surprise!"
"I have a coriander crop on twenty decimals that cost around Tk 6,000 to grow," says another farmer, Bimol Chandra Barmon, 56, from Karnopur village in Sadar upazila. "In a week I made Tk 12,000 in sales. I hope for Tk 25,000 from coriander this season."
"High prices for spinach are really helpful," says Abdar Hossain, 62, a farmer from Kurul village, also in Sadar upazila. "Our vegetable seedbeds were seriously affected by floodwaters earlier in the year and we're trying to recoup our losses."
"Last year spinach prices were reasonable," complains a customer at Goshala Bazar vegetable market in the town, Hasem Ali, 52. "This year prices are more than double."
In the market, vegetable trader Ataur Rahman notes that extensive flooding over past months is the driving force behind the higher prices.
According to agriculture extension department officials, varieties of spinach have been cultivated on 2,100 acres across the district this season. "The weather is favourable now," says the department's deputy director Bidhubhushon Roy. "Farmers are really pleased with a good harvest and solid prices."