Man killed in Jhalakathi, polling officers shot in Noakhali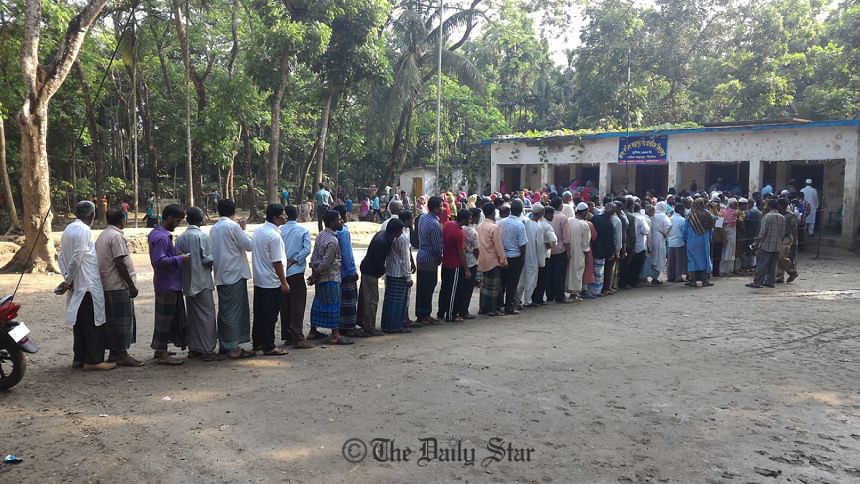 - Presiding officers shot in Noakhali
- 2 shot in Satkhira police firing during violence
- Widespread violence in Patuakhali
- 3 shot as supporters clash in Comilla
At least one person was killed in Jhalakathi while reports of injuries sustained from gunshots came in from at least four other districts during the first phase of union parishad elections held today.
Clashes have broken out of vote grabbing, attempts to occupy polling stations in some districts. Two presiding officers were among at least 11 people shot in polls violence.
In Jhalakathi Sadar, Abul Kashem, 55, died in clash between supporters of two member candidates around 3:15pm, Jhalakathi Sadar Police Station Officer-in-Charge Mahe Alam said.

Also READ: Voting stopped in 13 centres

In Noakhali, assistant presiding officers Abdul Awal and Shahadat Hossain were shot by unknown miscreants near Char King Girls High School in Hatia upazila, said Hatia Police Station Officer-in-Charge Anisul Haque.
They were shot while on the way to duty. However, voting went uninterrupted, the OC said.

FOLLOW Live update: #UP_votes
In Satkhira, two people – Ruhul Kuddus and Rubel Hossain – were shot as law enforcers opened gunfire to disperse a clash in Kumira union's Vaghbagh polling centre, Returning officer Hadiuzzaman said.
Police opened fire to take control of the situation after the violence erupted in the area, Chowdhury Manjurul Kabir, superintendant of district police told The Daily Star Online.
Voting remained suspended at eight other polling centres including Vaghbah polling centre, Mahbubur Rahman, upazila nirbahi officer (UNO) of Tala upazila, said.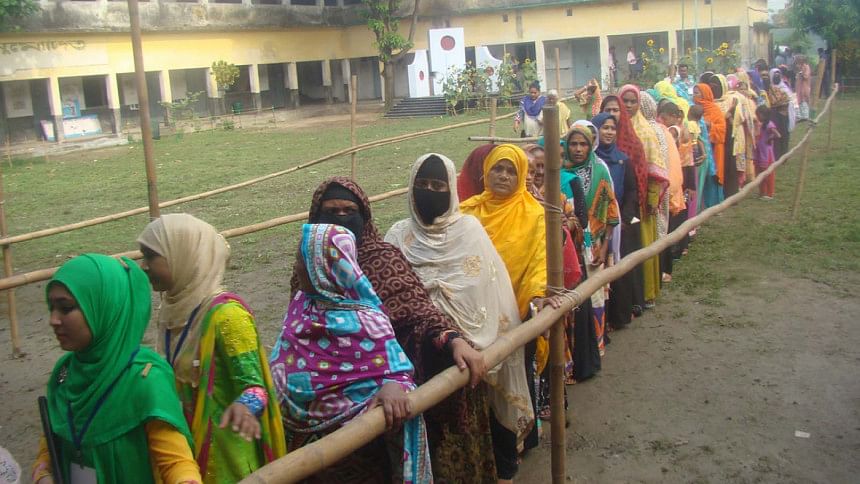 In Patuakhali
, four people were shot in Chungapara Government Primary School in Kolapara upazila's Chakamoiya union, OC Shahnewaz of Kolapara Police Station said.
In Galachipa upazila's Dakua Government Primary School in Dakua union, police fired 10 rounds of gunshots to foil an attempt to occupy the polling centre, said Executive Magistrate Nargis Murshida. Voting was suspended at two other centres in two union parishads of Galachipa upazila.
In Sadar upazila's Morich Bunia union, at least 10 people including Presiding Officer Mrinal Kanti Boral were hurt in clash during an attempt to occupy Bazarghona Government Primary School, said Presiding Officer Mrinal Kanti Boral.
In Comilla
, three people were shot in Fatehabad union's Barakanda Government Primary School voting centre as supporters of two union parishad chairman candidates locked in clash around 9:50am, Debidar Police Station OC Mizanur Rahman said.
In Cox's Bazar
, at least 20 people were hurt in Teknaf upazila's Sadar union when supporters of an Awami League candidate and a BNP candidate clashed with sharp weapons and sticks, Teknaf Police Station OC Abdul Mazid. "The incident did not affect voting."
In Munshiganj
, Awami League supporters attacked a BNP-backed chairman candidate in Sirajdikhan upazila's Sirajdikhan High School Polling Center.
A mobile court jailed an Awami League supporter Mamunur Rashid for attack on BNP's chairman candidate Abdul Khaleq Shikdar, said Executive Magistrate Shahina Parveen.  
In Mymensingh, an Awami League-backed chairman candidate was fined Tk 10,000 after being held for allegedly snatching ballots in Phulpur upazila of Mymensingh during today's Union Parishad election.
The AL chairman candidate Emanul Kabir was caught by locals while attempting get away after grabbing ballots from the Imadpur Primary School polling centre around 1:15pm, our correspondent reports quoting Mushtaque Ahmed, presiding officer at polling centre.
He was produced before the mobile court led by executive magistrate Humayun Kabir around 3:30pm.
The mobile court fined him Tk 10,000 and released him upon the payment of the fine, said Ali Ahmed Mollah, officer-in-charge of Phulpur Police Station.