Cops framing Minni to protect real culprits, says father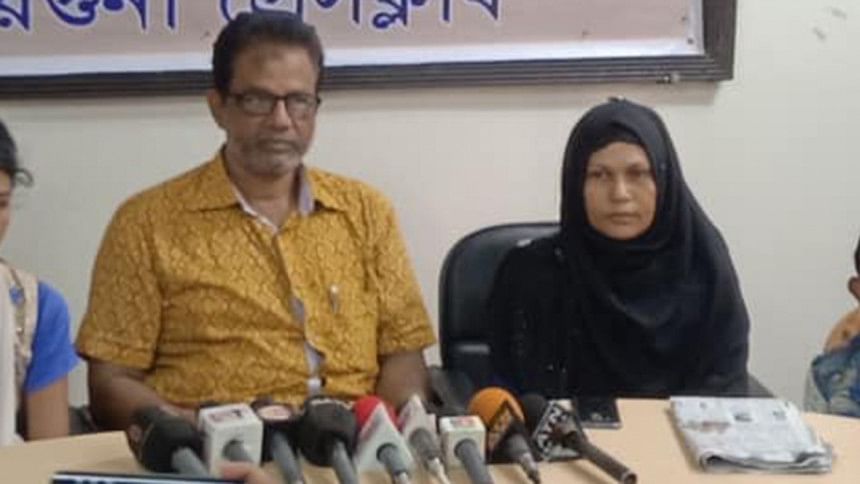 By framing Aysha Siddika Minni in the case filed over the murder of her husband Rifat Sharif, Barguna police is trying to hide some influential quarters' involvement with the killing, her father claimed today.
Mozammel Hossain, the father of Minni, also prayed to the prime minister, home minister and Inspector General of Police (IGP) to transfer the case to Police Bureau of Investigation (PBI) as he "couldn't keep faith on Barguna police anymore", reports our correspondent from Barguna.
"Minni was forced by police to give confessional statement under section 164 in custody in order to save the real culprits," he said at a press briefing at Barguna Press Club.
Mozammel also alleged that his entire family was suffering from insecurity. The schoolings of his other two children were also stopped due to lack of security, he said.
"The police have turned Minni from no. 1 witness to accused. Now, they will be completely successful in hiding the masterminds of the murder if they can only arrest me and my wife," Mozammel added.
He also sought the journalists' help to attain justice for her daughter. His wife and two other children were present during the briefing.
'Minni wants to withdraw confessional statement'
Minni's Lawyer Mahmudul Bari Aslam, general secretary of Barguna District Lawyers' Association, visited her at Barguna jail today and later, he told reporters that Minni now wants to withdraw her confessional statement.
She was forced to give her confessional statement, Aslam told journalists quoting Minni.
She has pain all over the body and needs treatment and she cannot sleep at night, Aslam quoted Minni as saying. 
She is devastated mentally, he added. "It was evident that she is in need of mental and physical treatment," Aslam further said adding that she couldn't even walk properly.
Rifat Sharif, a 25-year-old internet service provider, was indiscriminately hacked by a group of youths in front of Minni's college in Barguna town on June 26.
In a video footage of the incident that went viral in the social media, Minni was seen screaming and trying in vain to save her husband from the assailants.
The victim's father filed the murder case with Barguna Sadar Police Station against 12 people on the same day.
Police have so far arrested 15 suspects including Minni, who was made an accused during the course of the investigation.
The prime accused in the case, Nayon Bond, was killed in a "gunfight" with police on July 2.