Pledge for peace
Inspired by police, people of 12 villages end decades-long feud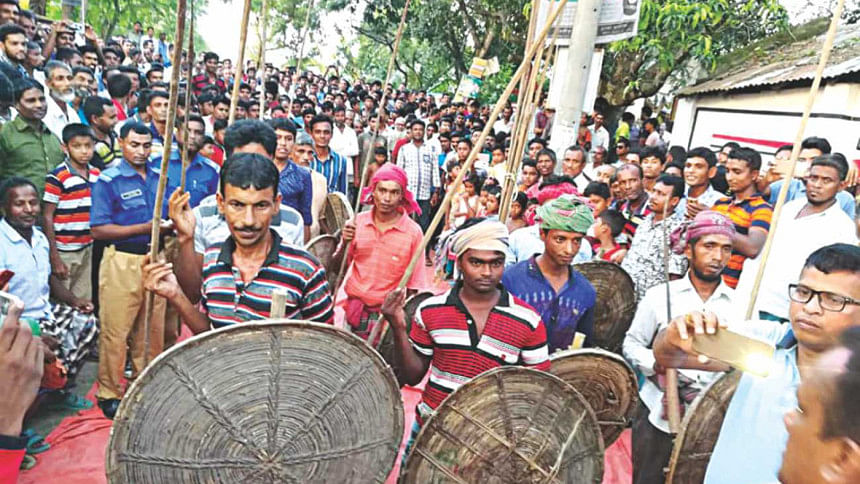 Conciliation by police succeeded in mitigating a decades-old feud between people of 12 villages in two unions under Sadar upazila of the district, who surrendered their weapons and committed to end the quarrel.
Kushtia Model Police Station and Islamic University (IU) Police Station took the initiative for the conciliation between the people of Ujangram and Jiarokhi unions.
IU Police Station Officer-in-Charge (OC) Ratun Shaikh said the villages were at loggerheads for around two decades over various issues, including leasing of haats and bazaars and trading of various
commodities, especially vegetables, in
the haats.
Around 100 clashes took place between them in about 20 years, leaving at least six people dead, he said.
"After joining IU police station one year ago, I saw five clashes," the OC said, adding that he was trying to settle the issue through counselling and conciliation.
"I talked with people of different walks of life in the villages and decided to hold a meeting of the villagers," he said.
Around 2,000 people, including influential people and heads of different villages, assembled at Jiarokhi union parishad ground on Friday afternoon at the call of the police.
Kushtia Model Police Officer-In-Charge (investigation) Sanjay Kumar Kundu said police asked the villagers to surrender their weapons, which they did. The villagers also promised not to fight any more.
"We made it clear that police will take stern action if any group try to create chaos after this conciliation," OC Ratun Shaikh said.
Robjel Hossain, a school teacher of the area, expressed his happiness over the issue and said police have to ensure that the villagers do not engage in fighting again.