Pest attack on cauliflower worries Jhenidah farmers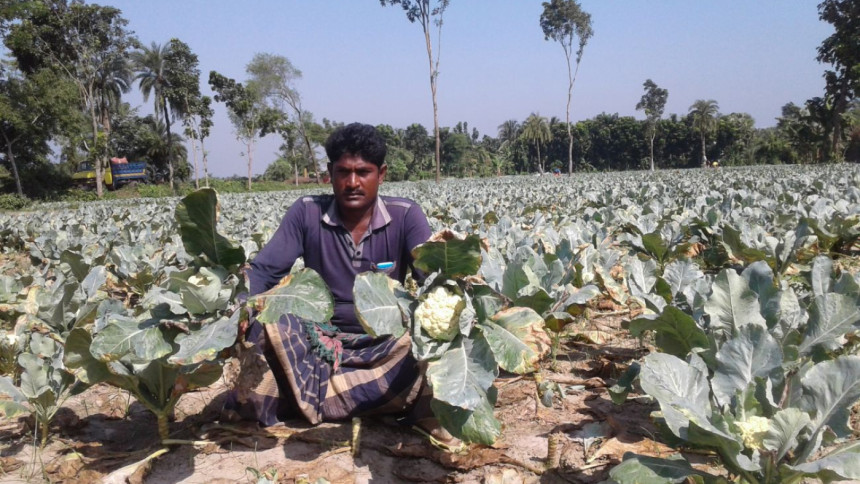 Cauliflower growers in the district are worried that they will incur heavy loss this year due to the early pest attack on their fields. 
District Department of Agriculture Extension (DAE) Deputy Director (DD) GM Abdur Rauf said 325 hectares of land have been brought under cabbage cultivation and 275 hectares under cauliflower in six upazilas of the district. Of them, 30 hectares are under cabbage and 110 hectares are under cauliflower in Kotchandpur upazila.
Farmers said pests have attacked cauliflower fields at Bhomradanga village in the upazila. Cauliflower was cultivated on around 300 bighas of land in the village this year. Most of the fields were attacked by pests and growers will incur loss this year. Production has decreased to a great extent, farmers said.
Visiting the village last Sunday, this correspondent found that farmers are selling immature cauliflower from their fields fearing total damage. It costs Tk 25,000 to Tk 30,000 to grow cauliflower on one bigha of land, which they sell for Tk 70,000 to Tk 80,000, but they will get only Tk 30,000 to Tk 40,000 this year.
Farmer Bablur Rahman of the village said they cultivated Ninja and Hotline varieties. All on a sudden pest attack spread all over the village. Leaves of the plants are drying and falling off, and the weight of the vegetable is decreasing. He cultivated the vegetable on five bighas this year and expected to get around Tk 4 lakh, but he will get only around Tk 2 lakh.
Khabir Uddin said cauliflower farming is very profitable. He cultivated Ninja variety on 15 bighas this year, but will incur loss due to pest attack.
Forman Ali said each cauliflower weighs only 400 grams to 500 grams which is much less than that of previous years.  He has taken loan from Krishi Bank, he said, adding that he does not know how he will repay it. 
DAE DD Rauf said he joined recently and has visited the spot, adding that they are taking steps in this matter.