People spreading rumours on Facebook identified: Home minister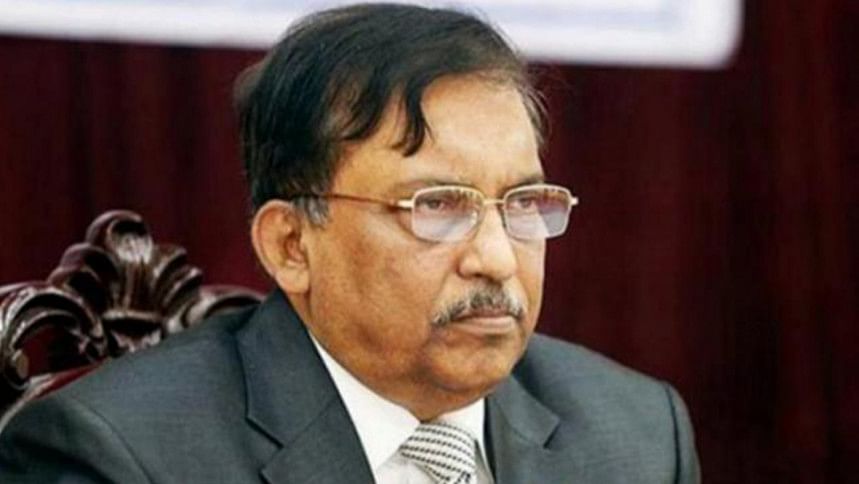 Home Minister Asaduzzaman Khan Kamal today warned that the people who are engaged in dishing out propaganda and rumours on Facebook will be brought to book soon.
"We have identified the people who are spreading propaganda and rumours on Facebook and only two days are needed to nab them," Kamal told a questioner while addressing a dialogue organised by the Secretariat Reporters' Forum at the secretariat in Dhaka.
The home minister's remarks came weeks after the unrest in Bhola over a Facebook post.  Four people were killed and more than a hundred others injured as religious zealots clashed with police in Borhanuddin upazila of the district over a hate conversation spread through Facebook and its messenger.
Responding to another query on whether the government is initiating any measure to prevent the propaganda on Facebook, he said, "The people, who are creating a net by spreading such rumours, have a motive. I am warning them to refrain from such activities."
He also asked the Facebook users to be careful in writing anything on their own pages as any kinds of untoward incident can take place following a Facebook message.
Citing his own example on confusion over a Facebook message, Kamal said, "A person is being beaten in Bhola. After seeing a video, I communicated and came to know that the incident was two years back."
The minister said it was needed to mention the date of the incident. If it was done, then the people would have kept their trust in Facebook.
Militant outfit Allahr Dal to be banned soon
The home minister said the blacklisted militant outfit 'Allahr Dal' will be banned soon as information revealed its link with militant ideology.
"We have been banning outfits linked with militant ideology. Within a short time, we are going to ban another organisation named 'Allahr Dal'," he told the dialogue.
Sagor-Runi investigation at final stage  
Kamal said the investigation into the Sagor-Runi murder case is almost at the final stage as rapid Action Battalion marching forward to submit the charge sheet.
The murder incident took place eight years ago and the High Court has given charge to investigate the case to Rab, Kamal said.
Meherun Runi, senior reporter of private TV channel ATN Bangla, and her husband Sagar Sarowar, news editor of Maasranga TV, were murdered on February 11, 2012.
The couple's only child Mahir Sarowar Megh, who was only five at the time, was in the apartment when his parents were the murdered.
I watch Papon's gambling vedio
Replying to a query of taking action against Bangladesh Cricket Board (BCB) President Nazmul Hasan Papon for his reported involvement in gambling activities, Kamal said he watched the casino video of BCB president that he played outside country.
"Casino is an illegal business. There is no recognition of gambling in our constituency. The law that formulated in 1876 remains effective and all you (Journalists) know about the highest punishment of the law," said the home boss.
"As our constitution has prohibited gambling and thus, we are working against it," Kamal said.
The minister further said the government started taking action against those who are engaged in gambling violating relevant laws and announced fight against the illegal casino business.
"We will have to go after lakhs of people [if we have to check] who is playing and who is doing what. It's not that only one or two-person play [it] if we catch all in this way, there will be several lakhs of people," the minister added.