Padma Bridge: 5th span installed
750 metres of the bridge now visible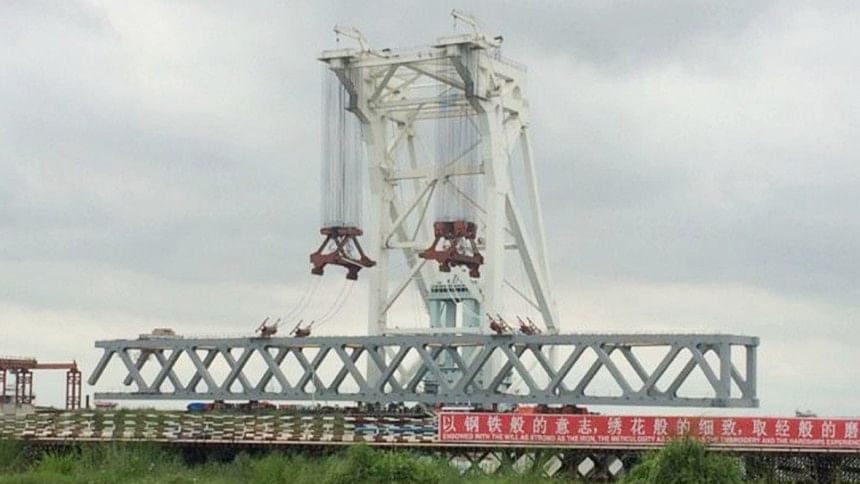 The fifth span of the 6.15-km Padma Bridge has been installed today, officials said.
The span was placed on the pillar 41 and 42 of the bridge near its Jazira end in Shariatpur around 1:00pm, reports our Munshiganj correspondent.
With the installation of the fifth span (7F), 750 metres of the much-awaited Padma Bridge are now visible.
It was placed on the pillars between 1:00pm, a highly placed official of the bridge construction told our Munshiganj correspondent wishing to be unnamed.
Different technologies have been assembled to install the 150-metre-long span.
A vessel carrying floating crane lifted the span which weighs 3,200 tonnes on board around 8:00am on Thursday from the specialised workshop jetty at Kumarbhogh.
The vessel was supposed to complete the task on Wednesday but choppy waters and strong winds in Padma river delayed its voyage.
Construction of nine pillars -- 3, 4, 5 at the Mawa end and 37, 38, 39, 40, 41 and 42 at the Jajira end of river -- has already been completed.
Fifty-three percent work of the project has been completed till March, said sources at Bridges Division.
When the construction of the Padma Bridge is completed, the capital will be directly connected with 21 southern districts through road and railways.
The first span of the bridge was laid on pillars 37 and 38 on September 30, 2017. The second span was placed on January 28, 2018. The third span was laid on March 11 and the fourth was placed on May 13 the same year.
Two major components of the project are main bridge and river training. Of them, 59 percent work of the main bridge and 36.5 percent work of river training have been completed.
The project is running behind schedule as the World Bank withdrew its $1.2 billion loan in 2012 over allegations of corruption conspiracies. The government then moved to build the bridge with its own funds.