Saudi grand mufti warns of unfair means to perform Hajj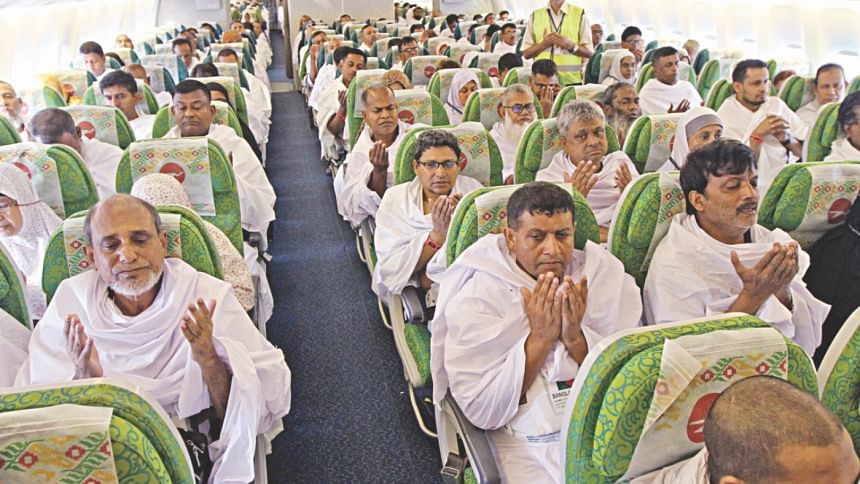 Saudi Grand Mufti Sheikh Abdul Aziz Al-Asheikh, also the chairman of the Saudi Council of Senior Scholars, has criticised those planning to perform Hajj through unfair means.
It is absolutely wrong to hoodwink security forces by crossing Hajj checkpoints in normal dresses and then donning the ihram in the holy city, he said, adding that entering Makkah without permit is against the rules and that it is important for everyone to abide by the regulations, reports Arab News today. 
The injunction is specifically aimed at undocumented domestic pilgrims who try to sneak into the holy city every year.
Only the documented pilgrims who never performed Hajj before or have performed Hajj not less than five years ago can perform the pilgrimage this year, the grand mufti said, adding that this decision has been made keeping peoples' interests in view.  
The Saudi government has taken measure so that all pilgrims can complete their rituals without any hassle, he also said.
It is every individual's duty to follow the guidelines issued by the authorities, he added.
Over 10,000 Hajj pilgrims reach KSA since Aug 4
Biman Bangladesh Airlines has so far carried over 10,000 Hajj pilgrims in 42 flights for Saudi Arabia from Hazrat Shahjalal International Airport in Dhaka and Shah Amanat International Airport in Chittagong till today.
The national flag carrier started Hajj flights for Saudi Arabia carrying pilgrims from Shah Amanat International Airport in Chittagong on Friday, August 12, 2016.
Biman will operate a total of 11 flights from this airport till August 29, said a press release today signed by Tasmina Akter, assistant manager (public relations) of Biman Bangladesh Airlines.
"The first Hajj flight of Biman Bangladesh Airlines from Chittagong, BG-3033, departed Shah Amanat International Airport for Saudi Arabia on Friday at 9:30pm carrying 414 pilgrims," she added.
Earlier on August 4, the first Hajj flight of Biman Bangladesh Airlines carrying 401 pilgrims departed Hazrat Shahjalal International Airport in Dhaka on August 4. Civil Aviation Minister Rashed Khan Menon and Religious Affairs Minister Matiur Rahman saw off the pilgrims at the airport.
Biman Bangladesh Airlines, the national flag carrier of Bangladesh, and Saudi Arabian Airlines have been selected by the government for carrying the Hajj pilgrims this year. Biman will operate a total of 144 Hajj flights from Bangladesh while 107 flights will be operated by the Saudi Arabian Airlines, said a press release of the civil aviation ministry.
Both airlines will carry equal number of passengers with maximum luggage allowance of 46 kilogrammes per person, the release also said, adding that the outgoing flights will continue till September 5 and the return flights will begin on September 17 and end on October 16.
A total of 1,01,758 Bangladeshis are expected to perform the holy Hajj this year which is likely to be held on September 12, subject to sighting of the moon. Only 5,200 of them would perform Hajj under government management while the remaining 96, 558 under private managements.