Organic vegetables prove a winner for Jessore farmers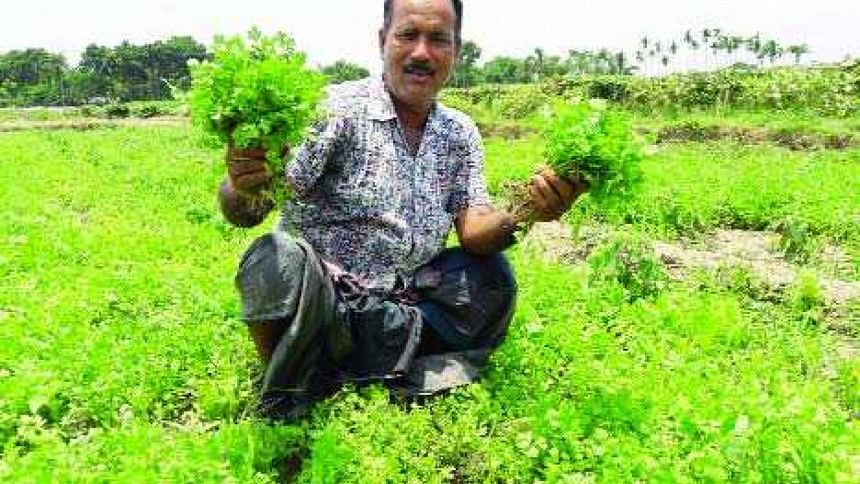 Farmer Ali Hossain from Bodhkhana village in Jessore's Jhikorgachha upazila has dedicated the summer months to producing organically-grown herbs, fruit and vegetables. His produce, no matter what he turns his hand to, is in good demand. The farmer who last year received an award from the agriculture ministry for organic farming has built himself a reputation for wholesome, chemical-free vegetables.
"I grew coriander on one bigha of land at a cost of Tk 25,000 this summer season," says Hossain. "It's selling at Tk 300 per kilogram in the wholesale market, which means I can earn about Tk 3 lakhs in sales."
On an additional two bighas, Hossain has grown papaya and taro. "The taro cost around Tk 30,000 to produce and the market rate is hovering around Tk 30 per kilogram mark. I expect to earn about Tk 1.5 lakhs in taro retail sales."
Cucumbers grown on three bighas also feature among Hossain's chosen crops. "Cucumbers are selling for up to Tk 20 per kilogram in the market. With Tk 20,000 in farming expenses, I should earn something around Tk 1 lakh in cucumber profits."
From pointed gourd, locally known as potol, grown on two bighas, a banana garden covering four bighas, and chilli and aubergine crops, Hossain expects similarly healthy profits. "My farming produce is popular because I use organic fertiliser and other natural methods in most cultivation," he says.
"Organic farming is popular these days," says Jessore's Agricultural Officer Sariful Islam. "Many of the district's farmers have taken to producing vegetables free from chemical fertilisers and pesticides."