Malta farming sees success in Jashore
The organic fruit is grown with vermicompost and bio-pesticide instead of chemical fertilizers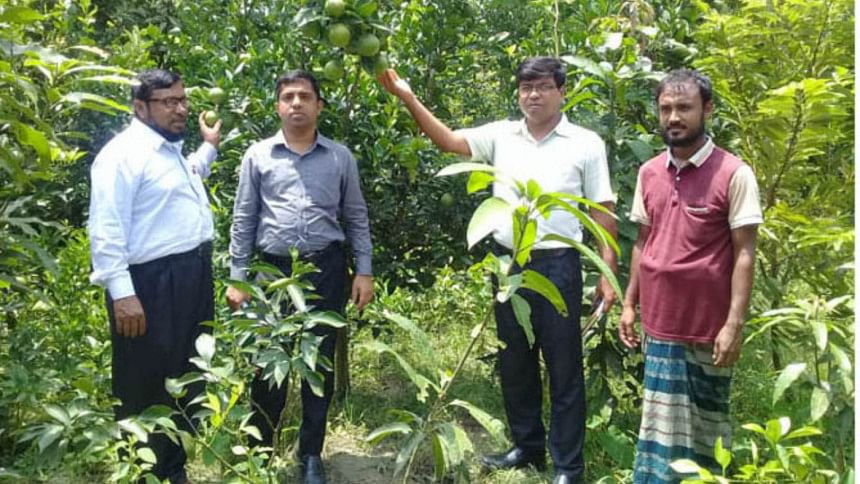 Delicious fruit malta sees successful cultivation in Keshobpur upazila of Jashore.
Four years ago, Abdus Selim of Pathra village under Keshobpur upazila decided to grow organic malta on his land after learning that fruits grown with chemical fertilizers pose threat to human health.
"I planted 200 plants of Bari-1 variety of malta on my two acres of land investing Tk 80,000 in November 2015. Fruiting started this year and now the trees bear 300 to 400 pieces of malta each," said Selim, who has been involved in nursery business for 25 years, growing plants on his own land.
"I use natural fertilizer in my malta orchard and take care of the trees regularly. If the weather remains favourable, there is a possibility of bumper yield. I expect to sell the popular fruit for Tk 100 to Tk 150 per kg.
"There are 3,000 saplings of different varietirs, including Bari-1 malta, China malta, Veracata malta in my nursery. Now I hope to plant 300 more trees on additional three acres of land," he said.
Following Selim, several others including Abu Huraira and Mizanur Rahman of Sanyasgachha village, Abdul Aziz and Ardhan Kundu of Verachi village and Akhter Hossain Mithur of Satyashkati village in the upazila have started malta cultivation.
Mahbub Hossain, a fruit trader, said he will collect malta from the local orchards this year as the quality of the fruit is good.
"The organic fruit, grown with vermicompost and bio-pesticide instead of chemical fertilizers and insecticides, weighs over 200 grams each and is tastier than the imported ones. The fruit is very popular in local market," he added.
Farmers as well as unemployed youths will be encouraged to grow malta if the government extends help for its commercial cultivation, said locals.
"Farmers are being encouraged to cultivate Bari-1 variety of malta as the soil and climate of this country is suitable for its growth," said Mahadev Chandra Saha, Keshobpur upazila agriculture officer.