Officials confirm use of bamboo in Chuadanga building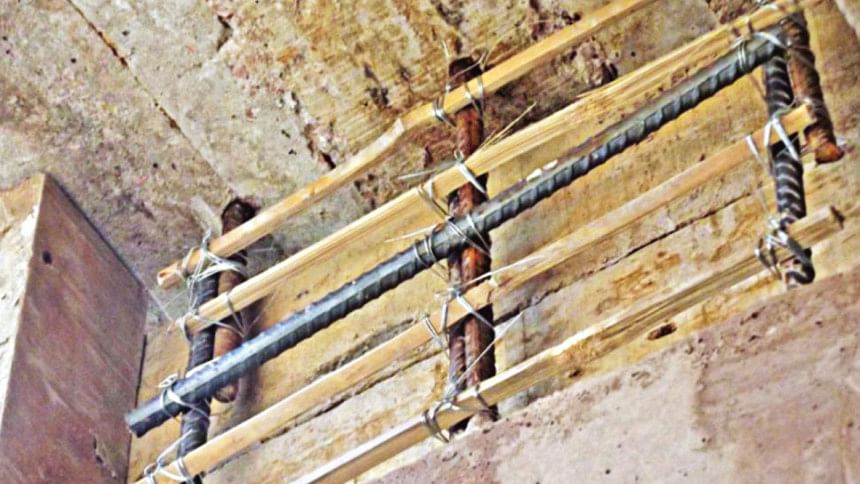 The administration in Chuadanga's Damurhuda Upazila today said it found to be true the allegation that bamboo sticks were being used as alternative of iron rod in the construction of a government-funded building in Chuadanga district.
Upazila Nirbahi Officer (UNO) Faridur Rahman submitted in a written statement to Deputy Commissioner (DC) Chuadanga in this regard.
In his statement, UNO said media reports on the issue are true.
Beside, the district administration also formed a three-member probe body today to investigate the matter.
Abdur Razzak, additional deputy commissioner (ADC-rev), is heading by the committee.
Another team led by a deputy secretary of the Ministry of Agricultural Affairs reached to Chuadanga today to investigate the matter.
The committee will re-check the report that has been submitted by a three-member committee headed by Soumen Shaha, director of Biological Research Wing of Department of Agriculture Extension (DAE) in Dhaka.
ALSO READ: Construction or sham?
Sources said the Soumen Shaha's committee submitted the report to the ministry today.
"We have found some irregularities," said Nirmol Kumar Dey, DAE deputy director, Chuadanga. He is one of the three-member probe committee.
Committee sources said it would check the construction schedule, examine materials used in the construction, different parts of the building, its walls and rooftop.
"We found irregularities in construction of outside louvers," Nirmol Kumar said.
Total 36 louvers were built around the two-storied building.
Another member of the committee said seeking anonymity that the committee is going to recommend breaking all 36 louvers and reconstruct those.
The report would also have recommendations for suspending the construction firm and slapping punishments, he said.
This correspondent tried to communicate with head of the probe body but failed to reach him.
Beside, locals alleged that the construction firm often runs the work during the night and would stop people from entering the area.
The Department of Agricultural Extension (DAE) of Chuadanga last year got a Tk 2.41 crore fund to build the two-storey Biological Research Centre and Lab in Darshana under Damurhuda upazila. Joy Construction Ltd of Dhaka is constructing the building.
So far, 65 percent work has been done and the building was scheduled to be handed over to the DAE in June.
Recently, some local youths came to know about some "gross anomalies" in the work.
They visited the building Thursday noon and asked the workers about the materials used in construction of walls and outside louvers. But the workers refused to say anything.
Later local people forced the workers to break a louver. The bamboo sticks became visible.