'OC Moazzem himself filmed Nusrat's statement'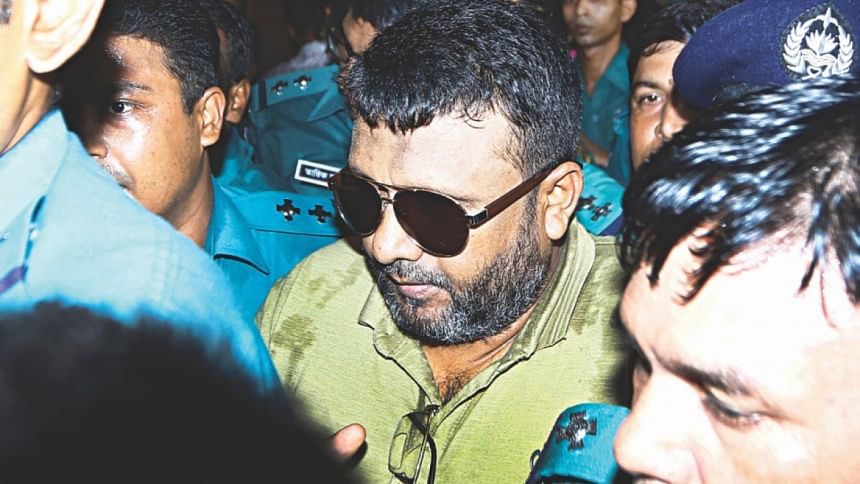 An inspector of Digital Forensic Department of Police Bureau of Investigation today told a Dhaka tribunal that suspended Sonagazi OC Moazzem Hossain filmed Feni madrasa student Nusrat Jahan Rafi's statement on his own mobile at his office.
PBI Inspector Mohammad Abdul Badi in his statement said after getting two mobiles of Moazzem seized by the investigation officer of the case, he made a forensic test and found that the suspended OC himself recorded Nusrat's statement on his own mobiles.
Later, the footage was circulated on social media without her consent through SHAREit, the witness added.
Besides, the defence lawyer then cross-examined him on different points.
Two Nusrat's friends --Nishat Sultana and Nasrin Sultana Furti—gave their statements before the tribunal.
Nishat in her statement, said on March 27, she was violated by Principal Siraj Ud Doula.
After the incident, police went there and they took her along with Nusrat, Furti and Principal Siraj Ud Doula to Sonagazi Police Station.
"We all went to the OC's room but Principal Siraj was taken to another room. The OC Moazzem also asked me to go to another room. After 10 minutes, the OC called me again to his room and asked me about the incidents and videoed my conversation on his mobile. I asked him about the video. The OC replied that he recorded it for the sake of investigation.
I came to know later from Furti and Nusrat that the OC also recorded and videoed their statements. After some days, I saw the video of Nusrat on Facebook and YouTube," said in her statement.
Furti gave the identical statement before the tribunal. Later they were cross-examined by the defence lawyer on different.                   
Judge Ash Sams Joglul Hossain of Dhaka Cyber Tribunal recorded their statements for two hours and fixed November 11 for the next hearing of the case.
The tribunal asked the investigation officer of the case to appear before it on that scheduled date to narrate what he found in his probe.
Earlier, the tribunal recorded statements of eight prosecution witnesses, including complainant of the case.   
On April 15, Supreme Court lawyer Sayedul Haque Sumon filed the case against Moazzem.
Nusrat was set on fire on April 6, after refusing to withdraw a case she had filed against her madrasa principal Siraj Ud Doula for sexually harassing her. She died at Dhaka Medical College Hospital on April 10.