NHRC to launch online system for lodging complaints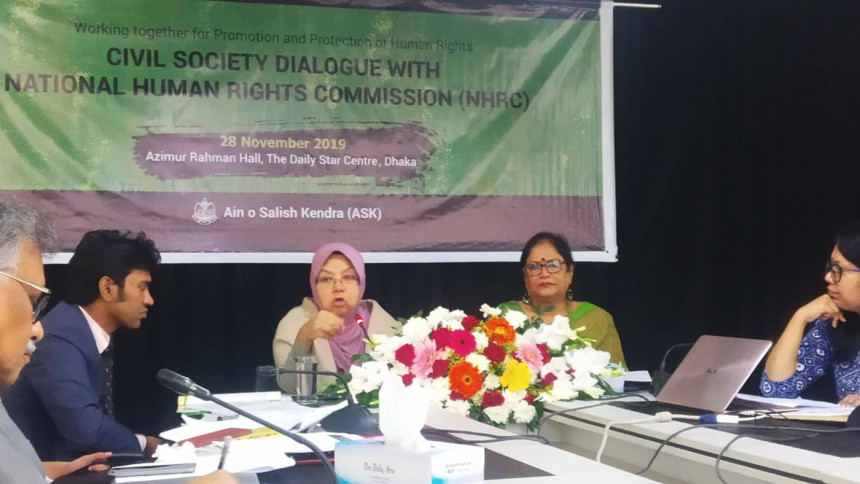 National Human Rights Commission is going to launch an online complaint management system to help people from distant areas in lodging their grievances without any hassle, commission chairman Nasima Begum said today.
"People will be able to easily lodge complaints online from anywhere they live [once the system is introduced]," she said at a dialogue with civil society members and human rights defenders organised by rights body Ain o Salish Kendra at The Daily Star centre.
Now, people from the districts have to travel to the commission office to file complaints. There are no district-level commission offices except in Rangamati, Rajshahi, Gopalganj and Cox's Bazar and the divisional cities have NHRC headquarters.
The chairman said people often raise question that complaints are lodged but people do not know the outcome. So, this new system will ease the process, said Nasima, a former senior secretary.
The chairman also said she will try her level best to strengthen the commission.
In the programme, several human rights defenders from different districts urged the commission to expand its activities in the rural level, work more effectively for the protection of victims and human rights defenders, launch a massive campaign so that people have easy access to the commission.
Some of the speakers raised the question about the process of appointments of the commission chairman and its members.  
Before the arrival of commission chairman at the programme, Tamanna Hoq Riti, assistant coordinator (media and international advocacy) of the ASK, said "It is a matter of concern and frustration that we are seeing a priority of the bureaucrats in the appointment in the commission."
"People who have direct experience of working for human rights are less being appointed as chairperson and its members," she alleged.
Riti mentioned that around 347 people were killed in so-called shootouts in between January and October this year while seven others fell victim to enforced disappearance.
At least 1253 women and children were subjected to rape and 62 of them were killed later.  
Ask executive director Sheepa Hafiza highlighted on such dialogue with root-level defenders saying, "We see less communication of commission to the root level."