Yard turns into modern fish farm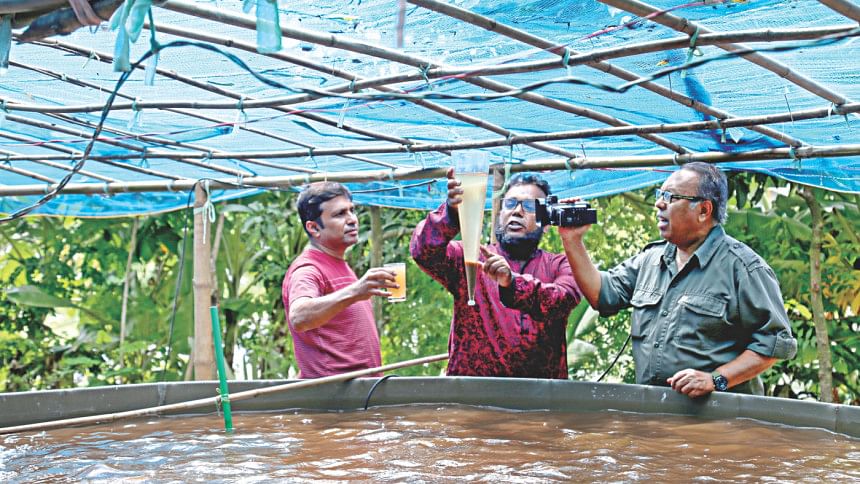 A few days back, I went to Ballavdi village in Narayanganj's Araihazar upazila. It is not entirely a village though there are some urban settlements that still exists. The greenery still resides there. Today I will tell you the tale of innovative fish farming by two young men--Zahirul Haque and Mustafizur Rahman. They are using the most advanced fish farming technology, called Biofloc, which is also known as BFT. You would probably recall one of my recent articles published on The Daily Star, titled 'Modern fish farming technologies shaping the cultivation,' published on July 25, 2019. In the article, I talked about Recirculating Aquaculture System (RAS) and also discussed how BFT, the low-cost fish farming technology, is spreading across the country.
Once fish farming used to be done in ponds, but now it has come at one's yard. I went to such a home belongs to Zahirul. His courtyard is simply astounding. There are houses around. In the middle, he has used the yard for fish farming, using water tanks. He along with Mustafizur is farming fish in the tanks using BFT.
"How many tanks do you have here," I asked them.
"We have a total of 12 water tanks," says Zahirul.
Dear readers, see how science and technology are progressing. There was a forest beside the yard. They have nine large tanks and three small ones. BFT is competing with RAS technology. Recently, I visited South Korea to showcase RAS. Both these are scientific methods of fish farming. During the 80s, I had shown a symbolic fish farming promotion, Hakim Ali's fish farm. My message was to the people across the country to use their home adjacent ponds for fish farming. That was a revolution and many fish farm entrepreneurs came up and today the glorious journey continues with the latest technologies. More and more Hakim are coming up now. The Hakim back then were not that educated but today the fish farmers, especially the young ones, are well educated.
I saw Zahirul and Mustafizur were testing the pH in the water. It's quite amazing to see farmers have advanced so much that they take the pin-point detail of what they are doing and what the results are going to be. 
The yard is a fish factory and also a reservoir and it looks like the water is being boiled producing plenty of bubbles. However, they are only supplying oxygen to the water. These reservoirs stay active 24/7. Plenty of fishes are growing inside the tanks by feeding enough oxygen and special feed.
Rows of reservoirs have taken possession on the entire yard. Zahirul and Mustafizur have finished studies and are in the middle of their jobs. A calculation shows nothing is more profitable than this. They started their journey as farmers with the BFT. To make it happen, they have gained scientific knowledge and information. They have learned through the restless working process. 
"At the beginning, we were failing and we couldn't make it happen properly," said Zahirul.
"It took us six to seven months to collect the proper probiotics and then we were able to successfully make the floc. After that, everything went pretty well," jointly said Zahirul and Mustafizur.  
"At its core, biofloc is a waste treatment system. Biofloc systems were also developed to prevent introduction of diseases by the incoming water to a farm," says Zahirul.
"I used to work at a multinational company. I wondered how I could stop serving and employ people to work," shares Mustafizur.
"What did you study?" I asked.
"Physics," he replied.
"An you?" I asked Zahirul.
"I studied Marketing. We together always wanted to do something exceptional," says Mustafizur. 
The colour of the water indicates the production rate of the organic feed for the fishes.
"What is the entire cost?" I asked.
"Each tank costs a maximum of Tk 45 thousand (USD 531.386). There is aerator, generator and a blower. In total, the cost of construction is around Tk 4.5 lakh (USD 5313.42) and some more for the feed and fingerlings for the 12 tanks," replied both of them.
"How long will each tank serve?" I asked again.
"Five years with 20 harvests," replied the duo.
"How much will you earn from single harvest from a single tank?" I asked.
"Around Tk 90 thousand (USD 1062.77) from a one tank in a single harvest," they replied.
"You know what, from 12 tanks in a year with four harvests we're going to earn around TK 43 lakh (USD 50,743.89)," said the two very glad entrepreneurs.
"That's amazing earning from just one year," my astounding reply.  
"Why do you think biofloc fish farming is getting popular? I asked. 
"There are two main reasons. One, you can produce fish in more density and, number two, you can produce fish feed in a natural method. In terms of high growth fish, this method brings the most fruitful results," replied Zahirul. 
They have different fish species like Sharputi, Telapia, Shing, Pabda, Tengra, Pangas and many more. You will be astounded to know how many fishes are there in each of the water tanks, having 17.5 thousand litre capacity. You can say each is like a big pond in terms of fish production.
For example, if I went to a pond as per my ability, I would have gone with only 100 to 125 Telapia fishes. However, I can farm 3,000 Telapia fishes here, in the tank.
"How many harvests do you get in a year? I asked them.
"Four harvests in a year from each tank," they replied. 
The production cost is not too much as well. It also is more convenient than traditional fish farming. It is possible to make such a house or tank with less hassle and cost than making a new pond.
Both Zahirul and Mustafizur got training on BFT from India. The water tanks are really steady and strong and there is no chance for water leakage because they have heavy-duty plastic. Lifespan for each tank is five years which means they will harvest 20 times in five year time. The floc has 30 percent to 60 percent protein. So, they don't need much protein level here.
In Biofloc system, 600 to 700 grams of feed is enough for fish, weighing one kg. They provide oxygen with a central blower system. Also, they have placed a submersible aerator which circulates the water so that fishe can swim against the flow. That is making them tired soon. Thus they are eating the floc. In the first batch, they farmed Telapia the most. Now, they're looking to increase the oxygen supply. Motors are running with electricity to ensure the oxygen supply. If it goes down we have generators ready for backup. The water colour in the tanks thus vary due to probiotics. There is white and reddish colour in some tanks. It also takes at least seven days to make the probiotics operational. They are still experimenting with it and they're pretty sure that they'll get an even better result out of it. The fishes look great in colour, size and weight. The entrepreneurs are saying that due to a total controlled environment, the fishes produced here is certainly of better quality.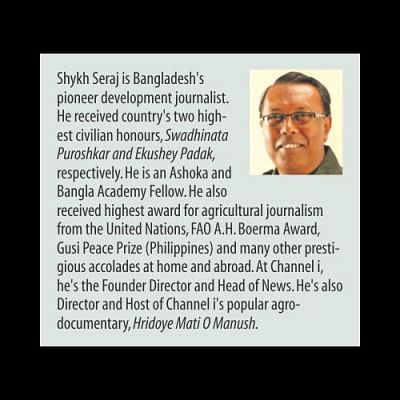 Dear readers, in the 80s, I have brought an ideal fish farmer in front of you named Hakim. The then unemployed youth of the country was inspired by Hakim. Now, thousands of Hakim are playing a great role in the success of the country's fish production. The fish sector contributes a lot in the country's animal protein and agricultural economy. Contributions from young entrepreneurs like Zahirul and Mustafizur and many like them have made it possible. They have entered fish production with precise calculation and seeing a great prospect in the sector.
"We left jobs seeing the great potential in fish farming," said Zahirul and Mustafizur.
Meanwhile, they have taken a project in Mymensingh where they are going to place another 40 tanks very soon. They are also going to train local people, who would be interested to start fish farming with BFT. 
Dear readers, as a closed system, BFT has a great advantage of vertical growth in terms of productivity and losses of natural resources. It is environmentally a friendly system with a green approach. Minimum water exchange maintains the heat and prevent fluctuation of temperature, allowing growth. I have been getting calls from fish farmers from Cumilla, Chandpur, Khulna, Mymensingh and many other places who have started their venture with BFT. Some of those are even bigger as they tell me and I would love to visit as many farms as possible.