Winning against colour discrimination
Once bullied and mistreated, dark-complexioned Rubina is now a successful entrepreneur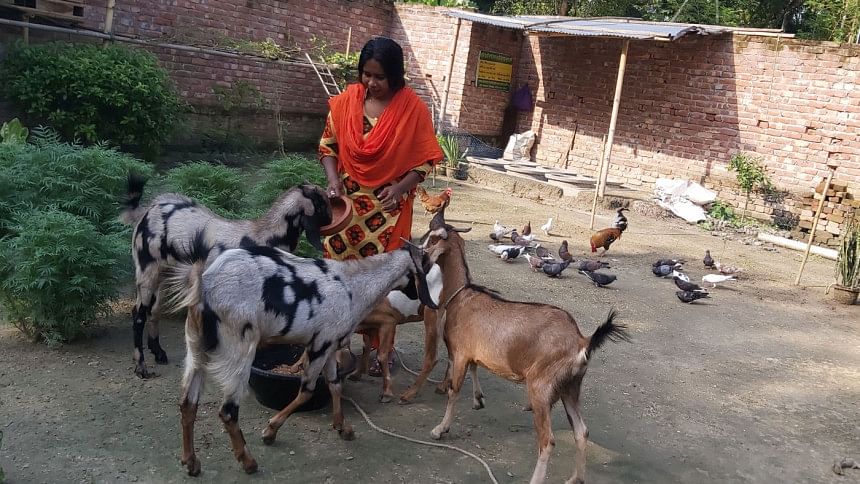 Her only 'crime' was her dark complexion. It led to her divorce only 34 days after marriage and during that short period her in-laws even tried to kill her.
But Natore's Rubina Khatun did not allow these societal attitudes to put her future at stake. Through hard work, she has become a successful entrepreneur and an award winning farmer.
In 2018, she received the KIB (Krishibid Institute, Bangladesh) Agriculture Award from President Abdul Hamid. Besides, she received several other honours as a woman entrepreneur.
Sharing snippets of her life, Rubina said she fell in love and married a Saudi expatriate in 2012, by exchanging vows over the phone.
Soon afterwards, his family members started to torture her physically and mentally for her dark complexion. Once her sister-in-law tried to drown her in the pond, Rubina recounted those traumatic days.
To avoid the torture the young woman returned to her father's house in Ekdala Chandpur village of Natore Sadar upazila only to receive a divorce letter from the Saudi expatriate, later.
But Rubina did not let the adverse situation destroy her hope. She took over the responsibility of her four-member family including her mother and two younger siblings, as her father passed away before her marriage.
Rubina started tailoring work at home, determined to become self-reliant. After a few days, she opened a poultry farm on family land with Tk 50 thousand, borrowing the money from a local NGO. The venture earned her a profit of Tk 30,000.
In 2015, she earned a prize of Tk 2 lakh prize by taking part in a competition by Fair & Lovely Foundation named "Tomar Shopno Koro Shotti" (Make Your Dreams Come True) in Dhaka. Since then she did not need to look back.
Afterwards, Rubina along with her younger brother started an agro-farm, after receiving training from the Department of Agricultural Extension (DAE) in Natore.
Initially, she began the venture on 12-bighas of her family land but soon she had to lease another six bighas as her business grew.
Guava, litchi, dragon fruit, banana, plum, mango, coconut and various vegetables were cultivated. She also started farming fish in their pond and dairy farming. Apart from this, she is now rearing around 200 pigeons and 100 ducks at her farm.
She now earns a profit of around Tk 30,000 from her project every month, said Rubina.
She also runs a oragnisation named IFMC, where she trains helpless women on cow, duck and poultry farming. Moreover, she has set up a sewing training centre for women, who fell victim to torture.
Like many other small businesses, the pandemic has affected Rubina's farm.
Income from her agro-project has reduced because of the thin presence of customers at the local haats where she would sell poultry and cattle. Yet, she refuses to give in to despair.
"Many people bullied me for my dark skin after I was divorced but the same people are now praising me seeing my success, which really gives me immense pleasure," said Rubina.
Ali Sufi Shantu, a local journalist, said "Many people, especially helpless women, are now following Rubina's footsteps. She is a farming hero in my eyes."