When road less travelled holds key to success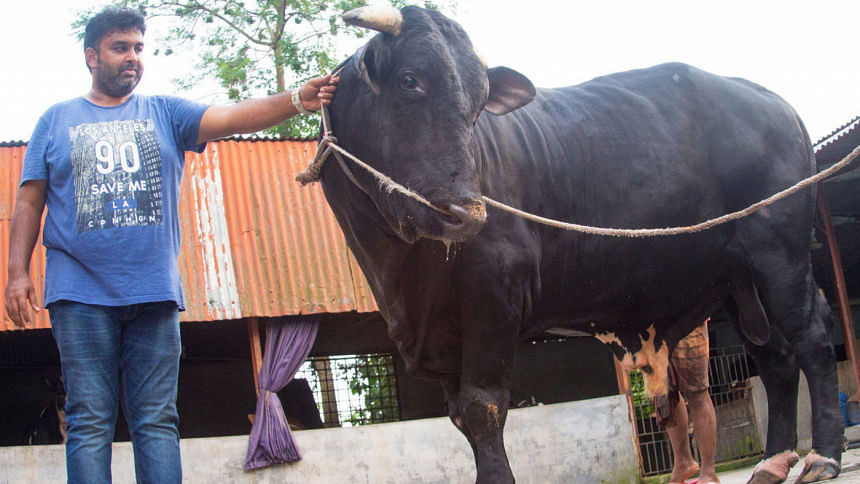 A hard working person, who has clear vision and has the capacity to take advantage of modern digital services, can make a new business endeavour profitable anywhere -- even in the middle of nowhere.
Having that belief, Touhid Parvez Biplob came home in Bogura town from New Zealand after finishing his studies, majoring in international business, and started a cattle farm in Kahalu upazila of Bogura in 2011.
Biplob, now 36, set up the farm away from the town, near Bogura-Naogaon highway in Dargahhat area where he had been running an automatic flour mill, owned by his father, since his return the year before.
When many businesses are still reeling from financial downturn caused by the Covid-19 pandemic, Biplob made Tk 30 lakh in profit from sale of 90 cows during this Eid-ul-Azha, a Muslim ritual of sacrificing animals, relying mostly on digital marketing.
Riding on countrywide sales online, his profit from the farm even doubled this year from that during the Eid-ul-Azha last year, when his profit stood at 15 lakh from sale of 50 cows.
Aside from the sale of cattle, the farm also has earnings from milk sales to wholesalers, around 25 litres daily from six cows. A veterinary doctor and five employees now look after the farm round the clock, said Biplob.
But when he first started to develop the farm, everything was not as flowery. Most members of his family and friends opposed the idea of him, an affluent youth educated abroad, running a cattle farm.  
The strongest of the opposition he faced was from his father, Tofazzal Hossain, who had sent his only son overseas, to Auckland Institute of Studies, not just for higher education, but also for a greater objective.
His father had the understanding that upon completion of his studies, Biplob would use his educational training to better manage all the businesses -- including the flour mill, a jute mill and a cold storage -- he had set up for the family.
So, when Biplob started developing a cattle farm on five bighas of land beside their flour mill and spent Tk 4 lakh on seven cows, his father became quite upset, Biplob said.
"It was a dream that I had been cherishing since my childhood... I grew up with love for animals. During my school and college days, when my peers played outside in the afternoon, I often was busy at markets -- buying grass for my goats... I oftentimes accompanied my father at different markets to buy sacrificial animals for Eid-ul-Azha," said Biplob, who was a student of Bogura Cantonment Public School and College, batch of 2003.
Named 'Bogura Bhandar Dairy and Agro Farm Limited', Biplob's farm has been selling cattle online to buyers from across the country. Any prospective buyer can pick one or more cows for purchase by browsing photos and video clips of each cow along with price, weight and measurements, posted on the Facebook page of the farm. 
The farm now has a stock of around 90 different domestic and foreign cattle breeds including Brahman, Jersey, Holstein Friesian, Nepali and Sahiwal.
The cows are fed Napier grass, grown in family-owned land at Panchkatuli village in Gabtoli upazila.
Ramjan Ali, manager of the farm, said all employees of the farm received monthly salaries and even festival bonuses amid the pandemic as their sales did not suffer during the period.
Bogura District Livestock Officer Dr Rafiqul Islam Talukder said seeing Biplob's success in cattle sales online, many educated locals, especially the young, are now showing interest in following Biplob's footsteps. 
"Initially, many of my relatives and friends looked down on me for setting up the cattle farm. But now, the same people are praising me for my success. Especially my father now offers me great encouragement for running the farm," said Biplob, who is also a wildlife photographer.
Biplob won several awards including BPS National Photography Award, Wildlife and Nature Imagination Award and International Salon Reflections Serbia 2018 Award for his photography.