War Crimes: ICT investigation agency finds evidence against 8 Pirojpur men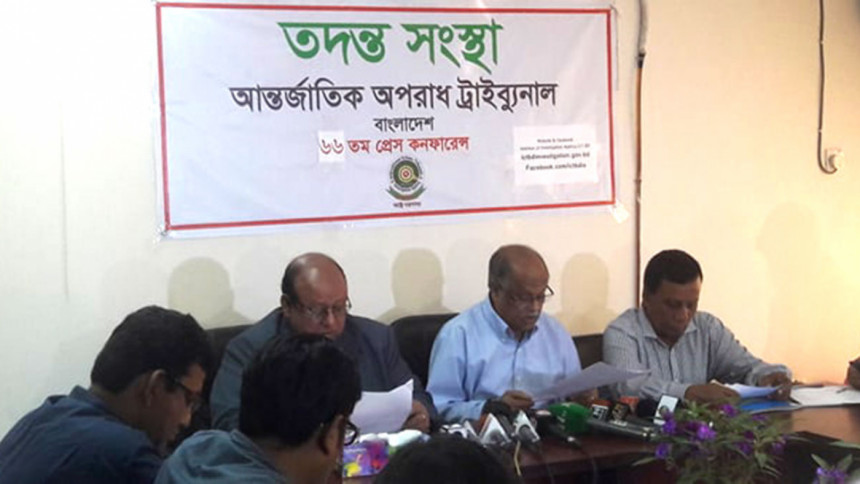 The investigation agency of the International Crimes Tribunal yesterday said to have found evidence against eight Pirojpur men over their involvement in crimes committed during the Liberation War in 1971.
They were "involved" in killing 24 people in four incidents, injuring three others, raping a woman, looting and arson in Bhandaria upazila of the district.
Among the eight, four are now in jail while an accused – Fazlul Huque Hawlader – died of old age complication last month while in custody, agency's coordinator Abdul Hannan Khan said at a press conference at its Dhanmondi office.
The four currently in prison are: Abdul Mannan Hawlader, 75; Azhar Ali Hawlader, 88; Ashraf Ali Hawlader 67; and Moharaj Hawlader, 68.
He, however, declined to give names of the other three accused as they are yet to be arrested. All eight are from Bhandaria upazila.
Hannan said they handed over the probe report and other documents to the ICT Chief Prosecutor's Office yesterday with recommendation to press charges against seven as an accused has already died.
Sanaul Huq, agency's co-coordinator, said the four who are now in custody were involved with Convention Muslim League and Razakar Bahini during the war.
Until their arrest, all four were involved with Jamaat-e-Islami, he added.
NO NEW INVESTIGATION BEFORE POLLS
Meanwhile, Sanaul Huq said they will not start any new investigation ahead of the general election. "However, we will continue our ongoing investigation," he added.
Currently, investigation of 26 cases is on while 27 cases are now pending at trial and pre-trial stages. Besides, the agency received 679 more allegations against over 3,000 people, investigators said.