17 stranded Bangladeshis return home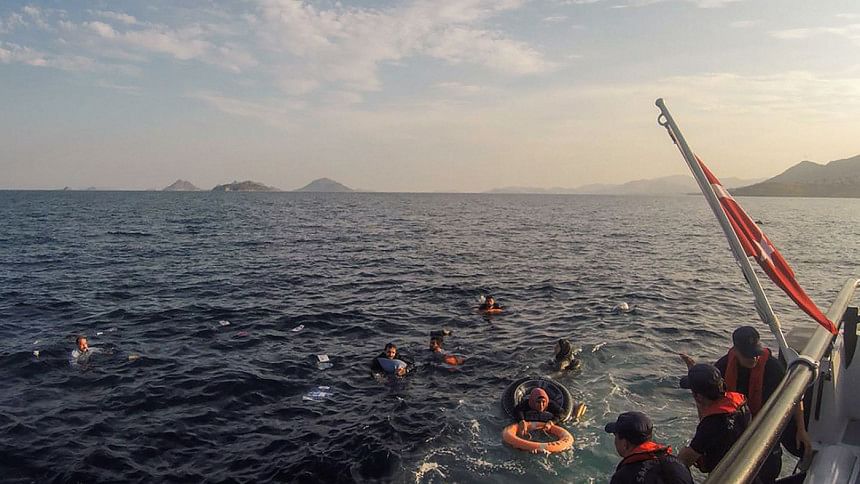 Seventeen of the 64 Bangladeshi migrants, who had been stranded in the Mediterranean off the Tunisian coast of Zarzis for nearly three weeks, returned home this afternoon.
They are now going through immigration, Abdul Kader, deputy assistant director of the Bureau of Manpower Employment and Training (BMET), told The Daily Star.
"They have been provided food after arrival," said Kader, who is posted at the Expatriate Welfare Desk at the Hazrat Shahjalal International Airport in Dhaka.
The Ministry of Foreign Affairs in cooperation with the International Organization for Migration (IOM) helped them in returning to their homeland.
They are mostly from Madaripur, Brahmanbaria, Noakhali, Shariatpur, Sunamganj, Moulavibazar and Chandpur.
Seventy-four migrantswere taken to the Tunisian shore from 25 kilometers off the coast on June 18, after Bangladesh's Ambassador to Libya, Sheikh Sekander Ali, convinced them.
Earlier, they refused to return to Bangladesh or even to Tunisia, but wanted to go to Europe.
They were kept at the IOM shelter center in Tunisian capital Tunis since then and were repatriated home yesterday. Even Tunisian authorities initially denied sheltering the migrants, but agreed to shelter on condition that they all would be repatriated.
A foreign ministry official told The Daily Star that they were convincing the remaining migrants to return to Bangladesh.
According to IOM officials, the migrants must be repatriated home on voluntary basis and that they cannot force anyone to return.
The foreign ministry official, who requested anonymity, said if the remaining migrants don't return home, it will be difficult for them to get help from Tunisia in the future.
"Relatives of the remaining migrants should help convince the migrants so that they return home," the official The Daily Star yesterday.
Since civil war started in Libya since the fall of the country's leader Muammar Gaddafi in 2011, the North African country has become a major route of human trafficking or smuggling to Europe.
Europe, especially Italy, however, has become very strict in accepting the migrants through strengthening its maritime border. Even, Italy is penalizing the charities that rescue the migrants from the sea and take them to the shore of Italy.
Earlier on May 9, some 65 migrants, including 40 Bangladeshis drowned in the Mediterranean near the coast of Tunisia. Fourteen others survived.
According to Bangladesh embassy in Libya, some Bangladeshis among other nationalities were also rescued from the boats on the sea on their way to Europe.
They were also under the process of repatriation, said ASM Ashraful Islam, labour counselor of Bangladesh embassy in Libya.
He has warned Bangladeshis in Libya not to take any risky sea journey to Europe.