Toxic smoke from brick kilns damages crops
Leaves of mango, jackfruit, litchi, coconut and betel nut trees also turned brownish due to the smoke emitted from nearny kilns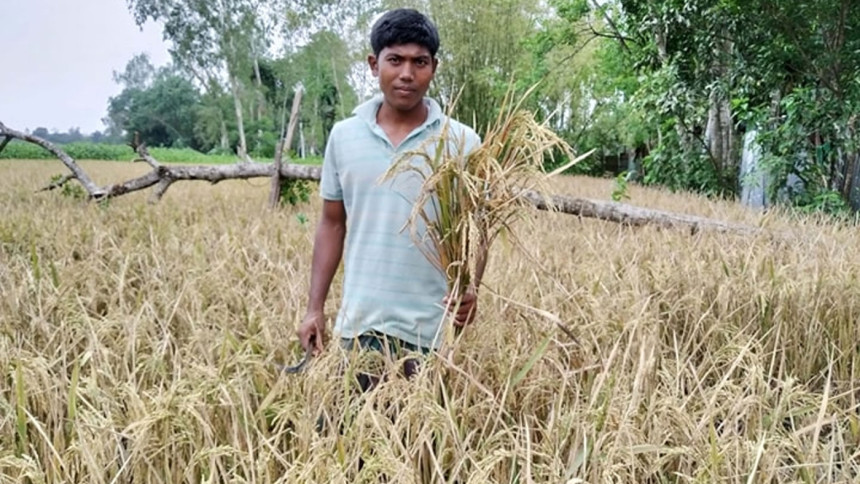 Farmers at Nawdabas village in Phulbari upazila of Kurigram are worried as Paddy, fruit trees, bamboo clusters and betel nuts have been severely damaged due to toxic smoke from nearby brick kilns.
The aggrieved farmers have already written to the upazila administration to remove brick kilns from the middle of a vast tract of cropland because it damaged crops every year.
The paddy plants on 25 bighas of land near Kharibari Saifur Rahman Government College in the area has dried out and turned sterile under the impact of smoke emitted form Messrs Altaf Bricks Fields, said local growers.
The leaves of mango, jackfruit, litchi, coconut and betel nut trees had turned brownish due to toxic smoke from the brick kilns, said Mukul Chandra Roy, Bishwanath and Tajul Islam, farmers of Nawdabas village.
Farmer Sukumar Roy of the village alleged that a vast tract of cropland has been damaged by toxic smoke every year but nobody dared to protest against the brick kiln owners as they are very powerful.
Mozammel Haque, member of Nagdah union parishad, said the toxic smoke from brick kilns damaged plants and crops in the area. He has already talked to the brick kiln owners about the matter but to no response from them yet.
Altaf Hossain, owner of Messrs Altaf Bricks, said some plants and crops in the area have been slightly damaged. Farmers who suffered will be compensated soon.
Deputy Director of Department of Environment (DoE) in Rangpur Mezbah Ul Alam said six brick kilns in the upazila are being operated without any approval from DoE.
Phulbari Upazila Agriculture Officer Mahbubur Rashid said immediate action will be taken in this regard.