Topsoil theft puts road at risk again
Same businessman was fined by a mobile court on March 3 for plundering topsoil from the same spot next to Khagrachhari-Rangamati road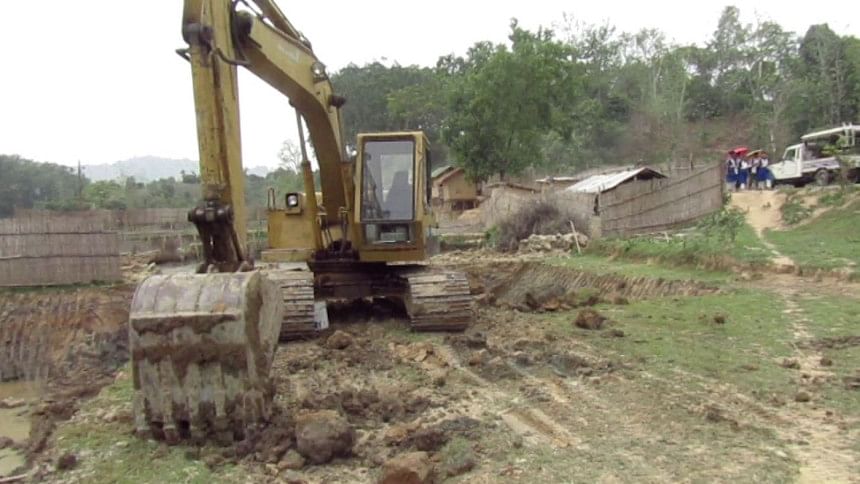 Khagrachhari-Rangamati road near Nunchhari rubber plantation might be at risk of damage as an influential local has been selling topsoil from agricultural land next to the road.
Mohammad Selim, a businessman in Khagrachhari Sadar, is buying the topsoil for his brick field from the land that belongs to Bottagulo Chakma, said locals.  
About a week ago, an excavator started scooping out soil, about five feet deep, from the land adjacent to the road and tractor trailers were transporting the soil to the brick field, they also said.    
Later, when journalists from Khagrachhari went to the spot to inquire about the soil extraction, they found the place deserted.
Pradip Chowdhury, president of Khagrachhari Poribesh Surokkha Andolon, said businessman Selim has been damaging the environment for a long time.
He also said a mobile court on March 3 fined him Tk 50,000 for extracting topsoil from the same spot.
Despite repeated calls on Selim's phone for his comments over the allegation, this correspondent was unable to reach him.
Sabuj Chakma, assistant engineer of Roads and Highways Department (RHD) in Khagrachhari, said they were not aware of soil extraction in the area.
The road as well as land stretching 20 metres on both its sides belong to RHD and they would take legal action against anyone who cut soil or build structure illegally in the area, he added.