Third phase election in 62 municipalities ends amid reports of clash, boycott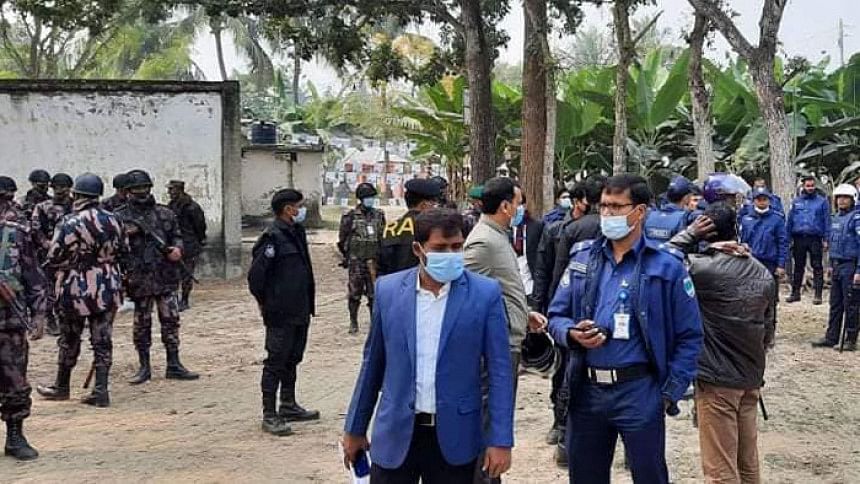 The third phase election to 62 municipalities ended across the country today amid reports of violence and election boycott by BNP candidates.
Voting started at 8:00 am and continued till 4:00 pm.
In Natore, BNP-backed mayor candidate of Singra Md Tayjul Islam boycotted the election, bringing allegation of vote rigging.
At a press conference at the local BNP office, Tayjul alleged that the supporters of Awami League candidate Md Jannatul Ferdous beat up and drove out his agents and stamped ballots in their favour.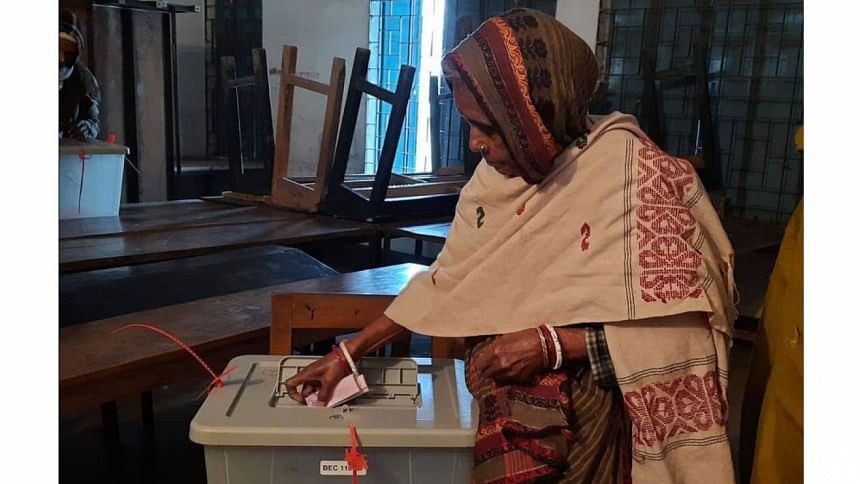 In Bogura, BNP's mayor candidate of Shibganj municipality Motiar Rahman Motin also boycotted the election, saying that the ruling party men occupied the centres and snatched votes, driving out his agents.
The BNP candidate held a press conference at Shibganj BNP office and announced the boycott around 12:30pm.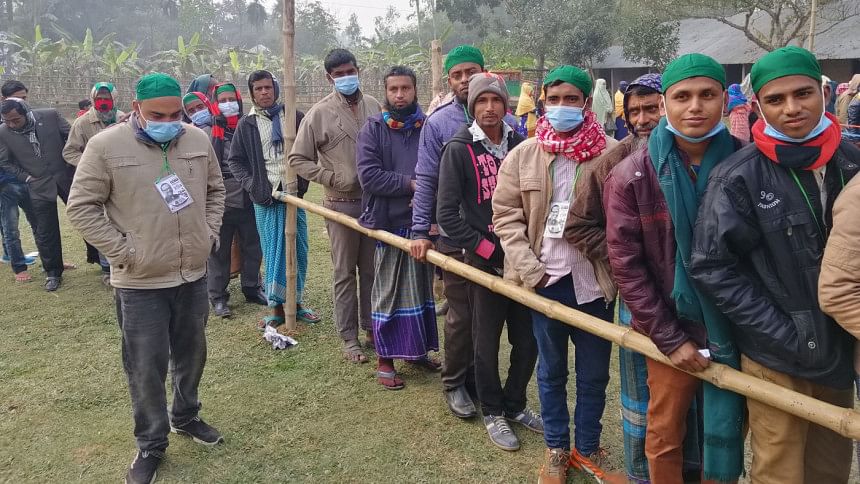 He claimed that ruling party nominated candidate Touhidur Rahman Manik mobilised "people wearing green caps" at each of the polling centres who were barring BNP supporters from entering the centres.
In Jhenaidah, a man was injured during a clash between the supporters of Awami league backed mayoral candidate of Harinakundu municipality Faruk Hossain and rebel candidate Saiful Islam Tipu at Mandartola-Jora Pukuria centre.
The injured was identified as Sagar Hossain (38). Supporters of the candidates also ransacked two ballot boxes at the centre during the clash that ensued around 11:00am. 
Police had to fire blanks to bring the situation under control, said Abdur Rahim Mollah, officer-in-charge of Harinakundu Police Station.
Returning officer Md Rokonuzzaman told The Daily Star that voting was suspended for half an hour. However, voting at Kotchandpur municipality ended peacefully.
In Feni, two BNP councillor candidates of Ward-14 -- Noor islam and Tajul Islam Pavel -- came under attack from a group near Rampur-Sayeedi Poura School Centre around 9:00am. 
Several crude bombs exploded near the school and some other centres, creating panic among voters.
Another BNP candidate Alaluddin alleged that the ruling party men have intimidated voters, drove out BNP agents and also tried to occupy centres.
Contacted, district election officer and returning officer Md Nasir Uddin Patwari said voting was going on peacefully in the municipality and he had no information of any attack or vote rigging.
In Munshiganj, Ansar members barred two journalists, including our local correspondent, from entering a room at Munshiganj High School polling centre, saying that they will need special permission. When they tried to talk to the presiding officer of the centre Jahangir Alam, he said he was busy and had no time to talk to media.
Meanwhile, an assistant presiding officer and a polling officer were withdrawn for not discharging their duties properly.
Sadar Upazila Election Officer and Assistant Returning Officer Mohammad Bodruddoza Bhuiya said some miscreants forcibly stamped ballots for ruling party candidate.
Later, the duo were withdrawn and the sealed ballots were cancelled. 
In Pirojpur, voting in Swarupkathi municipality was peaceful. Voters were seen standing in long lines at the polling centres braving the cold.
In Bagerhat, the presence of female voters was notable in Morelganj municipality.
While visiting Azizia Memorial Secondary Centre, our correspondent found women standing in long queues.
A total of 815 women, out of 1,615 voters, were expected to cast their votes at the centre.  
In Chapainawabganj, people were reportedly voting in Rohonpur municipality in a festive mood.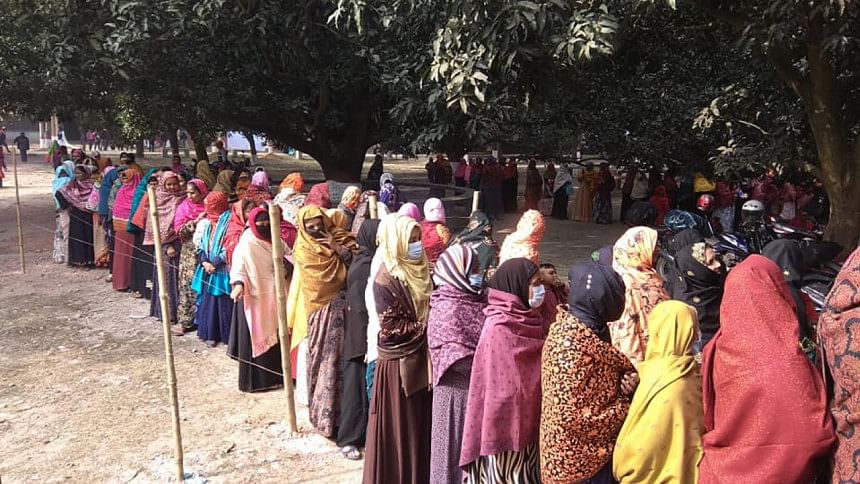 The Election Commission (EC) is conducting the polls in five phases. Today marks the third phase of it.
The battle of ballots was expected to be held between two arch-rival political parties -- the Awami League and the BNP -- although candidates of other political parties including Jatiya Party and Islami Andolan Bangladesh were contesting in it.
A total of 229 people ran for mayoral posts at the 62 municipalities in 36 districts.
There were 2,360 councillor candidates and 755 women's reserve seat candidates.
Fifty-six municipalities will go for election on February 14 in the fourth phase. Of them, EVM will be used in 31 municipalities.
Elections to 31 municipalities will be held in the fifth phase on February 28, using EVM.