Technology eases cow management
The device called Bolus, implanted inside the cow, sends all the information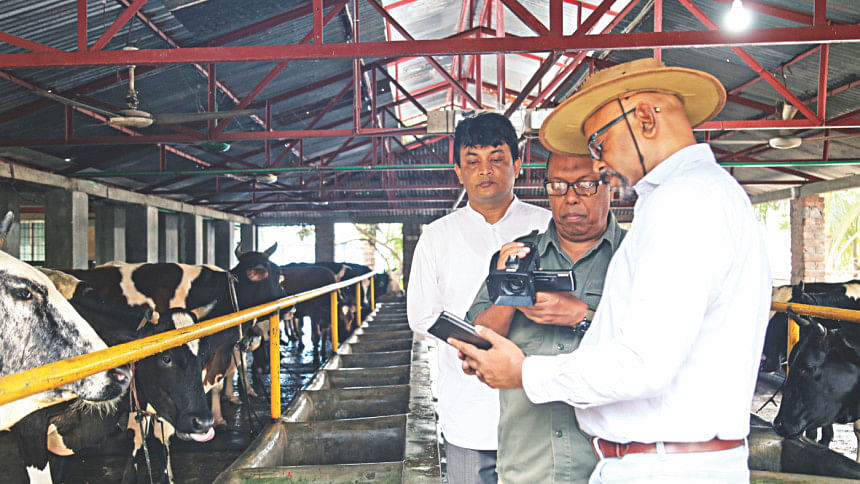 Dear readers, last month I went to visit Century Dairy Farm, in Narayanganj's Ichhapur. It is a cattle farm (crossbreed) and definitely quite different than any others that I have seen so far. The farm is unique because it is technology-driven where the most modern application Internet of Things (IoT) is used. The farm coped with the global trends of using modern technology. And, that is what really attracted my attention. Gradually, use of technology is increasing. It is getting really handy to manage dairy farms. 'Internet of Things' is changing so many 'things', I suppose. 'Artificial Intelligence (AI)' is simply deciding the course of what a farmer should or shouldn't do. In a nutshell, a smartphone with internet facility is empowering the farmers with a speed that we can barely imagine. The farming sector, farms and the farmers are changing very fast. This is one of those farms which has shifted its gear to take a drive on a new highway.
Surjomukhi Prani Sheba has supported Century Dairy Farm with livestock technologies, insurance and other services. 
Inside the farm, all the facilities are the same. All types of physical information of the cows appear on the computer. I know this information won't surprise you now. Because you already know we can get information about a cow by attaching a device in the ear or neck of a cow. However, through this new technology, which I am talking about today, we can't see the device. This is because the device is now implanted inside the cow, which is sending all the information. The device is called 'Bolus'.
Cow management is made very simple using bolus. It is possible to keep track of cow fertility, health and welfare. Bolus allows dairy farmers to monitor cow health, fertility and lameness with ease. By measuring cow temperature and activity levels, it can flag up numerous issues that might otherwise go unnoticed under visual supervision, says the entrepreneur of the Century Dairy Farm, Asaduzzaman Afsar.
Bolus is proven to reliably alert farmers to fertility losses and disease, heat stress, calving, heat detection, even drinking and lameness issues, as I was saying. The benefit of such early alerts can be invaluable to farmers, enabling rapid treatment or action where required, as well as cutting costs and improving efficiencies.
From its position within the cow, the bolus will send updates on cow temperature and movement to a base station, which then uploads the data to a cloud system via internet. The information from each cow is interpreted by the software and the farmer will then receive alerts flagging up any unusual behaviour immediately on their smartphone or computer.
Asaduzzaman was saying it's the most accurate calving alert he has come across. In fact, bolus removes the need for collars, heat strips and other monitoring devices, and from its internal position, it cannot be damaged by the cow.
The entrepreneur of Century Dairy Farm was saying the device works through cloud technology and it's implanted inside the stomach that looks like a capsule which will work for six years, depending on the battery life. The process of sending the bolus into the stomach of the cow takes around 10 seconds, says the CEO of Shurjomukhi Prani Sheba, Fida Haque. Bolus is a widely discussed device in the information technology sector, he adds. The mobile app they provided works perfectly for farmers like Asaduzzaman. Those who don't have a smartphone can get text messages on their feature phones about their cows. I heard from Asaduzzaman that one of his cows not drinking much water. How did he get to know this? The tag number of the cow is 203 and her name is Champa. Bolus has informed through the app, its owner and also the technology provider that Champa hasn't taken much water. It's not only about drinking issues. I have already mentioned how magically bolus can work to give you loads of information that you could hardly get through visual supervision.
Back in 2015, I saw a milking technology at the Wageningen University & Research in The Netherlands, where cows know when the right time to milk is. It was remarkable to witness that. More interesting was when the machine also refused some of those cows that they were not ready to give milk and they went back like they knew the technology better than humans.
In 2018, I went to a smart cattle farm in South Korea. The farmers there can receive all the information through a panel connected with a computer. In this era of technology mobile and computer are almost same. Whatever we input in the computer, we can do the same in the mobile. Shurjomukhi Prani Sheba is delivering all the information in Bengali so that it's easier for our farmers to understand. 
Asaduzzaman says, the technology is more helpful for people like them who can't stay at the farm all the time. I'm using one smartphone and my farm coordinator has the other. So, if anything goes right or wrong, we get updated and we communicate with each other. It gets easier for them to call the doctor on time and life becomes much comfortable for the entrepreneur. There is a lot more benefits of this technology that Asaduzzaman was almost lauding. Asaduzzaman has many other businesses and he has been using bolus for the past three months at the farm, which he started four years back. The use of technology for the past three months has stirred him a lot and made him a gadget-lover.
The goal of Shurjomukhi project is to create a digital platform using IoT and RFID (Radio Frequency Identification) tracking technology in rural areas of the country to determine and record cow species, genetic development, information conservation, reproduction, dairy management and provision of primary treatment. A cattle insurance policy to safeguard cattle farmers is part and parcel of the platform. Above all, the platform aims to implement the government's mission and vision for rural socio-economic development through use of ICT in livestock extension activities. It predominantly provides five key services--digital record keeping, heat detection, pregnancy detection, calving detection and movements and temperature tracking.
The registration fee for using the app is Tk 1,000 (USD 11.80) only and the monthly cost is Tk 500 (USD 5.90), says Fida.
If we can spread the market we can penetrate at a higher rate, definitely, the cost will come down, adds Fida.
'If it's valid for only six years, then what will the farmers do later on as the cows are going to live longer, right?, I asked Fida.
'Let's face it, farmers don't keep their cows for six years. Either they sell it off or slaughter it. If they want to do either of this, we buy the bolus from them paying Tk 2,000 (USD 23.60)', says Fida. 
'Tell me about the insurance?, I asked Fida.'If a cow has an accident we cover the whole cost,' replied Fida.
'Who's going to take care of the insurance, your company or any others?, I asked.
'It's Phoenix Insurance's responsibility, one of our key partners in the project,' says Fida.
'Can you explain a little bit more on the insurance policy?, I asked the CEO of Shurjomukhi Prani Sheba.
'Farmers need to pay 2.75 percent of the market price of the cow, at a yearly rate,' replied Fida. 
It also helps with cow fattening. They used it on a single buffalo. They received a positive outcome. They can control the pH values.
Shurjomukhi Prani Sheba has collaborated with Phoenix Insurance and is supported by UKaid. The implantation of Bolus technology is certified by Food and Drug Administration (FDA) of the United States of America and the German Agriculture Society DLG.
There are two insurance facilities available for livestock. One of them is the collaboration between BRAC and Green Delta Insurance Company Limited which was the first in the business. Their project is known as 'Cattle Shield.' Another one is the collaboration between Shurjomukhi Prani Sheba and Phoenix Insurance Company Limited and their project is known as Shurjomukhi Prani Sheba.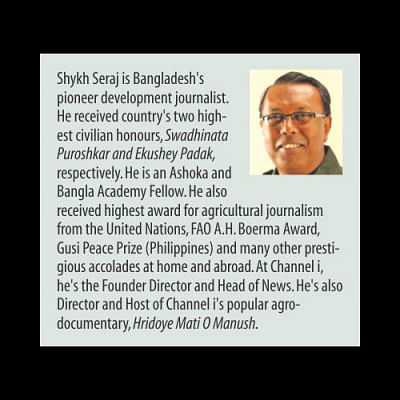 There are 14 cows in the Century Dairy Farm. I have seen another four cows there Mukta, Mala, Mou and Poppy. Fida explained the details of these four cows and what advantages and disadvantages these cows have at the moment. I also talked with some local farmers at Ichhapur and they have heard of the bolus and are also feeling the interest to use this seeing Asaduzzaman's success.
"Though bolus is predominantly utilised by dairy herds, they are of equal benefit to beef farmers looking to increase efficiencies and reduce costs," says Asaduzzaman. 'With the greater need for farmers to improve efficiencies, it is important to optimise animal health, fertility and feed management,' Asaduzzaman added.
Dear readers, in every sector I can see the changes. Technology is also changing our thought process. These are giving us hope in the farming sector. New technology is a blessing for any country. In the livestock sector, farmers will dream of a new era through use of IoT. If we can deliver all these technology at a low cost, only then, there will be hope for our farmers. For this, the government needs to be more aware to help these private organizations and most importantly the farmers. Also, people involved in this sector need to educate themselves more on using technology. So it is most urgent to familiarise farmers with new technologies that are changing the farming sector and government must initiative at their earliest convenience.