A smart device may revolutionise fish farming in ponds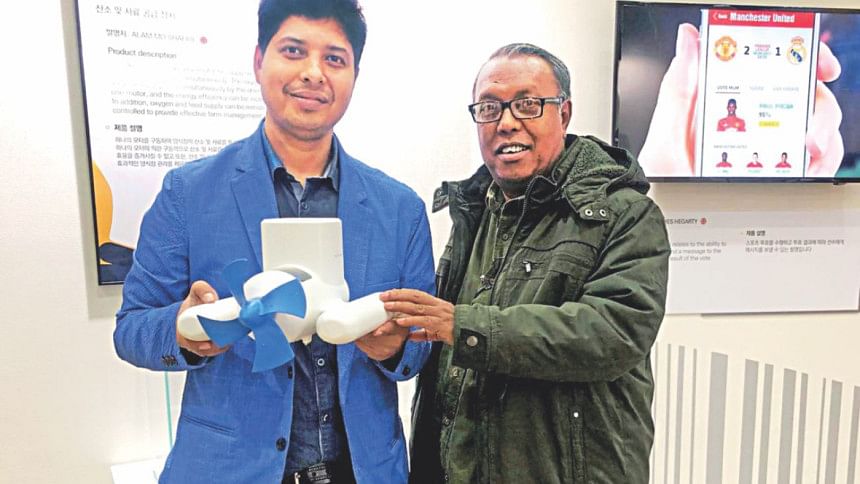 I remember when I used to tell farmers to do fish cultivation in ponds during the '80s, they used to get surprised. They used to reply, "What do you mean by fish cultivation, rice and jute can be cultivated." Farmers didn't use to think about cultivating anything else beside rice and jute. Ponds were used for bathing and washing clothes only. Yet, fish cultivation in a pond can meet a farm family's health needs and earn some extra money at the same time. To encourage farmers to do fish farming, I made a filler titled, 'Hakim Ali'r Machh Chash' (Hakim Ali's Fish Farming), that went on air on Bangladesh Television. It became very popular. After that, you can say a countrywide fish production revolution took place. Now the country ranks third in fish production globally. On the other hand, due to our scientists' research, new varieties of fish have been introduced. Fish production has developed a lot, thanks to the government's fish production extension policy and awareness campaigns. According to Fisheries Department, Bangladesh has earned self-sufficiency in fish cultivation. In 2017, 41.34 lakh (4.1 million) tonnes of fish were produced countrywide.
The total production of fish was 7.54 (0.7 million) lakh tonnes in 1983-84 fiscal year. In 33 years, the production has increased to 41.34 lakh tonnes in 2016-17 fiscal year. Meaning, in this period, the total fish production has increased 5.5 times. According to Bangladesh Bureau of Statistics, daily fish consumption amount of Bangladeshis has increased as well up to 62.58 gram from 60 gram.
Even after such success in fish cultivation, we have learned about some problems from fish farmers recently. Fish farmers also mentioned some problems during this year's Krishi Budget Krishoker Budget (Farmers' Voices in Budget). Some of the main problems are lack of farm labourers, increase of ammonia in water, decrease of oxygen, high price of fish feed, lack of nutrition in feed, etc. 90 percent of the farmers have made such complaints. 
A farmer's son has brought a solution to these problems. His name is Shafiul Alam. He is a software engineer by profession. I am going to tell his story today, dear readers.        
In the first week of December, I went to South Korea to visit Asia's biggest yearly innovation fair. Korea's temperature was below minus at that time. It was freezing. The yearly innovation fair took place in the city Gangnam. I am sure you remember the song Gangnam Style which created a stir in YouTube's history. The fair was organised in Gangnam city COEX Hall. Youth, innovation, technological progress and industrial trade -- the fair has it all. Due to the progress of information and communication technology, this year's exhibition has created a stir worldwide. Among 606 innovations of 33 countries, only 40 innovations were selected through various selection processes. Korea's Ministry of Law and Justice is mainly supervising this arrangement. Also, World Intellectual Property Organisation and International Federation of Innovators Association Korea are helping too. In this innovation fair for making life convenient and beautiful, Shafiul Alam is our centre of pride. On the other hand, in this huge arrangement, this is the only agriculture based innovation. It is great news for Bangladesh considering the huge global success of Bangladesh in fish cultivation.
The prototype of Shafiul is being demonstrated in the fair. Seeing the prototype, you won't understand the extent of its utility and specialty. I talked to Shafiul in the fair about the details of his invention. He said that his father is a farmer. His grandfather was a farmer too. He is from a farm family. At the same time, watching BTV's Mati O Manush during childhood, he was inspired to dream about agriculture. His wife, Tania Chowdhury is also a software engineer. The result of their combined research is a smart device which works automatically as an aerator (a device which adds oxygen to the water in a fish pond with two propellers). At the same time, it has an auto-feeding system that distributes feed. It also reads the amount of ammonia and fish movements. Due to auto-charging facility, the device is very convenient to use. All these are controlled by internet, either through desktop or through mobile Wi-Fi. The market price has not been fixed yet but it will be a little costly, Shafiul said. Shafiul says fish production will be much higher using the technology.  
Our fisheries sector has reached a great height holding the hands of numerous young entrepreneur farmers. The credit of being third best in the world for fish production goes to our farmers, scientists, researchers and media. They are overcoming obstacles one after another to make this sector a success. The entrepreneurs in this sector, which has turned into an industry, welcomed technology and inputs all these years. From fish feed, pond renovation, water change to the developed world's modern aerator machine, they are familiar with it all. Along with various technical additions in many sectors of fish cultivation, came automated feed providing system in fish ponds. This project of software engineer Shafiul Alam follows the continuous evolution of technology.
For innovating this smart device Shafiul has won the third prize (Bronze) in A Big Think competition and also won a silver medal for the same in the fair. He won the scholarship as international participant of Korea Invention Promotion Association (KIPA) and Korea Productivity Center (KPC). Korea is looking for developed research and technological success worldwide. They are evaluating naturally creative inventors in many ways. Korea valued Shafiul's innovation, Smart aerator with auto feeding system, with highest significance of course.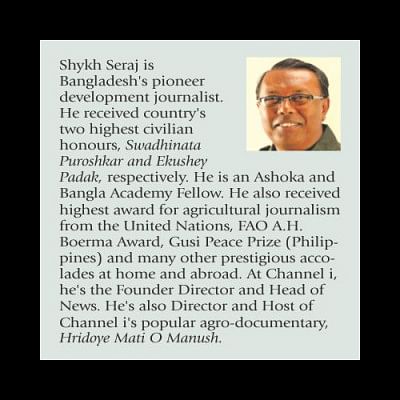 Specially, Korea's Fisheries Information and Content Technology Association's Director, Park In-Jong, is seeing this project as a huge scientific success. He claimed this innovation of Shafiul is very important for fish farmers all over the world, including South Korea and Bangladesh. The patent of the device will be ready by the middle of next year. Then, commercial production will start. Park told us not only about Korea's fisheries but also about the extension of smart technology in overall agriculture. Specially, they are progressing with a goal of adding smart technology in agriculture, fisheries and livestock sectors by 2022. For this, their focus is on the world's young scientists, researchers and their startup initiatives.
Developed countries are now involved in collecting talent, scientific excellence, innovation and ideas in a planned manner worldwide. And South Korea is way ahead in this regard. They are investing highest amount of money and focus in many sectors of technology. Thus, they are getting instructional innovation and commercial prospects in new directions of today and the future. There are many exemplary initiatives here for a developing country like ours. Our government's information and communication sector should properly evaluate inventors like Shafiul and their innovations. Even though we are proud claimants of this essential technology for the fisheries sector, yet Korea has gained the hardware rights of this device and the software rights stay with Shafiul. The way the works and ideas of potential young people are being taken towards globalisation successfully, similarly we need policy preparation to keep the country's achievements in the country.